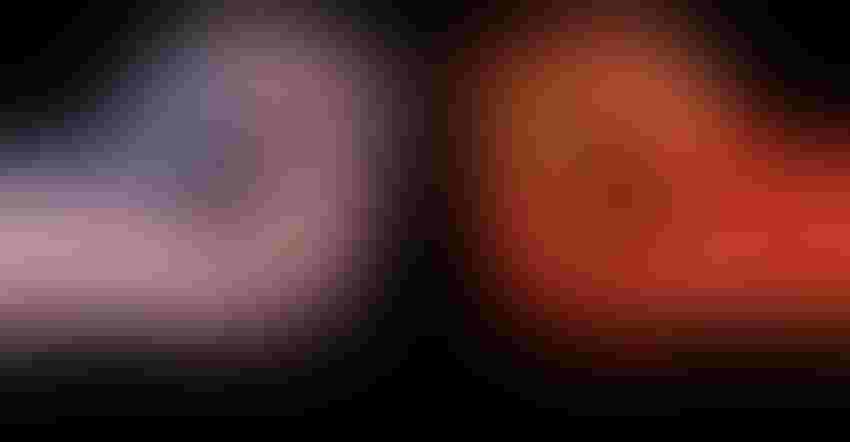 U.S. Vice President Mike Pence has articulated realities and gravities of U.S.-China relations and other foreign affairs in a recent speech.
GettyImages
Vice President Mike Pence addressed U.S.-China relations and other foreign policy issues at the Wilson Center's inaugural Frederic V. Malek Memorial Lecture, on October 24, at the Conrad Hotel, Washington, D.C.
As a spokesman for the President, many in Congress on both sides of the aisle on this issue, and many American citizens, U.S. Vice President Mike Pence articulated in an intensely focused speech similar to a year ago, the realities and gravities of U.S.-China relations and other foreign affairs in a very thought-provoking manner. All should consider the ramifications especially grain producers, traders and speculators.
I reorganized key points and comments of the Vice President's speech, so I can more fully absorb and consider the consequences to our commodity markets, as well as, global currency, bond and equity markets.  
There are three points to consider regarding U.S. and China's relationship.  First, China clearly is the United States' strategic and economic rival. Second, Much of the destiny of the 21st century hinges on the United States relationship with China. And finally, over the past year Beijing still has not taken significant action to improve the U.S.-China economic relationship and on many issues, Beijing's behavior has become increasingly aggressive and destabilizing.
China's Harmful Policies.
China's most harmful policies to America's interests and values, include:
China's debt diplomacy and military expansionism;

Its repression of people of faith;

Construction of a surveillance state; and

China's arsenal of policies inconsistent with free and fair trade, including tariffs, quotas, currency manipulation, forced technology transfer, and industrial subsidies.
The assumption can no longer be made that economic engagement alone will transform Communist China's authoritarian state into a free and open society that respects private property, the rule of law, and international rules of commerce.
On the trade front, this past May after months of painstaking negotiations resulting in a mutual agreement on many key matters, at the last moment, China backed away from a 150-page agreement, sending both sides back to square one.
Beijing's actions have contributed to the United States' trade deficit with China that last year ran to more than $400 billion — nearly half of our global trade deficit. 
To level the playing field for American workers, President Trump levied tariffs on $250 billion in Chinese goods in 2018. And earlier this year, the President announced we would place tariffs on another $300 billion of Chinese goods if significant issues in our trading relationship were not resolved by December of this year (2019).
To protect intellectual property rights and the privacy of U.S. citizens and national security, the administration has taken strong steps to curtail the illegal behavior of Chinese companies like Huawei and ZTE.  The U.S. has urged its allies around the world to build secure 5G networks that don't give Beijing control of America's most sensitive infrastructure and data as well.
Pence emphasized to clarify and make it clear to Beijing that no nation has a right to claim the maritime commons as territorial seas. The United States, over the last year, has increased the tempo and scope of its freedom of navigation operations and strengthened its military presence across the Indo-Pacific.
Millions of ethnic and religious minorities in China are struggling against the Party's efforts to eradicate their religious and cultural identities, according to Pence.  The Communist Party in China has arrested Christian pastors, banned the sale of Bibles, demolished churches, and imprisoned more than one million Muslim Uighurs.
He stated that the U.S. stands by Taiwan in defense of her hard-won freedoms and recognizes Taiwan's place as one of the world's great trading economies and beacons of Chinese culture and democracy.
The administration has spoken out on behalf of the people of Hong Kong, making it clear that there must be a peaceful resolution that respects the rights of the people of Hong Kong, as outlined in the 1984 Sino-British Joint Declaration.
China continues to aid and abet the theft of intellectual property in the U.S. Last July, the director of the FBI told Congress that of the agency's 1,000 active investigations into intellectual property theft, the majority involve China. American enterprises continue to lose hundreds of billions of dollars each year in intellectual property theft.
China's Communist Party is building a surveillance state unlike anything the world has ever seen, according to the Vice President. Hundreds of millions of surveillance cameras stare down from every vantage point. 
Ethnic minorities must navigate arbitrary checkpoints where police demand blood samples, fingerprints, voice recordings, and multiple angle head shots, and even iris scans.
Exporting Surveillance Technology
China is now exporting its Surveillance State Technology to countries in Africa, Latin America, and the Middle East, the very same technological tools that it uses in its authoritarian regime: tools that it has deployed in places like Xinjiang.
Beijing has smashed the barriers between civilian and military technological domains — a doctrine that China calls "military-civilian fusion."  By law and presidential fiat, companies in China — whether private, state-owned, or foreign — must share their technologies with the Chinese military.
China's regional military action and its approach to its neighbors over the past year has also remained increasingly provocative.
While China's leaders stood in the Rose Garden in 2015 and said that its country had, "no intention to militarize" the South China Sea. According to Pence, Beijing has deployed advanced anti-ship and anti-air missiles atop an archipelago of military bases constructed on artificial islands.
And Beijing has stepped up its use of what they call "maritime militia" vessels to regularly menace Filipino and Malaysian sailors and fishermen.  And the Chinese Coast Guard has tried to strong-arm Vietnam from drilling for oil and natural gas off of Vietnam's own shores.
China's One Belt, One Road
China is using its "One Belt, One Road" Initiative to establish footholds in ports around the world, ostensibly for commercial purposes, but those purposes could eventually become military. The flag of Chinese ownership flies today in ports from Sri Lanka to Pakistan to Greece.
Earlier this year, it was reported that Beijing had signed a secret agreement to establish a naval base in Cambodia. And it is reported that Beijing is even eyeing locations on the Atlantic Ocean that could serve as naval facilities.
Pence stated that nothing in the past year has put on display the Chinese Communist Party's antipathy to liberty so much as the unrest in Hong Kong.
Hong Kong has served as an important gateway between China and the wider world for 150 years. Hong Kong is one of the freest economies in the world, with strong, independent legal institutions and a lively free press, and is home to hundreds of thousands of foreign residents.
Hong Kong is a living example of what can happen when China embraces liberty. And yet, for the last few years, Beijing has increased its interventions in Hong Kong and engaged in actions to curtail the rights and liberties of its people — rights and liberties that were guaranteed through a binding international agreement of "one country, two systems."
Pence also noted that the Chinese Communist Party continues to reward and coerce American businesses, movie studios, universities, think tanks, scholars, journalists, and local, state, and federal officials to influence the public debate in America.
No decoupling from China
According to Pence, the U.S. does not seek to decouple from China. The administration seeks engagement with China and China's engagement with the wider world, but engagement in a manner consistent with fairness, mutual respect, and the international rules of commerce.
Pence said that all Beijing is doing today, from the Party's great firewall in cyberspace or to that great wall of sand in the South China Sea, from their distrust of Hong Kong's autonomy, or their repression of people of faith all demonstrate that it's the Chinese Communist Party that has been "de-coupling" from the wider world for decades.
America's Resolve.
Pence said that the administration will continue to believe that the values of democracy — of individual liberty, of freedom of religion and conscience, the rule of law — serve American and global interests because they are, and will ever be, the best form of government to unleash human aspirations and guide the relations between all the world's nations and peoples.
President Trump has forged a strong personal relationship with President Xi, according to Pence. And on that foundation, the administration will continue to look for ways to strengthen our relationship for the betterment of both of our peoples.
He fervently believes the United States and China can and must work to share a peaceful and prosperous future together. But only honest dialogue and good-faith negotiations can make that future a reality.
The Vice President concluded his speech by saying, "As I closed my speech a year ago, so I close today: America is reaching out our hand to China. And we hope that, soon, Beijing will reach back, this time with deeds, not words, and with renewed respect for America."
Market Outlook for the Week Beginning October 28, 2019
Soybeans. Range bound until $9.39 per bushel becomes firm support. The October 25, 2019 close was $9.34 per bushel, up 0.50 cents on the week or up 0.50%.
China's urgency for a trade agreement remains highly uncertain, African Swine Fever's impact on global soybean demand remains a red flag, weather's impact on domestic and global soybean fundamentals both near and longer term (next 3 months and next 9 months respectively) remains a question mark, as well as other factors, which is why we simply follow the markets price guidance. Support resides at $8.75, $8.48, and $7.95, Charts B10 to B13.
Long Grain Rice. Near Term Price Trend Sideways with a Slight Bullish Bias. October 25, 2019 January futures close $12.05 per cwt. or $5.43 per bushel. $11.67 per cwt. or $5.25 per bushel is important near-term support. Current trading range is $11.67 per cwt. or $5.25 per bushel to $12.66 per cwt or $5.70 per bushel, Charts B18 to B20.
Corn. Range bound until $3.98 becomes support. Corn closed the week of October 21, 2019 at $3.87 per bushel, down 4.25 cents for the week or down 1.09%. Current trading range is $3.48 per bushel to $3.98 per bushel, Charts B14 to B17.
Wheat. Larger Price Trend Since August 2018 Remains Down. Wheat closed the week of October 21, 2019 at $5.18 per bushel, down 14.50 cents on the week or down 2.72%. Wheat prices need to end the week of October 28, 2019 above $5.08 per bushel for me to favor additional price strength. Presently, it remains to be seen if $5.08 per bushel becomes support, Charts B25 to B28.
Cotton. Price weakness remains problematic. The October 25, 2019 close 64.90 cents per pound, down 0.26 cents on the week or down 0.40%. Cotton prices are now consolidating in a range of 0.57 cents to 0.66 cents per pound, Charts B21 to B24.
Interest Rates. 10-Year U.S. Treasury Yield: October 25, 2019 close 1.80, up 0.04 on the week or up 2.27%, Charts A1 to A4.
There is little support for the 10-Year Treasury Yield until the previous low made in 2016 is reached at 1.37 and given time further downside to 1.00 or lower is now a real possibility. The November 2018 high was 3.24 percent. That said, the dynamics of the repo market and ongoing derivative exposure could be somewhat supportive or lead to higher yields or interest rates for US-Treasury markets near term.
The Federal Reserve's Federal Open Market Committee lowered the fed funds rate by 0.25 percent or 25 basis points to 2.0% on September 18, 2019, 2019's second rate cut. This follows 9 rate increases since December 2015.
No Crystal Ball
Since no one has a crystal ball or knows the future always consult an investment professional or professionals before making investment decisions. The world's most talented speculators, investors and money managers are challenged by today's global business environment.  
Robert Coats, Ph.D.
Economist, Arkansas Department of Agriculture, 1 Natural Resources Drive, Little Rock, Arkansas [email protected]
Download Slide Show for charts and expanded details, Click Download Link
DISCLAIMER-FOR-EDUCATIONAL-PURPOSES-ONLY
Subscribe to receive top agriculture news
Be informed daily with these free e-newsletters
You May Also Like
---