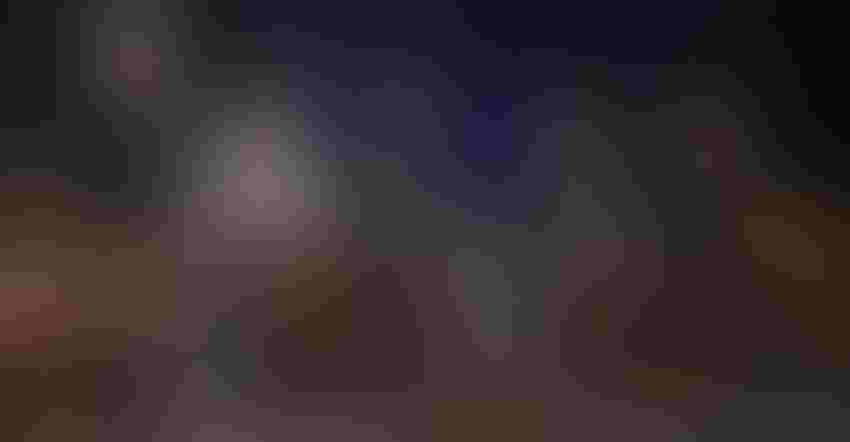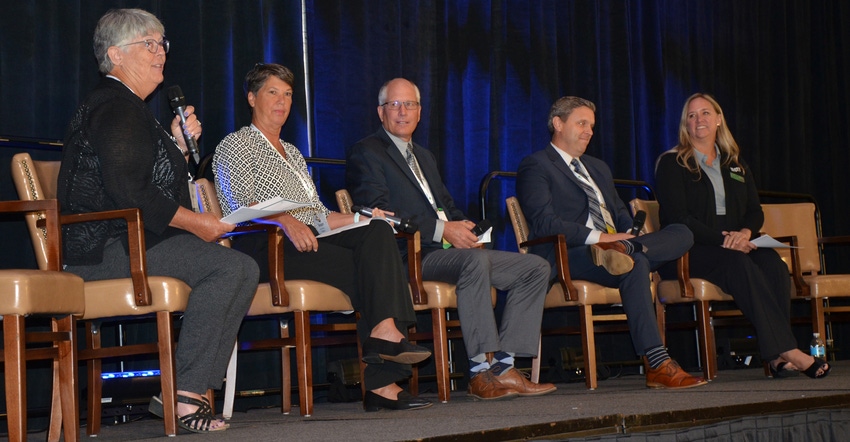 ACTION TEAM: The Communication and Education Action Team presented its goals and funding recommendations during the USB meeting July 27 in Kalamazoo, Mich.
Photos by Jennifer Kiel
The United Soybean Board, with its 78-volunteer farmer-leaders, has made a dramatic shift in the way it makes investment decisions — from project takers to portfolio makers.
USB's choice of where, when and how much to invest in projects is being guided by member input and coordinated by a new Value Alignment Committee. For fiscal year 2023, the board is investing a record $123 million for program work starting Oct. 1, 2022. The USB priority areas, which spans eight portfolios in research, education and promotion, were voted on and approved at the July 26-27 meeting in Kalamazoo, Mich.
The new process gives farmer-leaders more input in the types of programs the checkoff supports, which includes everything from biodiesel and high-oleic soybean production to fertilizers and biologicals that support farming system resilience, as well as nutrition and health research that distinguishes U.S. soybean's value.
"Our thinking, planning and work as a board has become a much more deliberate and idea-driven process, challenging our board members to think big," said Ralph Lott, USB chair and a farmer from New York. "Each portfolio is farmer-directed and works together to create demand for U.S. soybeans across the entire global soy value chain,"
Export goals
In regards to export markets, Steve Reinhard, who has served as the USB treasurer and has been on the board for six years, told Farm Progress: "We're looking to work in 80 different countries through the U.S. Soybean Export Council, which unites us with the U.S. Meat Export Federation and the U.S. Poultry and Egg Export Council. We're trying to impact everything from when a farmer plants soybeans to helping improve that growing system for better yields, and then incorporating those yields into as many different products as we can to return money back to their pockets."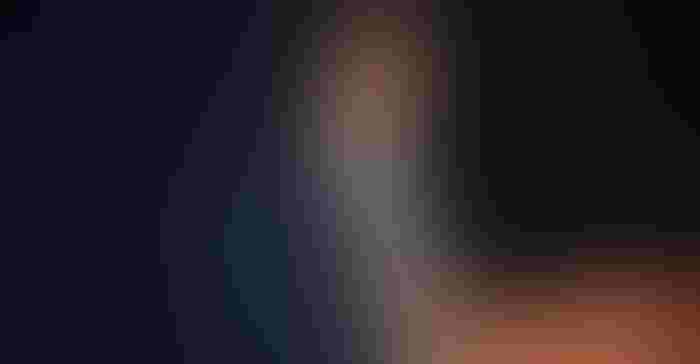 Reinhard, who farms about 1,700 acres of soybeans, corn and wheat and hay in Bucyrus in north-central Ohio, said USB wants to promote exports of soy-fed meat, and is working with the American Soybean Association's World Initiative for Soy in Human Health to create long-term demand for U.S. soybeans in developing and emerging markets to improve food security.
USB has had two long-term action teams focusing on improving supply and demand. This year it added a promotion and education action team, and together they focus on of infrastructure and connectivity, health and nutrition, and innovation and technology. The goal is to add value to U.S. soybeans to build resilience, differentiation and reputation.
Developing new uses has Reinhard excited, he said.  "We may be talking about rubber and plastics," he said. "We may be talking about lubricants, or today, we heard about coatings and adhesives. So it's about getting a diverse portfolio out there and not one huge market with nothing to backfill with. It diversifies our portfolio and will help manage our success going forward and continue to grow demand for U.S. soy."
Better tech, transportation
USB is investing in new technologies, best management practices, and rivers, roads and rail to ensure a supply to the U.S. and beyond its boarder. "It means working on soybeans with a higher oil content, while also working on better nutrient bundles for our friends in animal agriculture who utilize the meal," Reinhard said.
USB board member Laurie Isley, who with her husband, Jim, are fifth-generation farmers from Michigan's Lenawee County, just north of Toledo, Ohio. They farm about 1,100 acres of rotating corn and soybeans with their son, Jacob.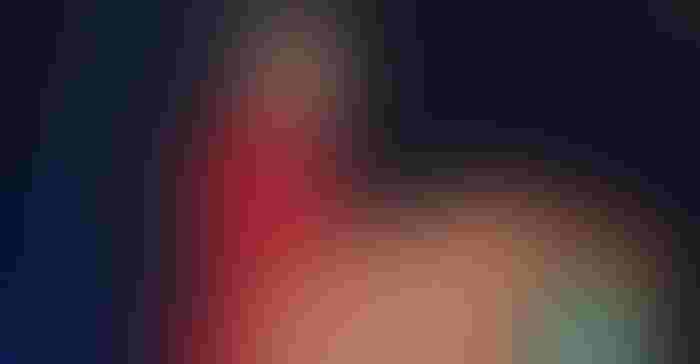 Isley has served two years on the USB board and eight years on the checkoff-funded Michigan Soybean Committee, where she now serves as chair. "So, I understood a little bit how the checkoff worked and the value that came back to the farmer, but I never really had a clear concept of the scope of that at the national level," she said. "Of course, all of the checkoff funds collected from the farmer at the elevator are split — half going to the state and half to USB. The USB has a pretty substantial budget to work with, and I have been so impressed with the thoughtfulness that goes into the decisions they make, the amount of farmer input there is, and the desire to bring return back to the farmers for their checkoff investment. For every checkoff dollar invested, the program returns $12.34."
In the arena of new uses, Isley is quick to point out transportation projects, including an additive put on roads to help them last longer, which was recently tested in mid-Michigan.
"Being from Michigan, we're always interested in getting roads to last longer," she said. "But we also have a large emphasis on demand. As the demand increased for oil in biodiesel and renewable energy, we're using a lot more soybean oil. Well, only about 20% of the soybean is oil, so we are looking carefully at what are some new uses and markets for the meal, while we continue to work with mainly the poultry and hog industries to better meet their needs."
The USB budget is the largest on record because of collections based on the price of soybeans, as well as an increase in production.
"This is a new, exciting direction, and we couldn't be successful without our state and national farmer volunteers and checkoff partners who work diligently on behalf of the 515,000 U.S. soybean farmers," said Meagan Kaiser, USB vice chair and a farmer from Missouri.
USB priority areas for FY 2023
The United Soybean Board's fiscal year 2023 programs impact everything from improving production on the farm to expanding markets across animal agriculture to providing a renewable alternative for biofuels and nonfood uses. These soy checkoff investments aim to:
Enhance soybean cropping system. Such an improvement would create opportunities to reward and support farmers and other value chain participants, including the growth of high-oleic soybean production to meet demand for specialty soybeans while providing a farmer premium. 
Further soy's role in clean energy. Investments would support using soybean oil as a feedstock for biodiesel and renewable diesel in marine, rail and on-road applications. Biofuels are the largest industrial use for soybean oil and require investments to reach maximum potential.
Develop nutrition and health research. This would help distinguish U.S. soybean meal's value drivers (amino acids and energy), support animal health, build evidence that discerns U.S. soybean meal from the competition and strengthen key industry partnerships.
Encourage partnerships to improve soil health. Collaboration with commodities such as the National Corn Growers Association and the National Pork Board would help implement cover crops on 30 million acres of soybeans and corn by 2030, with a focus on meeting sustainability goals while improving farmer productivity. 
Increase exports to over 80 countries. This would be done through the U.S. Soybean Export Council's strategy to differentiate U.S. soybeans in the global marketplace. USB also partners with the U.S. Meat Export Federation and the USA Poultry and Egg Export Council to promote exports of soy-fed meat, as well as the American Soybean Association's World Initiative for Soy in Human Health to create long-term demand for U.S. soybeans in developing and emerging markets and to improve food security.
Improve best management practices. This would be done through partnerships that lead to faster, real-time dissemination of pest and disease research findings, such as developing a pesticide and fungicide calculation tool that helps farmers determine regional application thresholds to maximize yield potential. 
Increase focus on fertilizers and biologicals. This would help support farmers and farming system resilience in an uncertain crop input market environment.
Boost soybean's reputation. The U.S. soybean industry can elevate its reputation by reaching key audiences to expand trust with consumers and help them develop a deeper understanding and appreciation for how U.S. soybean farmers can deliver sustainable solutions for more than 1,000 renewable products on the market.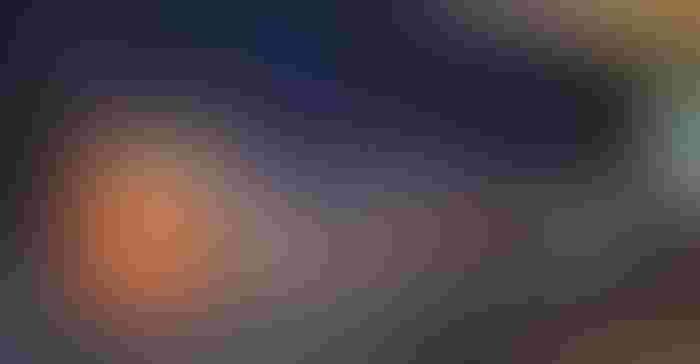 About the Author(s)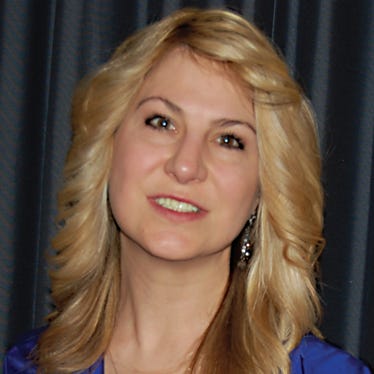 While Jennifer is not a farmer and did not grow up on a farm, "I think you'd be hard pressed to find someone with more appreciation for the people who grow our food and fiber, live the lifestyles and practice the morals that bind many farm families," she says.
Before taking over as editor of Michigan Farmer in 2003, she served three years as the manager of communications and development for the American Farmland Trust Central Great Lakes Regional Office in Michigan and as director of communications with Michigan Agri-Business Association. Previously, she was the communications manager at Michigan Farm Bureau's state headquarters. She also lists 10 years of experience at six different daily and weekly Michigan newspapers on her impressive resume.

Jennifer lives in St. Johns with her two daughters, Elizabeth, 19, and Emily 16.
Subscribe to receive top agriculture news
Be informed daily with these free e-newsletters
You May Also Like
---