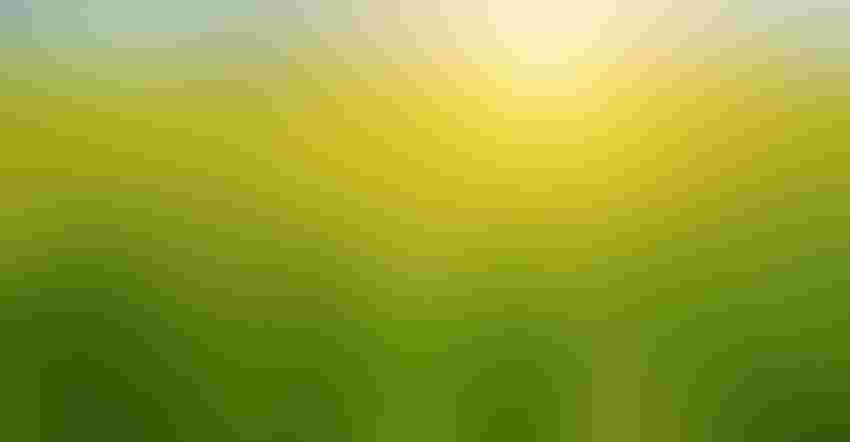 LOOK UP: With daily farm chores sometimes never seeming to end, take care to keep in mind that you can only control the controllable. Control your thoughts, putting negative ones out of your mind.
AlinaMD/iStock/Thinkstock
By Cynthie Christensen
After this long, drawn-out winter and late spring, you may still be feeling behind as we've entered the month of May.

Cynthie Christiansen
Does it seem overwhelming? Are you worried about how you are going to get everything done?
For many farmers, winter is a season of inactivity — a time of rest. However, less physical work can often lead to a busier mind. Spending too much time in your head thinking about the "what ifs" usually isn't a good thing. The "what ifs" aren't usually about positive things — imagining a bumper crop and how you are going to spend all the money, a bean field with no aphids or white mold, all your calves being born alive and healthy, no downtime for equipment repairs. Plus, you've probably been listening to market reports, legislative sessions and talking to other farmers.
Let's face it, the news is challenging and can shift the negative thinking into overdrive.
We have an internal voice that provides constant chatter inside our minds. For most people, the chatter is full of self-doubt about being not good enough, a loser, worthless, being behind, stupid, fat, awkward, shy, clumsy, etc. It's also the voice of judgment — almost instant judgment about something being "good or bad." It is only quiet when you are sleeping, yet it is the voice that wakes you at 3 a.m.
Have you ever thought that if you met your internal chatter as a person, you would not want to be friends or even spend an evening with him or her? You wouldn't be able to stand the negativity and harsh judgement. Yet, when you hear this stuff in your own mind about yourself, you believe it hook, line and sinker!
These negative thoughts trigger feelings of anxiety and the physical symptoms that go with it — rapid heartbeat, sweatiness, feeling like you can't breathe, dizziness or lightheadedness, tingling in your hands or feet, etc. These physical sensations can create increased anxiety, which makes the physical sensations stronger. If this spiral continues, you can have a panic attack or wonder if you're having a heart attack.
Move, reflect
The trick to getting out of this downward spiral is to catch yourself in it. Recognize these are JUST THOUGHTS. Take a deep breath and focus on what's in front of you. Take a walk, play with your kids, call somebody, pet your dog — just DO something.
If you are feeling overwhelmed and unmotivated, you might remind yourself why you went into farming. What inspires you to keep going? When you think of old farmers, who did you look up to, and what did you admire about them? What did you learn about farming from them? What words of advice would they have for you? What do you want your reputation as a farmer to be? What would make farming less stressful and more enjoyable for you? Motivation comes from doing something that you value and believe in.
If you feel overwhelmed by the amount of work ahead of you, break it down into small steps. Tackle the most important thing early in the day, and get on a positive roll. This is easier said than done. However, at some point, you have to focus on a small step — and then just do it.
Practice positivity
And practice. What we practice, we get good at. What are you practicing? If you practice worrying, then you are going to get very good at worrying and will worry about stuff that isn't even real. If you practice negative thinking, you are going to get very good at negativity. So, what do you want to practice? How do you want to feel?
Typically, as a farmer, you scout for trouble. Our ancestors survived because they asked the "what-if" questions. This line of thinking can prepare us to think through something that we don't have to experience in real life. It is risk management. But like most things, everything in moderation. If you can reel in the negative thinking and avoidance to focus on what you are working on, you will be more likely to notice the sick calf or the rock ahead of you, and take action to avoid trouble.
Farming is all about good years, challenging years and sustainability.
Farming is an endurance race of resilience, and you are going to get through it. Just take it one step at a time!
State organizations offering mental health assistance
Mental health resources available in Minnesota include:
• Your local medical clinic, your county social and/or mental health services, your church
• Minnesota Department of Agriculture's Farmer Assistance Network; toll-free at 877-898-MFAN (6326), or in the Twin Cities at 651-201-6326. 
• University of Minnesota Extension's Live Well, Live Healthy program 
• Crisis Response for Southeast Minnesota (staffed 24/7): 844-274-7472
• National Alliance on Mental Illness: namihelps.org; St. Paul office, 888-626-4435. Many cities have local chapters.
Christensen is a licensed professional clinical counselor and has her own therapy practice, Oak Ridge Teletherapy. She is also credentialed as a distance counselor, which prepares her to work with clients via the internet. She has worked as an acute psychiatric nurse at Mayo Clinic in Rochester, Minn., for the past 18 years. Contact her at [email protected].
Subscribe to receive top agriculture news
Be informed daily with these free e-newsletters
You May Also Like
---