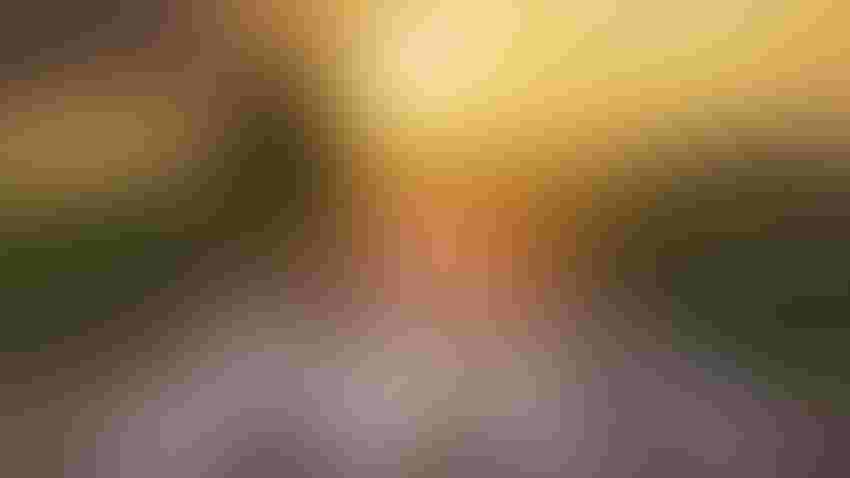 OPPORTUNITY ON THE HORIZON: Though farmers are experienced with volatility and the challenges it presents, opportunities are in their future.
tortoon /Getty Images
It's plain to see that agriculture has its share of challenges, but out of challenges come opportunity.
Jase Wagner, president and CEO of Compeer Financial; Roger Kienholz, CEO of Crystal Valley Cooperative; and Sheryl Meshke, president and CEO of Associated Milk Producers Inc. (AMPI), offered their insights during the recent New Tools for New Rules Ag Symposium at South Central College in North Mankato, Minn.
What do you see as the biggest challenges facing the agriculture industry?
Jase Wagner. Volatility. We've seen a ton of that over the last two years or three years. Whether that's volatility within prices, whether it's volatility within input prices, or it's volatile within your workforce, we've seen all of those things happen. As we see producers get better at that — and those who have managed that really well have outperformed to an extent the last few years. We're seeing that as a big challenge in our business, as well as trying to manage through that volatility and interest rates. And so that's the biggest challenge we see into this year and going forward.
Roger Kienholz. Co-op-wise, our No. 1 biggest challenge by far is the labor shortage. We're a company that would have 260 full-time employees if we're fully staffed, but we've got 30 openings today. These openings are everything from agronomy salespeople to custom applicators, feed truck drivers, propane drivers, fuel drivers, grain haulers, operations, admin — across the board, we're shorthanded. After that, it'd be supply chain, supply chain disruptions, delays getting trucks, delay getting repair parts, delays getting inventory, especially in the crop protection chemical world. We've had to deal with a lot of generics the last couple of years, because branded products have been in short supply and had to find alternatives to keep our farmers supplied with what they need to raise a crop.
Sheryl Meshke. Despite coming off a year of strong milk prices, most every dairy farmer would say it didn't really feel like that because margins were squeezed with inflationary pressure. As we look into 2023, we see those same input cost pressures, and forecasted weakness in the milk price. When you combine those, we're setting up for a challenging first half of the year. However, we are bullish on domestic and global consumption.
Out of challenges come opportunity. What do you see as opportunities for your company — and for agriculture in general?
Meshke. Every single year, the U.S. consumer is eating more dairy. The key word is "eating." Our consumption of butter and cheese continues to grow — not as much on the fluid side. We are chewing our dairy rather than drinking it. AMPI dairy farmer-owners make enough cheese to feed 15 million people a day and enough butter for 16 million a day, and that is expected to increase.
Kienholz. Because we're short-handed, if anybody wants to pursue anything related to helping farmers feed the world, there are great opportunities across the board to get into agriculture. With a potential merger [with UFC, based in Winthrop, Minn.], our increased size will hopefully be a greater attraction to some of those employees who want to come work for a company with maybe a little bit more size and scale, and opportunities to grow in their careers without having to leave the company. We're hoping that that's an attraction, but agriculture is not the only industry where there's a need for people so we can draw them in with what we do and how we do it, who we do it for and with, and that you could find that purposeful and meaningful and feel like they have a valuable contribution to helping feed people.
Wagner. The opportunities that we see are really for those who are well-organized and managing risk well, because they're going to be able to accelerate through any kind of a downturn. So, if they're investing in new business, investing in their team, managing the risk well, they should be in a really solid position to take advantage of opportunities that happen when others don't do that, or when new opportunities come up because of their positioning. We see those who are thinking about managing risk, looking forward and investing in key areas are definitely those who are going to have the most opportunity in the future.
Compeer Financial is a member-owned Farm Credit cooperative serving and supporting agriculture and rural communities, providing loans, leases, risk management and other financial services throughout 144 counties in Illinois, Minnesota and Wisconsin. Compeer is headquartered in Sun Prairie, Wis., with eight offices in Minnesota, including in Mankato.
Crystal Valley, based in Mankato, is a farm supply and grain marketing cooperative focused on serving the needs of crop farmers and livestock producers in southern Minnesota and northern Iowa.
AMPI is headquartered in New Ulm, Minn., and owned by dairy farm families from Wisconsin, Minnesota, Iowa, Nebraska, South Dakota and North Dakota. AMPI is the largest farmer-owned cheese cooperative in the United States. The cooperative's cheese, butter and powdered dairy products are marketed to food service, retail and food ingredient customers.
Subscribe to receive top agriculture news
Be informed daily with these free e-newsletters
You May Also Like
---