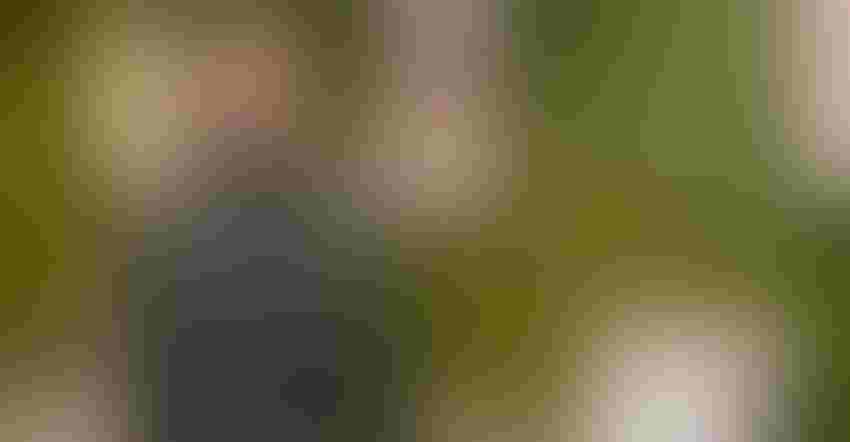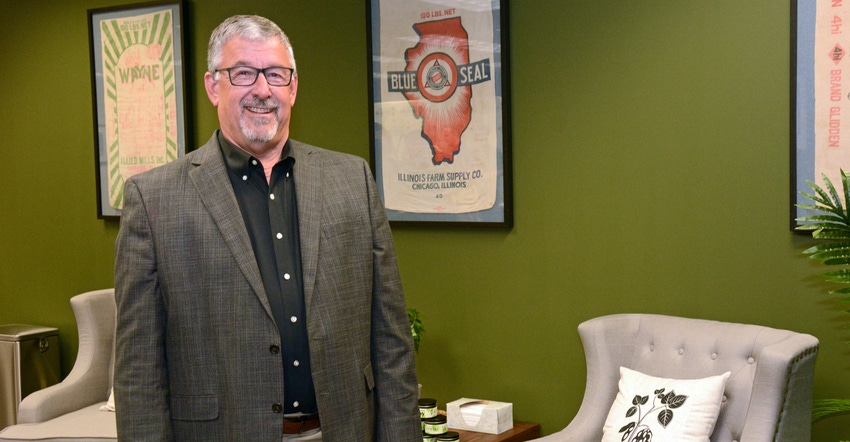 NEW DIGS: Maple Park, Ill., farmer and chairman of the Illinois Soybean Association Steve Pitstick climbed off the sprayer just 20 miles from ISA's new outreach office in Lombard, Ill., to attend an open house for the space.
Holly Spangler
Like a lot of companies and organizations coming out of the pandemic, the Illinois Soybean Association is pivoting. Specifically, pivoting right out into the suburbs.
In addition to its main Bloomington office, ISA has had an outreach office on LaSalle Street in downtown Chicago since 2017 with the goal of building trade. But, says ISA chairman and farmer Steve Pitstick, that office isn't really meeting their needs any longer. So they're shutting it down and have instead opened an office in Lombard, a western suburb of Chicago.
"With the changes in our philosophy and direction as an organization, about a year ago, we made the decision to move out of downtown Chicago and found this location in the western suburbs. Our focus right now is to work with our legislators," says Pitstick, who farms near Maple Park, Ill.
Back in 2017, the association chose the LaSalle Street location based on its proximity to the Chicago Mercantile Exchange and the financial district. It was located on the 40th floor, so it brought a certain "wow" factor to meetings and events. But it was pricey, and everything around it was pricey, including $60-a-day parking for visitors.
"It was a great place to be, once you got there," Pitstick says, laughing. Plus, the CME is all but vacant as electronic markets replaced open-outcry pits the past few years.
"At the time, it was the right place to be — we had trade teams through there a lot. But times change, and in farming you have to be able to pivot. So, we pivoted."
Now ISA is trying to build on its biodiesel efforts and successful legislative efforts. Pitstick says 60 of the state's legislators are within 20 miles of the new Lombard office.
And as David Kubik, public policy manager for ISA, points out, the legislative leaders from Chicago have retired (think Mike Madigan), and much of the new legislative leadership is now located in the suburbs.
"So we decided to look for a new direction and consider our goals," Kubik says. "Where are people at and how can we make connections?"
Among those new goals are courting biodiesel champions, both legislatively and in what ISA calls "B20 clubs" — Illinois-based fleets that use B20 biodiesel blends and continue to support use in their fleet vehicles, like the Chicago Park District. Kubik says there are B20 clubs throughout the suburbs and all within 15 minutes of their new office. They meet and take legislators to the B20 clubs and explain how biodiesel benefits the environment and their district.
The new Lombard office offers three times the square footage for about half the cost — $60,000 a year compared to $110,000 a year for the downtown location. The new office will house market development and legislative staff.
ISA is also moving its Bloomington office from the south side of town to a new location near the airport, at 1108 Trinity Lane, just off Route 9. The association purchased a property that used to be a gym (undervalued thanks to COVID-19) and is renovating it to include a boardroom and about 35 offices. They hope to move into the space by fall, and the current office building is for sale.
"I'm a farmer and want to save money, but we still need to be effective with our message," Pitstick says.
Turning the ship
Offices aren't the only thing changing at the soybean association, according to Pitstick.
He came onto the ISA board of directors four years ago and is frank about what he saw: "I just didn't like the way things were."
He wasn't alone; other board members agreed. So they got to work making the association work the way they thought it should — effectively turning a massive ship in another direction.
First on the list was a new CEO, John Lumpe, to change the direction of the organization.
"Previously, the CEO had minimal staff and brought in a lot of outside contractors to do projects. We found that to be a challenge. As a farmer, there were some expenses we weren't proud of," Pitstick says. "So we made some changes. We're growing the organization to 30 to 40 staff members, and doing projects in-house."
Members also instructed their new CEO to repair relationships.
"All of us in agriculture here are corn and soybean farmers. We're such a small group in agriculture, and we've got to get along — we can't have opposing agendas," Pitstick says, speaking specifically of Illinois Farm Bureau, IL Corn and ISA.
"We go to Washington, and somebody wants an 800-foot lock, somebody wants a 1,200-foot lock — we all need to be on the same page," he explains. They've worked over the past two years to repair relationships, build the organization and set goals.
Today, a farmer council that incorporates six of the top organizations in Illinois agriculture meet on key issues and goals. They've met with the Illinois Department of Agriculture and Ag Director Jerry Costello.
"We're trying to do what's good for Illinois agriculture and work toward a common goal," Pitstick says.
Hear more from Steve Pitstick in this interview on Facebook.
Subscribe to receive top agriculture news
Be informed daily with these free e-newsletters
You May Also Like
---