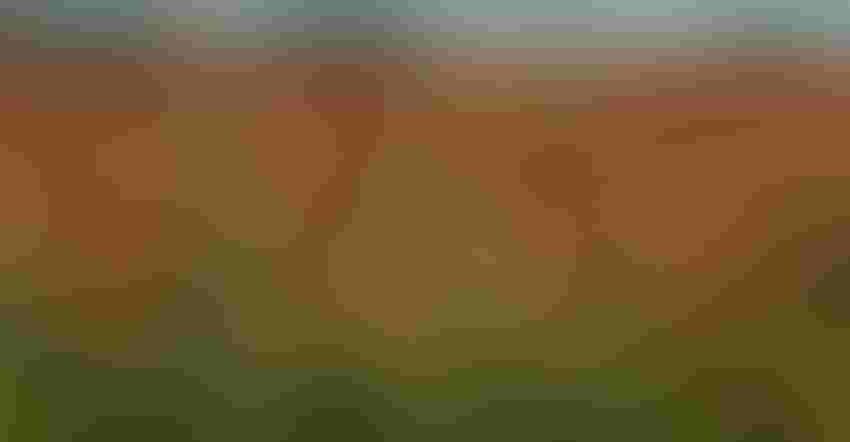 TOP YIELDS: Mike Baker of Trenton, Neb., has a long history of planting sorghum, and he plants a test plot every year on his land to demonstrate numerous sorghum varieties.
Faina Gurevich/Getty images
Mike Baker of Trenton, Neb., knows about growing grain sorghum in Nebraska. He serves as District 4 representative on the Nebraska Grain Sorghum Board.
In 2020, his Baker's Acres took second place in the National Sorghum Producers (NSP) annual yield contest for the Irrigated-West Division in Nebraska with a yield of 147.65 bushels per acre.
He notes that last spring was quite wet until almost July. He didn't plant his test plots until June 4. Planted into winter wheat stubble, Baker had only 12.3 inches of precipitation from Jan. 1 until Oct. 21 when the dryland plots were harvested.
"We had very little rain from the beginning of July until the middle of September," Baker recalls. "On yields, overall, I can't complain. But the dryland yields were down overall about 30% to 40% from our expected yields."
Usually, Baker might expect an average dryland yield of about 100-130 bushels per acre, but this year, 50-90 bushels per acre caught much of his dryland crop. That said, his dryland sorghum plots did very well. Planting at a population of 55,000, just a little less than half of the hybrids tested came in under 100 bushels per acre.
The winning varieties were Channel 6B95 with a yield of 117.19 bushels per acre. Golden Acres 3180B yielded 110.82 bushels per acre, and Fontanelle G5805 yielded 110.11 bushels per acre.
Several varieties were close to those numbers. About 95% of Baker's sorghum acres are dryland, but he had one pivot of sorghum this past year that yielded from 170-180 bushels per acre.
Baker hopes that 2022 is a little wetter than 2021, when moisture during the growing season was so hard to come by. Pests and disease haven't been a big problem in sorghum, he says. Baker notes that planting sorghum into wheat stubble has been a winning strategy over the years.
Serving on the Nebraska Grain Sorghum Board is worthwhile because directors provide service to fellow sorghum growers, Baker says. "There have been many conversations to educate and promote sorghum to growers, that sorghum is a worthwhile crop and a very economical option" to plant.
Nebraska winners
Nebraska sorghum yield winners this past year in the NSP yield contest (see table) include Robinson Brothers Land and Cattle Co. from Harlan County in the Dryland-No-Till West category, with 176.47 bushels.
Christopher Holste, Gosper County, took second with a yield of 149.50 bushels per acre; and Nicholas Holste, Harland County, finished third with a yield of 149.49 bushels per acre.

Matthew Bloss, Pawnee County, got first in the Dryland-Tillage West Division, with a yield of 158.47 bushels per acre, which was also good for second place in the national contest. In the Irrigated-West category, Scott Jewett, Harlan County, got first with a yield of 207.98 bushels per acre, good for second place nationally.
SC Farms Partnership, Clay County, took second in Nebraska with 207.80 bushels per acre, which won them third nationally. Third place in the state went to Max Schubauer, Buffalo County, with a yield of 198.42 bushels per acre.
Learn more about the 2022 National Sorghum Producers Yield Contest at sorghumgrowers.com.
Subscribe to receive top agriculture news
Be informed daily with these free e-newsletters
You May Also Like
---