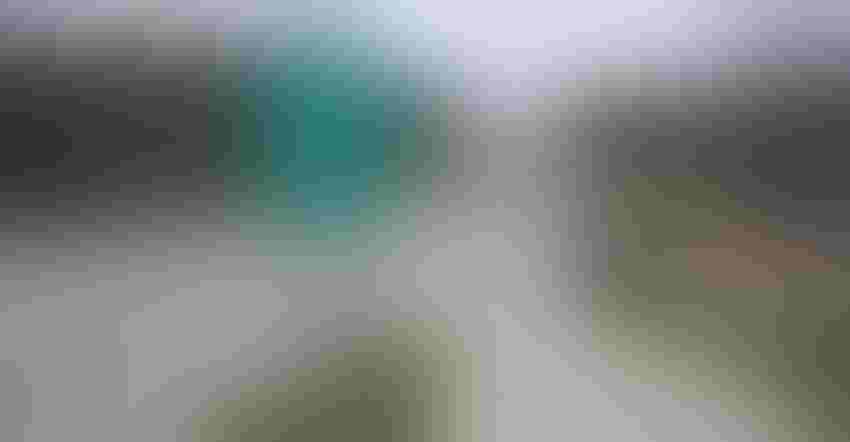 SEE THE SIGNS: Just where does your local creek flow? This is an example of a two-part sign being deployed by the Iowa Department of Natural Resources to share knowledge about where creeks flow. It helps inform consumers about where water goes.
Photos courtesy of ISU Conservation Learning Group
Iowa is bracketed by major rivers and crisscrossed with numerous creeks, streams and other tributaries that provide sustenance for its burgeoning agriculture industry and drinking water — and countless opportunities for recreation and sport. Most people intuitively understand that local creeks flow into reservoirs or larger rivers, but few give these smaller water sources a second thought as they travel along Iowa's roads and highways.
Looking to increase local awareness of creeks and streams in Iowa, Steve Hopkins, nonpoint source coordinator at the Iowa Department of Natural Resources, has been the driving force behind a coordinated creek sign initiative. He notes that the Iowa Department of Transportation is tasked with installing and maintaining signs for rivers along state and federal roads, but not creek signs.
Since 2014, DNR has contracted with IDOT to install creek signs in areas with active watershed improvement projects funded by Section 319 funds from the Environmental Protection Agency. This program comprises about one-half of some 1,276 creek signs installed in Iowa since 2014; and there are plans in place to continue to add more signs through the DNR program as well as to provide grants to counties looking to take on installation of additional signs.
"Our goal in placing the creek signs is to get people thinking about local creeks and watershed projects, and draw attention to downstream lakes and rivers," Hopkins says. "We want to help them understand where their runoff goes. Such awareness is the gateway for people to change behaviors and make decisions to implement watershed improvement or protection practices."
Hopkins cited the Easter Lake water quality improvement efforts that have included expenditures of more than $23 million, noting that simply adding "Source of Easter Lake" to the Yeader Creek signs was a simple and effective way to increase awareness of the creek and its connection to the lake in and around Des Moines.
Referring to projects in other parts of Iowa, he notes that after several signs were installed in one project area, the watershed coordinator reported that a farmer called and said the signs were all around his fields, and that it had tipped the scales for him to start deploying conservation practices. Hopkins explains that the purpose is not to shame people, but to get people thinking about their local streams, where their runoff goes and what efforts they can make to improve water quality. He also notes that the majority of feedback to his group or local watershed coordinators was positive and included comments such as:
"I didn't know my creek even had a name!"
"I didn't know Big Creek started up by Highway 30!"
"I didn't know Cedar Creek was the source of Lake Geode!"
"I like the signs. I hope we get more!"
Sign impact study
To assess the impact and obtain some measurement of the creek sign program's progress, Hopkins engaged the Conservation Learning Group from Iowa State University Extension and Outreach to conduct a study that included speaking with watershed coordinators and surveying the public in areas where signs had been installed, and areas that did not have creek signs in place.
In its study, CLG interviewed seven watershed coordinators, including six in areas where the DNR had installed signs, and one in a watershed area without creek signs to gather comparative data. The study also included in-person surveys conducted at public events recommended by the watershed coordinators in each area. The third component of the study was a mailed survey that went to the public in the targeted areas. The total number of survey responses through all collection methods was 632.

SIGNAGE MATTERS: A recent study shows how two-part signs linking creeks and their watersheds is making a difference.
"One of the key takeaways from the study is confirmation that people do notice and pay attention to the signs, but that they are not a stand-alone educational tool," says Nathan Stevenson, CLG visual outreach specialist and conservation educator. "The study confirmed that creek signs are welcomed as educational tools, and people are identifying their local water bodies because of the signs. But the signs act more as performance support tools that complement other teaching and outreach efforts to reinforce local connections to waterways and drinking water sources."
Other interesting study results included that 48% of respondents in areas with creek signs could correctly identify their local water body, while only 27% could do so in the area without creek signs; some 77% were concerned about local water quality; and there was a preference for a dual-sign style including both the creek name and its connected watershed.
What's next?
Looking back over the history of the creek sign initiatives and projecting forward, Hopkins says this is just one small piece of a larger effort to improve water quality statewide, but thus far it has yielded excellent return on the investment.
"The report from CLG did not include any bombshell findings or silver bullets, but it did reinforce that we are making progress on our goal to build awareness among the public, and help them to follow the process of learning the name of their local creek, learn where it flows, learn to care about the quality of its water, and take action or adopt practices to improve their creek," Hopkins says.
The DNR is on track to install about 100 signs each year through its partnership with IDOT. In addition, new programs such as the County Creek Sign Grant Program will provide funding to install creek signs along county roads. Reflecting the responses noted in the study report, this program includes a preference for the dual-sign approach including both the creek name, and the watershed name or the lake, river or reservoir it feeds.
"Any watershed project receiving Section 319 funding can include the installation of creeks signs along local and county roads," Hopkins said. "We believe this is a very cost-effective way to increase awareness of local creeks, watersheds and where our water flows."
Other projects include work with Des Moines Water Works and the city of Des Moines to install new river signs that note the rivers are the source of the city's drinking water.
Ripley is Iowa Learning Farms manager and a Water Rocks! conservation outreach specialist. Conservation Learning Group is a collaborative team established to advance training, outreach and research across land uses and production systems to increase overall sustainability of agricultural and natural systems for multiple generations to come. CLG draws on experts in various disciplines to deliver engaging science-based outreach to farmers, agricultural advisers, landowners, decision-makers, youth and communities. To learn more about CLG, visit conservationlearninggroup.org. 
About the Author(s)
Subscribe to receive top agriculture news
Be informed daily with these free e-newsletters
You May Also Like
---