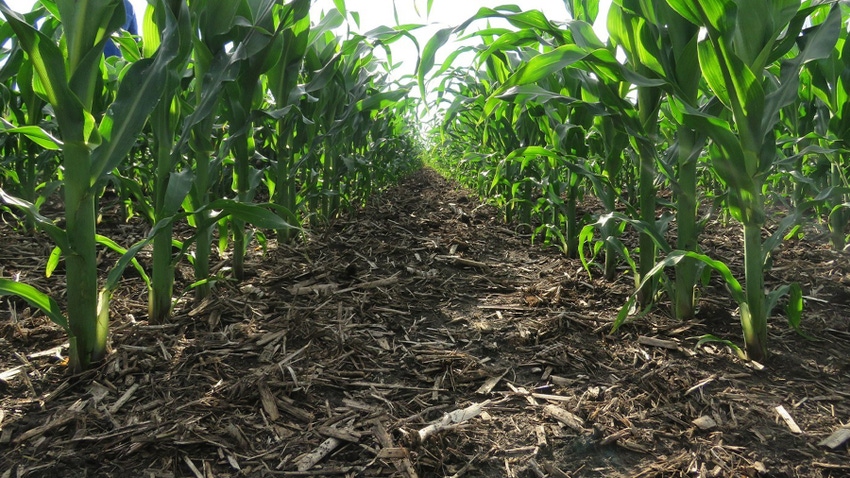 OPPORTUNITY TO HELP: Upon retirement, consider renting your machinery and land to a beginning farmer who doesn't have these assets.
Farm Progress
I'm 66 years old. Five years ago, I sold my cows and paid off our mortgage. I continued to farm the 400 acres I own and rent. Now I'm thinking about fully retiring, selling my equipment this fall and renting my farm to a neighbor next year. Last year, after I put a crop in the ground, paid my rent, bought my crop inputs and harvested my crop, I figure I might have broken even. This year, I'm not sure I will break even. Renting my land to the neighbor will give me about $45,000. That combined with Social Security and Medicare should give me and my wife enough income to retire on and pay our taxes, insurance and living expenses.
Tom Kestell: It is amazing, when you put a pencil to things, how expensive it is to operate even the land you own. Try to remember that when you are negotiating rent with your new tenant. I don't think you missed much, and your plan should be "field ready" in most areas. In my opinion, the one thing to include in your rental agreement is future care of the land.
Make sure the agreement includes maintaining and improving sound conservation practices. There is an old saying that simply states: Leave the land better than you found it. The land will be your greatest physical asset, so try and protect it. You know the land better than anyone, so give advice to the new operator on best practices and possible problem areas, so he doesn't face unknowns that can adversely affect his success. Remember, his success is your success.
Check with you tax adviser on the best way to timely market your equipment. Enjoy your retirement, because you have earned it.
Sam Miller: Your plan makes sound sense. You have one other source of income — returns from the sale of your equipment. Start with a visit to your tax preparer and get an idea of the capital gains on the equipment sales. Discuss the options of selling all the equipment in one year vs. spreading out the sales over two years. Then visit with a financial planner or banker to discuss investment options to reinvest equipment sales to provide additional income. Good luck with your upcoming retirement.
Katie Wantoch: Congratulations on making the decision to transition from actively farming your land. Retirement is often a taboo word among farmers, so I applaud you for considering the next stage in life.
Guido van der Hoeven with the Iowa State University Center for Agricultural Law and Taxation suggests there are a few options you could consider when selling your machinery. You can have a sale of all your equipment, which may generate a lump-sum payment less sales costs. This option will trigger Internal Revenue Code Section 1245 (type of property, includes equipment) depreciation recapture resulting in a potentially sizable tax bill. Your accountant or tax preparer may be able to assist you in calculating this amount. Another strategy to consider is selling the equipment over time to manage the outstanding tax bill due to IRC Section 1245 recapture. This option allows you to spread out your tax obligations over multiple years.
Finally, it sounds like you have adequate income stream from your land rental and other sources to support your lifestyle. You could consider renting the machinery and land as part of a rental agreement to a beginning farmer who doesn't have these items. The rent received from this option, less allowable expenses, is not subject to self-employment tax and would be reported on IRS Form 1040's Schedule E for Supplemental Income and Loss. This option is common among related and nonrelated parties. Best of luck with whichever option you decide.
Additional venture may help cash flow
I graduated from college in 2021 with a bachelor's degree in agribusiness and moved home to our family's farm. We milk 200 cows and farm 275 acres. My brother and my parents are farming too. While there is plenty of work to keep me busy on the farm, I am hoping to increase our income. I would like to take advantage of our attractive dairy farm's proximity to town and start some agritourism. I was thinking of opening our farm to tours on the weekends, allowing people to check out the newborn calves, chickens and goats. Eventually, we could open an on-farm store selling cheese, ice cream and other Wisconsin products. I have $25,000 saved, but I am sure I will need a loan. Likely we will have to hire part-time help. What are your thoughts?
Tom Kestell: Congratulations on your successful college education. I hope you can put things you learned in your studies to practical use. I know very little about ag tourism, but I know some people are very successful at it and some are not. I also know that some of the key elements of success are location, promotion and execution of an enjoyable experience. I would talk to both successful and failed ag tourism startups. I think you can learn from both sides of the story. It took four years to get your degree, so spend an adequate amount of time and effort here so you tilt the odds in your favor for success. Customers want a comfortable and relaxed atmosphere so they and their children enjoy the experience and become repeat clients.
A cheese store in my area offers a variety of products such as Amish candy, honey products, maple syrups, and a wide variety of cheeses, sausages, and novelty items. Take the time to visit farm stores to see what customers gravitate to and what sells, what they only look at, and what they just walk past. Be creative on how to market your farm experience. A picture of someone feeding a calf can be a treasured keepsake for children and even adults. Having a calf-naming contest and selling seasonal produce such as pumpkins or sweet corn are other ways to draw people to your farm.
Again, take the time to create a vision for how you can be successful, and then put passion and effort into making that dream into a reality. Remember, the people whom your potential customers come in contact with will have a major impact on your success. People enjoy meeting young people with enthusiasm who smile and are willing to interact in an informative and pleasant exchange.
Look into state and federal grants for new business ventures that may be available. There are federal dollars available for worthy projects, and I think yours could be one of them. Good luck.
Sam Miller: You may be on to something, as coming home to the farm without increasing any revenue means the rest of the family has to share the returns with an additional person. Adding a revenue source can help pay your way, bring diversification of income and provide you with management experience. Reach out to other successful operations doing this type of agritourism. Visit their operations and ask if you can meet with them to understand the costs, benefits, pros and cons of running this business.
Be certain to find out what type of licensing, permitting and liability coverage you would need to operate this added business. Then, put together a business plan and discuss it first with your parents and brother. If they are on board, you can pitch it to your banker. If you need assistance with finding similar businesses or putting a business plan together, reach out to your local ag Extension agent or the Wisconsin Department of Agriculture, Trade and Consumer Protection. Good luck exploring an added venture.
Katie Wantoch: Agritourism is a way to bring people to your farm, connect with the community and diversify your farm's revenue stream. However, agritourism activities don't suit every farm or farmer. Agritourism is dramatically different than your current farm business. You must be willing to spend time with customers, share information about your farm and make them feel welcome.
University of Vermont Extension has a great resource, A Guide to Successful Agritourism Enterprises, that will help you in assessing your farm for agritourism, considerations for business and financial planning, on-farm experiences, safety and risk management, and marketing. Where to start? Here are 10 steps the guide suggests considering for the growth of your agritourism business:
Take stock of your resources.

Get informed, attend conferences or peruse websites.

Find out what other entrepreneurs are doing.

Consult potential customers.

Research the market, your competitors and your collaborators.

Network with state tourism or agritourism groups.

Connect with state resources, etc.

Talk with your insurance provider.

Develop a business and marketing plan.

Start small and stay thrifty at first.
Agrivision panel: Tom Kestell, dairy farmer, Sheboygan County, Wis.; Sam Miller, managing director, group head of agricultural banking, BMO Harris Bank; and Katie Wantoch, statewide Extension farm management outreach specialist/professor of practice. If you have questions you would like the panel to answer, send them to: Wisconsin Agriculturist, P.O. Box 236, Brandon, WI 53919; or email [email protected].
Subscribe to receive top agriculture news
Be informed daily with these free e-newsletters
You May Also Like
---