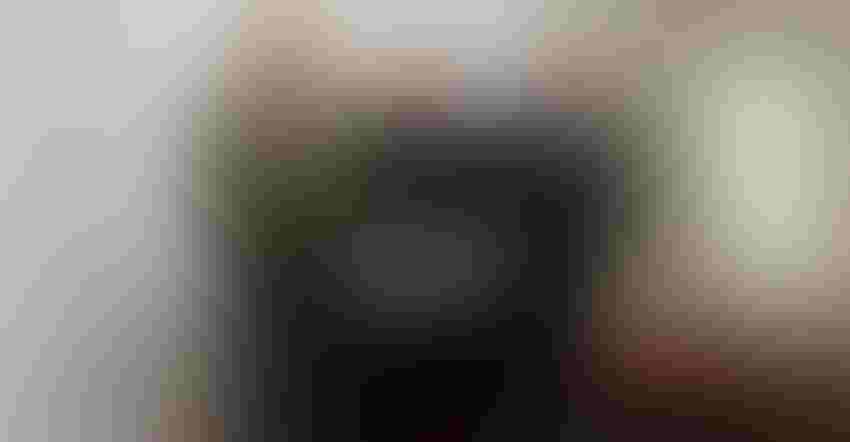 $1 BILLION COST: Nebraska Farm Bureau senior economist Jay Rempe (left) discusses the results of a Nebraska Farm Bureau report showing that retaliatory tariffs on U.S. agriculture have cut Nebraska farm level revenue between $695 million and just over $1 billion in 2018.
Recently, agriculture has received some good news on the trade front, with the announcement of a potential trade agreement with China and the U.S.-Mexico-Canada Agreement awaiting Congressional approval. However, as farmers look forward with cautious optimism, the impact of retaliatory tariffs in 2018 has taken a toll on their bottom lines.
At its 2018 Annual Convention, Nebraska Farm Bureau outlined a report showing retaliatory tariffs by U.S. trading partners in response to U.S. steel and aluminum tariffs have cut Nebraska farm level revenue between $695 million and just over $1 billion ($1.026 billion) in 2018 — or 11% to 16% of Nebraska's ag export values in 2017. The report also shows retaliatory tariffs on ag commodities have cost the state of Nebraska between $164 million and $242 million in lost labor income, in addition to the loss of 4,100 to 6,000 Nebraska jobs.

ECONOMIC IMPACT: Range of tariff impacts to Nebraska's economy.
Jay Rempe, Nebraska Farm Bureau senior economist and one of the report's authors, said Farm Bureau wanted to better understand the impact of retaliatory tariffs — including to producers and to the Nebraska economy as a whole. Rempe noted this analysis includes three commodities: corn, soybeans and hogs. Beef exports have increased in the last year and haven't been affected by retaliatory tariffs. So, beef wasn't included in the analysis.
"If you recall back in June, the markets for corn and soybeans, the prices were trending upward," Rempe said. However, several things happened in June and July that impacted prices. "One was retaliatory tariffs were put in place, particularly China's retaliatory tariff on soybeans that became effective July 6. The other thing that happened is USDA came out with its first production estimates that showed we were going to have record crops in corn and soybeans."
Nebraska Farm Bureau economists used percentage declines as a result of retaliatory tariffs based on a study by the Center for Agricultural and Rural Development at Iowa State University, and applied those percentages to cash prices in Nebraska, to determine the impact on corn, soybean and hog prices.
The report showed a $0.14 to $0.21 per bushel drop in corn prices; a $0.95 to $1.54 per bushel drop in soybean prices; and a $17.81 to $18.80 per head drop in hog prices due to retaliatory tariffs in 2018. That translates to a total loss in farm level revenue of $257 to $327 million for corn and $384 to $531 million for soybeans. For hogs, the revenue loss would be about $111 million. The reason for the bigger drop in soybean prices is because trade disruptions have a bigger ripple effect in soybeans. Nearly 50% of the nation's soybeans are exported — and China's 25% tariff on imports of U.S. soybeans didn't help.
The report also used an Implan model, an input-output model that evaluates the link between different sectors of the economy, to determine the loss of labor income, jobs and total output to Nebraska's economy.
"On the low end, you're talking about an additional $164 million in lost income. That's lost wages, that's lost income to other sectors of the economy, that's spilling out through the economy. Ultimately, that leads to a loss of jobs of just over 4,000 jobs in the state's economy," Rempe said. "On the high end, if you take that larger figure, just over $1 billion, you end up with a total loss to the state's income of $1.268 billion. That's lost income to the state, that's lost money that our laborers, our employees, are receiving around the state. We're talking about a loss of almost 6,000 jobs."
Market Facilitation Program payments were not included in this analysis to isolate the effect of tariffs on the state's economy for these three commodities. The first half of payments to Nebraska are expected to amount to roughly $300 million.
Rempe emphasized that the analysis just covers these three commodities — it doesn't account for the potential greater impact from other commodities and sectors.
"This looks at just a little bit of the impact on the state's economy, and you can see that because of the retaliatory tariffs that have been placed, the trade disputes, there is a loss to Nebraska's economy," he said. "For every dollar lost in farm receipts, it amounts to another 23 cents in additional income lost to the state, and 76 cents lost in total output to the state's economy. There's a multiplier effect. When farmers and ranchers aren't earning money, that impacts the economy."
Subscribe to receive top agriculture news
Be informed daily with these free e-newsletters
You May Also Like
---