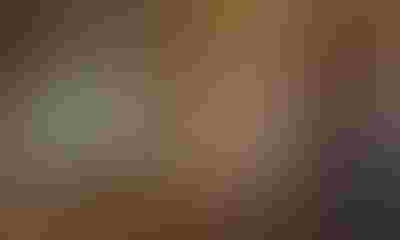 Subsurface drainage is gaining traction in Nebraska – especially in places like Dodge, Washington, and Burt counties, where wet springs have combined with fine-textured, poorly-drained soils to make it more difficult to move water from the field.
Nebraska's topography is unique, and there are some unique considerations to keep in mind when installing a tile drainage system to accommodate topography, notes Jay Uehling, who has realized the benefits of tile drainage on his farm ground in Dodge and Burt counties since the mid-1990s. Recently, Uehling purchased a tile plow and is going into the tile business with his cousin, Scott Uehling, a licensed engineer in the state of Nebraska.

MAPPING A DRAINAGE SYSTEM: Scott (pictured) and Jay Uehling map field elevation using a utility vehicle equipped with a GPS unit to generate a map of a field to upload onto AgLeader SMS. "We can come back and upload that information and generate a profile of the ground that we're looking at," says Scott. "We can take that information and lay out the tile plan and do our calculations to make sure we have the proper gradient for flow."
"There's always a balance between what we think might be proper design and cost of the system itself," says Scott. "You have to balance what you think would do the job, coupled with what the farmer is willing to spend per acre to achieve those results."
Factors at play
One of the first things to consider is whether or not the soil is a good candidate for drainage. This is where hydraulic conductivity comes into play, notes Matt Helmers, Iowa State University agricultural drainage specialist. "The important thing is to make sure we're evaluating, pushing the pencil and making sure we're looking at what's economically beneficial," says Helmers. "Do we think those soils will get the yield increase where it will help pay for itself? People hear there's a yield increase with drainage, and for certain soils, there absolutely is."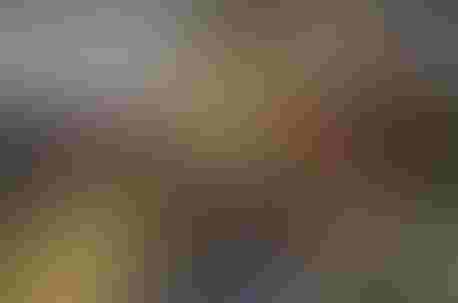 STRIKING A BALANCE: Recently, Jay Uehling (pictured) purchased a tile plow and is going into the tile business with his cousin, Scott Uehling. How deep and how wide apart the tile line is placed play a big role in how much water can leave the field in a given amount of time. "It's always a question of how fast you want to move the water off the field. If you can keep it shallower, the offset is you have to keep it closer together to get that profile into the ground," says Jay.
It's also a matter of balancing drainage coefficient, or how fast water can be taken away from the field, with drainage intensity, or how fast the water can move through the soil to the pipe. And that takes balancing elevation, pipe size, roughness of the pipe material, along with tile line depth and spacing.
~~~PAGE_BREAK_HERE~~~
Elevation, pipe size, and pipe material affect the amount of water that can be removed from a field at once. Too great a velocity can lead to erosion around the pipe while velocities too low can result in sediment buildup. Place the line too shallow, and you risk severing it during field operations. Place it too deep, and you risk putting it underneath the impermeable layer – where water can't reach it. Place it too far apart, and you're left with wet spots in between lines. Placing lines too close together isn't practical from an economics standpoint.
"It's always a question of how fast you want to move the water off the field. If you can keep it shallower, the offset is you have to keep it closer together to get the water profile drained more uniformly," says Jay. "What we're going to pattern tile we'll probably be in that three-foot range, 30 to 36 inches, but they'll be closer together so that water profile will still drain. We've adopted the theory that you've got to put them in shallow but closer together so you don't drain down too far."
Working with the landscape
Elevation plays a key role. If the water level in the field is lower than the water level at the outlet, water can't leave the field. These situations call for pumping stations, says Nathan Mueller, University of Nebraska Extension cropping systems specialist.
"Dodge County has a few pumping stations where growers are pumping out of their system because they don't have the elevation drop and an outlet to drop it out," says Mueller. "The water in the ditch can be higher than the farm ground because of high flows during times of the year."
On the rolling eastern Nebraska landscape, some growers like Jay Uehling are installing drainage on hillsides, which poses its own set of challenges.
~~~PAGE_BREAK_HERE~~~
Some of these hills have well-drained loess soil on top and poorly-drained glacial underneath. When it gets wet, the water can't drain through the tighter soils, and instead seeps out the hillside. "I've seen fields in Washington County where people were getting stuck on hillsides because of those hillside seeps," says Mueller. "I've seen sprayer tracks sink in six to eight inches where you would never think you'd see it."
In these situations, tile line has to be placed just above the impermeable layer to catch water before it can seep out. "This is going to be a good learning experience," says Jay. "In the hills, it's going to be interesting to see how it works – that's going to be a different challenge."
This article is the second in a two-part series on subsurface drainage systems in Nebraska. See yesterday's article at: Drainage helps farmer to improve production on land available. Learn more in an upcoming print issue of Nebraska Farmer.
Subscribe to receive top agriculture news
Be informed daily with these free e-newsletters
You May Also Like
---