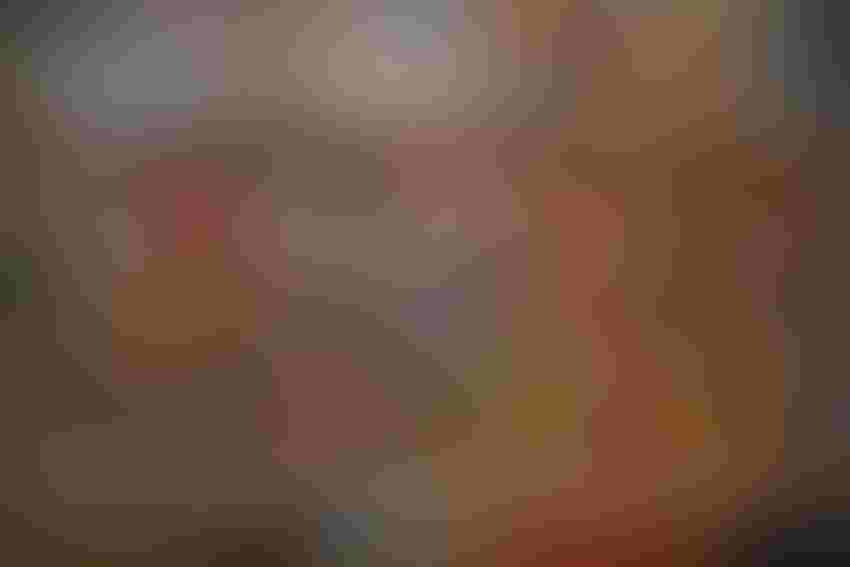 Data from IRI, a data analytics and market research company that tracks retail purchases from scan data at cash registers, shows peanut butter prices have actually just increased 3.9% year-to-year, not the 15% percent that is being inaccurately reported.
John Hart
With per capita peanut consumption at an all-time high and a good supply of peanuts available to meet the growing demand, there are rays of hope for the U.S. peanut industry. But with the optimism comes concern, particularly when it comes to the chemicals peanut farmers need to protect their crops.
At a National Peanut Board listening session March 29 at the Senator Bob Martin Eastern Agricultural Center in the heart of North Carolina peanut country in Williamston, Bob Parker, president and CEO of the National Peanut Board, shared the latest annual U.S. per capita peanut consumption number: 7.9 pounds.
"Our stated goal is eight pounds per capita. I was hoping we were going to get there this year. Things are kind of flat right now with consumption seven months into the marketing year. If we don't get there this year, hopefully, we will get there soon," Parker said.
Despite the record consumption, prices for peanuts and peanut butter remain stable. Parker said the National Peanut Board is working to correct the misconception that peanut butter prices are skyrocketing today.
Parker shared a story related by Tom Corcoran, a board member on the National Peanut Board from Alabama, who was driving up to Atlanta from his farm in Barbour County and was listening to a local talk radio program where the guests were claiming that peanut butter prices have increased 15% over last year.
3.8 to 3.8% increase
Parker also said he was interviewed by a journalist who was asking why peanut butter prices are up more than 15% year-to-year. Parker made it clear that this is inaccurate; peanut butter prices are not increasing that much. The actual increase is 3.8% to 3.9%.
The misconception comes from the fact that peanut butter is part of the "other fats and oils" category of the Consumer Price Index released by the federal government, which includes soybean oil along with peanut butter. Parker explained that soybean oil prices are increasing rapidly, but peanut butter prices are not.
Parker pointed out that data from IRI, a data analytics and market research company that tracks retail purchases from scan data at cash registers, shows peanut butter prices have actually increased just 3.9% year-to-year, not the 15% percent that is being inaccurately reported.
Parker said he broke down the Consumer Price Index data to just peanut butter and it showed just a 3.8% increase. He said that number makes more sense.
"But to really be safe, I took a field trip to the grocery store. I went to the peanut butter aisle. That day the peanut butter price was actually less than what the scan data had shown peanut butter is selling for something like $2.35 a pound; that's less than 17 cents per serving. You hear people asking why are peanut butter prices up so much? Peanut butter prices are actually as stable as they've ever been. Peanut butter is still a great value value to the consumer," Parker stressed.
Sustainability
Moreover, Parker said peanuts have a good story to tell consumers when it comes to sustainability.
The latest data calculating water usage by serving size shows that peanuts use 3.2 gallons of water for one serving compared to 25 gallons per serving size for pistachios, almonds, and walnuts. "There is no doubt that peanuts are the most sustainable nut when it comes to water," Parker said.
Still, Parker said more data is needed to back up peanut's sustainability story. He urged peanut farmers to participate in the American Peanut Council's Sustainable U.S. Peanuts Initiative that is collecting data confirming that peanuts are produced sustainably in the United States.
"I encourage you to look at the program. It will take about an hour of your time to provide some information about your farm, your sustainability, your inputs. It will be totally anonymous, but it will help our industry immensely because consumers want to know where their food is coming from, and they want to know it's sustainable," he said.
Parker also addressed concerns about the escalating costs of production this year. He stressed that boosting yields is still the best way to balance higher production costs.
"If you can push your yields to 5,000 pounds per acre, the costs of producing 5,000 pounds per acre is not going to be much different than producing 3,000 to 3,500 pounds per acre. Yield drives your unit cost of production down more than anything I know of," Parker said.
Fungicides continue to be a significant expense for peanut producers, and Parker said the remarkable inroads made in resistance to leaf spot disease is good news for peanut farmers. He said work needs to continue further in developing disease resistant varieties.
At the listening session, North Carolina State University Peanut Breeder Jeff Dunne said his program continues to work with USDA's Plant Genetic Resources Conservation Unit in Griffin, Ga. to find germplasm that offers disease resistance for new peanut varieties. Marker assisted selection and gene stacking continues to gain importance in breeding to find disease resistance and other valuable traits.
"When these pathogens start overcoming that resistance, we need to be ready with new material to work into our program. We are challenged with pathogens year in and year out. We need to stay on top of our ability to screen them," Dunne said.
In the meantime, North Carolina State University Peanut Specialist David Jordan said the breeding program can find solutions for critical problems such as disease, but he is very concerned about the future availability of insecticides, herbicides and nematicides.
Jordan said one problem is that peanuts in the U.S have a relatively low acreage compared to corn, cotton and the big companies aren't always interested in pursuing new chemistries targeted just for peanuts. The other big issue, Jordan said, is that the international markets that the U.S. peanut industry is working to capture are putting more constraints on the chemicals U.S. peanut farmers can use on their crops. Finally, our use patterns at the farm level need to protect the chemistries we have. Resistance of pests across all disciplines poses a real threat to our production systems. We've got to help ourselves,
"The breeding program helps on some of our most important diseases. But if you look at weeds and insects and nematodes, we're in big trouble because of the chemistry reliance we have. I'm worried about the future because there are fewer and fewer tools we are going to have to use," Jordan said.
Subscribe to receive top agriculture news
Be informed daily with these free e-newsletters
You May Also Like
---