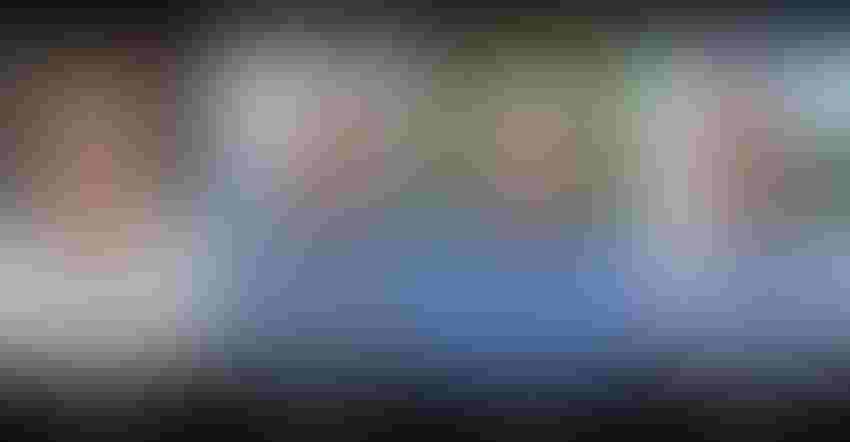 A common denominator of this year's four Farm Press Peanut Efficiency Award winners is a long heritage of successfully growing peanuts. These champion farmers all bring a legacy of effectively and sustainably achieving top peanut yields, year in and out.
Each winner credits good varieties, timeliness, and tillage as keys to their success. Just as  important, they stress a love for what they do and a commitment to efficiently and sustainably grow a good peanut crop, despite the challenges.
The 2022 Peanut winners are Ben Cowin, Williamston, N.C., Upper Southeastern states; Wayne Hobbs,  Irwin County, Ga., Lower Southeastern states; Mitchell Rogers, Covington County, Miss.; Delta region; and Karl Stutzman, Weatherford, Okla., Southwest region.
Here's a quick snapshot of each winner:
Upper Southeast
To realize that Ben Cowin is a champion peanut farmer, you need only to pop into his farm office at his comfortable home on Cowin Road, in Bear Grass, which is near Williamston. Lining the walls of the office are trophies recognizing Cowin as the top peanut yield  winner in Martin County. He has been the top yielding farmer in the county for 24 years straight, winning the county trophy every year since 1997. In 2004, he was the top statewide yield winner in North Carolina. He has consistently been a member of the 5,000-pound club, achieving average yields of more than 5,000 pounds per acre.
In 2021, Cowin achieved an impressive yield of 6,083 pounds per acre.  He  planted 244 acres of the high oleic Virginia-type varieties Bailey II and Sullivan for seed peanuts. He planted 224 acres of Bailey II and 20 acres of Sullivan.
"We do all we can to a crop of peanuts. I farm for what I can make not for what I can save in a crop. If I can spend $5 an acre and make $25, that's what I try to do," Cowin explained, summarizing his farming  philosophy and approach to achieving stellar yields, year in and year out.
Cowin farms with his younger brother Clayton Cowin in Martin County on land that has been tended by a member of the Cowin family for six generations. Ben began farming with his father, the late Ben Simon Cowin, in 1981. Clayton came on board four years after Ben in 1985, when his dad suffered a second heart attack and retired from the farm.
"Varieties are much better now. They offer so much more disease resistance than the old varieties. I think the main thing is the good rotation and being timely. We use a three-to-four-year rotation with cotton. I have been blessed to be consistent," he added.
Cowin emphasizes a key to success that previous Peanut Efficiency Award winners over the years have emphasized: timeliness. He works to be timely in planting, spraying, and harvesting. Timeliness is particularly important in his fungicide program.
"If you have a disease problem, it's too late. I try to prevent disease. It costs a little bit up front,  but it pays for itself. When it comes to digging time, if you have plenty of leaves on your peanuts and your vines are in good shape, that's a good crop, most of the time," he said.
Lower Southeast
Wayne Hobbs of Irwin County, Ga. continues the family tradition of proficiently growing high-yielding peanuts. He and brother Greg Hobbs credit their father T.M. Hobbs, who decades ago established a reputation for growing peanuts. T.M. Hobbs has a legendary role in certain circles of Georgia's peanut industry.
Over his farming career, T.M. Hobbs  received numerous state and local recognitions for his cutting-edge peanut practices. The Irwin County peanut award is named in his honor. Both Wayne and Greg grew up farming with their father. Greg was honored alongside T.M. on several occasions. Greg now works off the farm. 
Forty to  50 years ago, T.M. achieved yields that would be considered extraordinary today. In the mid-1960s, he could make well over two tons per acre. In 1972, the first year T.M. used a twin-row pattern, he averaged 5,233 pounds. In 1984, he topped the peanut-yield mountain with 6,800 pounds per acre.  
Local land-grant researchers would come to the Hobbs farm to figure out what T.M. was doing. Longtime University of Georgia peanut agronomist Frank McGill, known as Mr. Peanut to many globally, was no stranger on the farm. McGill would visit and do research work on the farm with T.M.
After doing work off the farm for several years, Wayne started back fulltime farming in 1994 when he rented the land from his father. T.M.'s last crop was in 1993. T.M. died in 1995. Hobbs would not be considered a large-acreage farmer by today's norm. He uses a two-year rotation of cotton and peanuts on a total 110 acres. 
Hobbs takes soil samples and limes as needed. He doesn't fertilize his peanuts. He fertilizes the previous cotton enough to carryover nutrients to the peanut crop. The peanut land in the rotation in most cases gets a mold plow, which has helped keep pigweed, a major issue for all growers in the region, to a minimum on his farm. 
In 2021, Hobbs planted 53 acres of GA-06G with an average of 6,121 pounds per acre. 
He puts Thimet in the furrow along with a seeding rate of 220 pounds to 230 pounds per acre. He wants six to seven plants per foot of row in his twin-row system. "It may be more seed per acre than others, but I seed what I need. Seed is like an insurance policy for me and the stand I want," he said. 
Mid-South
Mitchell Rogers, of Covington County, Miss. , is someone who loves to farm and has been sharing that appreciation with others for years.
He has farmed peanuts since 1971 on land that has been in his family for nine generations in Covington County, Miss. He farms about 1,500 acres of cotton, cattle, timber and peanuts with his son, Mark.
At the age of 85, Rogers still farms just outside of Hot Coffee, Miss. He grew his original allotment of peanuts to roughly 500 acres before the quota was eliminated, rotating with cotton and cattle.
He plants the Georgia 06G runner variety, which are all dryland produced, on 38-inch, single rows. He also grows boiling peanuts as well and has built up a business selling the bags locally, directly off of the farm.
Moreover, Rogers is known for helping a number of producers in their own operations with advice and insight on making their farms successful.
Pete Rutland, who nominated Rogers for the PEA, noted that Rogers was always willing to help anyone who needed it. When Rutland was 17, Rogers taught him how to build terrace rows while riding in the tractor with him.
"He's diligent in his work, I think he's a fine Christian man," Rutland said.  "I believe he shows that with his ability to want to help other people."
Southwest
Karl Stutzman, Weatherford, Okla., said good varieties, fertility, and tillage contribute to consistently good peanut yields.  He said success begins with preparing and planting "to the best of our ability. We dedicate it to God and trust him to provide the increase." 
Stutzman produces just over 200 acres of irrigated peanuts in Weatherford, Okla. Last year, he planted both Lariat and SPAN-17 varieties, with the Lariats averaging about 6,423 pounds per acre and the SPAN-17 averaging 4,823 pounds.  
Stutzman calls himself a tiller. He likes the smell and feel of freshly tilled dirt. "I like to get my hands in the soil. I've been experimenting with row-till for a while, especially in cotton." 
For the last three years, he's been integrating this system into peanut production. "It's not new to the peanut industry, but it's new to my system." 
Also new, following cotton with peanuts. Last year, he tried that rotation on one field. It fared so well, all his peanuts are following cotton this year.
Good fertility and crop scouting play key roles in Stutzman's peanut production system. But he credits a lot of his success to his family: his wife Brenda, daughters Erika and Kayla and his parents Bob and Phyllis.
"It's a real privilege to be a farmer," Stutzman said.
Subscribe to receive top agriculture news
Be informed daily with these free e-newsletters
You May Also Like
---