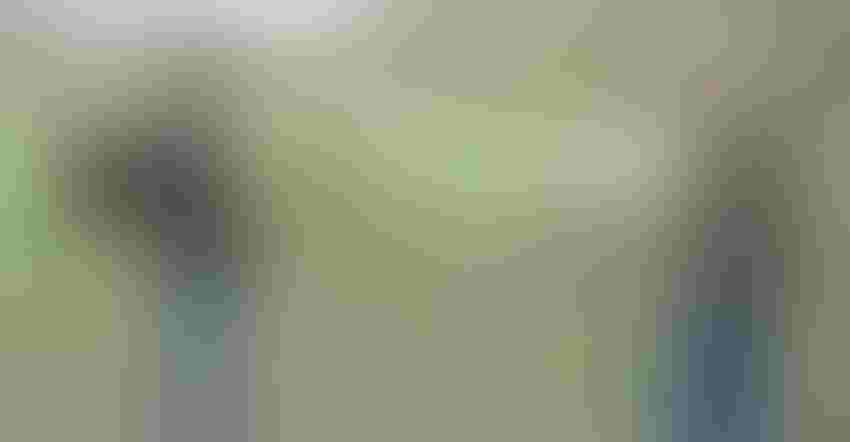 Charley Jordan, retired U.S. Army aviator and Tennessee Homegrown by Hero certified producer, leads the efforts to organize the Tennessee Chapter of the Farmer Veteran Coalition. Shown left, Jordan talks with Tim Prather, Tennessee AgrAbility/UT Extension project director, about beginning farmer outreach.
University of Tennessee
Fewer than 1 percent of the population of America can count themselves as farmers, so the question becomes, "Who will comprise the next generation of farmers?"
A nationwide movement by the Farmer Veteran Coalition (FVC) believes that veterans might serve their country in a new capacity, as providers of the nation's food and fiber — and help themselves in the process. USDA and many in Tennessee, including University of Tennessee Extension, Tennessee State University Extension and the Tennessee Department of Agriculture, agree.
With support from the USDA, a new program is coming to Tennessee to help the dreams of some veterans become a reality. It may also help others who would like to farm, but don't know where or how to start.
The Tennessee Beginning Farmers Development Program (TBFD) will provide resources and assistance to beginning farmers, especially those who are military personnel, veterans, and farmers with disabilities.
Funded with two three-year awards from USDA, the TBFD launched in early 2018 in upper Middle Tennessee, and will expand statewide.
Will be expanded
Upper Middle Tennessee was chosen because of its proximity to Fort Campbell, which has a high concentration of military personnel including those who are on active duty, discharged and retired. The program will be expanded statewide in years two and three.
Agriculture offers purpose and opportunity, as well as physical and psychological benefits. The TBFD will work to connect the opportunity of agriculture to Tennesseans who hope to start, develop and fund an agriculture-based enterprise.
Eileen Legault, UT Extension area specialist with the Tennessee AgrAbility Project (TNAP), says, "Another goal of TBFD is to help build a network of veterans across the state who are beginning farmers. We are looking for farmers who are interested in mentoring these beginning farmers or maybe offering a learning internship at their farm."
Legault is excited to help beginning farmers. "With all the USDA resources available and Extension educational programs, AgrAbility and TBFD are helping farmers with disabilities see that farming with a disability is possible with modifications and assistive technology. Veterans with disabilities may see their disability as a barrier to their dream of farming, but through this grant we will offer hope and resources to make those dreams happen," she said.
Karla Kean, TSU Extension agent in Montgomery County and West Tennessee program manager, says that TBFD programs will not only address traditional agriculture, but will also offer opportunities in the fields of horticulture, horticultural therapy and the tree care industry. "This project is going to be very beneficial for beginning farmers and especially those transitioning out of the military who want to learn more about farming."
Jenni Goodrich, the East Tennessee program manager with TSU Extension in Morgan County, encourages all farmers to establish realistic goals, a farm business plan, a farm safety and health plan and a marketing plan so they are successful and profitable. As the TSU Small Farm Veteran outreach contact, Goodrich shares her voice of experience as a veteran's widow and offers background information on farming to those new to the endeavor.
Tennessee New Farmer Academy
Over the last four years Tennessee Extension has referred beginning farmers to Tennessee New Farmer Academy, a seven-month certification program with hands-on farming led by Finis Stribling, TSU Area Extension specialist. The academy will expand statewide in 2018 and tie in with beginning farmer education opportunities.
The USDA awards, which amount to nearly $739,000 over the course of three years in separate grants to the two universities, will help fund UT and TSU Extension specialists as they meet with farmers to develop a business and financial plan for their farms to help beginning farmers' efforts lead to success.
TBFD is a partnership between University of Tennessee Extension, Tennessee State University Extension, Tennessee AgrAbility Project, the Farmer Veteran Coalition and Tennessee Department of Agriculture, which supports the Homegrown by Heroes project through their Pick Tennessee Products program.
Tim Prather, a specialist with UT Extension, will serve as the principal investigator for the UT portion of the grant and for the Tennessee AgrAbility Project. Dr. Roy Bullock, TSU Extension professor and agriculture program leader, is coordinating the TSU grant.
Among the first steps of the project is gathering citizen input. TBFD specialists developed a survey to help assess beginning farmer needs across the state.
More information can also be found on the Tennessee Beginning Farmer Development website (https://extension.tennessee.edu/beginningfarmers/Pages/default.aspx).
Subscribe to receive top agriculture news
Be informed daily with these free e-newsletters
You May Also Like
---