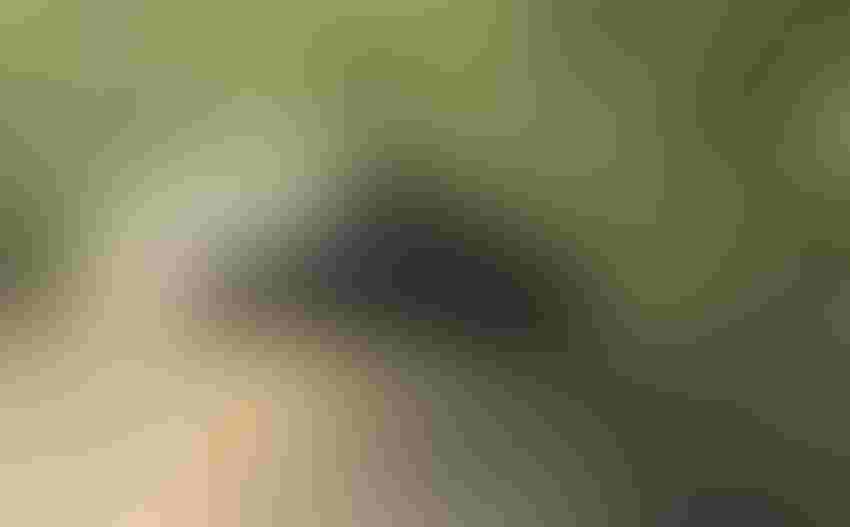 Almonds are harvested near Arbuckle, Calif. This year's USDA trade mitigation grant eligibility will be based on bearing acres rather than crop yields.
Tim Hearden
Specialty crop groups in California are alerting their members about eligibility changes that could boost grower participation in the next round of Market Facilitation Program trade mitigation grants.
For the upcoming round, whose application deadline is Dec. 6, payments will be based on a grower's bearing acreage rather than on crop yields. And a wider range of specialty crops have been made eligible this year -- almonds, cranberries, cultivated ginseng, fresh grapes, fresh sweet cherries, hazelnuts, macadamia nuts, pecans, pistachios and walnuts.
For almonds, the reimbursement this year is $146 per productive acre versus last year's 3 cents per meat pound.
"It's actually substantially more than last year," Almond Alliance President Elaine Trevino told Western Farm Press. "Again, it's not intended to be something where growers are benefitting beyond the marketplace. It's intended to help those that are smaller or may need this type of income to get through the season."
The USDA's Farm Service Agency, which administers the grants, is also offering almond and sweet cherry growers who were deemed ineligible last year because of income a chance to reapply. The agency is suspending its $900,000 annual income cap for applicants who derive at least 75 percent of their income from agriculture, Trevino noted.
Also, qualifying foreign people can receive aid, whereas last year no foreign person was eligible, explained Brooke Raffaele, spokeswoman for the FSA's California field office in Davis.
"They opened it up so more producers could be involved," she said.
Meetings held
The Almond Alliance and Almond Board of California are holding a series of workshops to alert growers of the expanded criteria. Meetings were held this week in Chico and Fresno; more gatherings are set for next week in the following locations:
Oct. 15 at the University of C Cooperative Extension's Kern County office, 1031 S. Mt. Vernon Avenue, Bakersfield.

Oct. 16 at the Almond Board of California, 1150 9th Street, Modesto.
Both meetings will run from 9:30 to 11:30 a.m. To RSVP, email [email protected] for Bakersfield; and MFP[email protected] or for Modesto; or call (209) 343-3220.
In May, the USDA announced up to $16 million in additional aid for growers who've lost income because of the U.S.' ongoing trade disputes with China and other nations. The funding was to include $14.5 million in direct payments to a variety of operations, from dairies and hog farms to grain, seed and tree nut growers. Payments in this round started going out in mid-August.
"Our team at USDA reflected on what worked well and gathered feedback on last year's program to make this one even stronger and more effective for farmers," U.S. Agriculture Secretary Sonny Perdue said in a statement. "Our farmers work hard, are the most productive in the world, and we aim to match their enthusiasm and patriotism as we support them."
Trevino said she recognizes many in the almond industry are normally "not supportive of direct payments." However, "we felt as a trade association that the almond industry is so significant and so important that they should receive the benefits that other crops are receiving," she said.
"If we didn't, it would send a message that we didn't have the same significance (as other crops) or that our guys and gals weren't impacted by what's happening in the international trade market," Trevino said.
Here are answers to some frequently asked questions about the grants for specialty crops, according to the Almond Board and Almond Alliance.
What crops are included?
MFP payments will be made to producers of almonds, cranberries, cultivated ginseng, fresh grapes, fresh sweet cherries, hazelnuts, macadamia nuts, pecans, pistachios and walnuts.
What is the signup period?
You can sign up for 2019 payments until Friday, Dec. 6. That's also the deadline for limited open enrollment for 2018 payments.
What will payments be based on?
Payments will be based on 2019 bearing crop acres. For tree nuts, payments will be $146 per acre. Only almond trees planted before Jan. 1, 2016 are eligible. Check with FSA for eligibility requirements for other specialty crops.
How will payments be made?
Payments will be made in up to three tranches. The first payments are already being made and are based on 50 percent of a producer's calculated payment. If conditions warrant, the second payment will be made in November and the third in early January.
What will determine whether a second or third payment is made?
USDA will make that determination, most likely based on the prevailing trade environment.
Does an applicant have to apply again to get the second or third payment?
No, the payment will be issued automatically.
What are the 2019 payment limitations?
MFP payments are limited to a combined $250,000 for specialty crop producers. No person or legal entity can receive more than $500,000.
Will the payment be discounted based on the age of the orchard?
No.
If you received Round One MFP payments, are they included as gross income?
Yes, because they were intended to compensate a farmer for lost profits.
What are the AGI requirements?
Eligible applicants needed to have an adjusted gross income (AGI) for tax years 2015, 2016 and 2017 of less than $900,000 or be able to verify that at least 75 percent of their average AGI was derived from farming and ranching. With the 2018 and 2019 MFP program, the limitation of AGI at $900,000 has been temporarily lifted.
How long does it take to receive the MFP payment once the application is complete?
Once the application is complete, the payments are issued fairly quickly – no later than 30 days. The USDA began making first-tranche payments in mid-August.
I was not eligible for MFP payments last year because of my AGI. Can I apply or reapply?
Yes, if you grew almonds or sweet cherries. Applicants who were unable to participate because of AGI calculation can now reapply, but must be able to show that 75 percent of the person's or legal entity's average AGI for tax years 2014, 2015 and 2016 was derived from farming and ranching. The producer must have reported the 2018 crop acreage to crop insurance or Farm Service Agency in a timely manner.
For further questions or to apply for funds, contact your local FSA office.
Subscribe to receive top agriculture news
Be informed daily with these free e-newsletters
You May Also Like
---