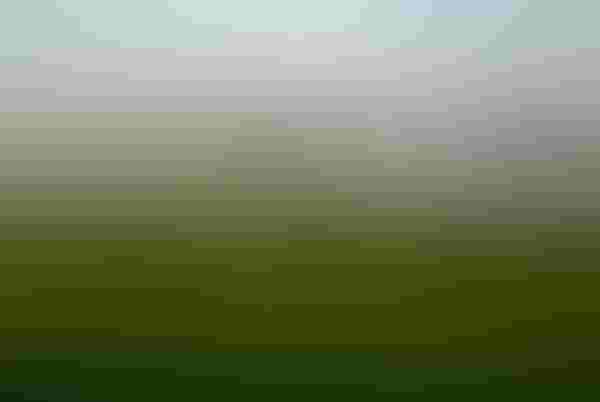 Josh Norris was like many eastern Corn Belt growers who waded through too much rain at planting time in 2011. Delayed planting probably cost him 15-20 bu./acre in corn yield. But thanks to insurance checks for about $90/acre that paid for anticipated corn and soybean losses through a unique new private weather insurance program, trips to the mailbox were happy events. And he has booked all of his corn, beans and wheat in the program for 2012.
Norris, a Middleton, IN, grower, normally has a corn, soybean and winter-wheat crop rotation. His corn averages 180-185 bu./acre, soybeans yield about 50 bu. and wheat about 70 bu./acre. He regularly buys RMA multi-peril crop insurance (MPCI) to protect against disaster production situations.
"I usually go with 80-85% (MPCI) with enterprise units," Norris says, which gives him a yield guarantee of about 140 bu. for his corn crop.
But what about the bushels between 140 – where his MPCI stops – and the 190 bu. that Norris was shooting for? In his case, those bushels were covered by an additional "gap" policy called Total Weather Insurance (TWI) from The Climate Corporation.
The Climate Corporation (www.climate.com), formerly known as WeatherBill, provides the TWI program to corn, soybean and wheat growers who seek protection for top-end yields that their MPCI program doesn't cover.
Sold through crop-insurance agents, TWI operates similar to automobile gap insurance, which provides funds toward complete replacement of a totaled-out car or pickup, money normally not there through a typical collision insurance policy.
With TWI, a grower can't fool Mother Nature into skipping his farm with excessive rainfall, heat or an early freeze. But it can provide protection if weather events happen which are likely to reduce his crop production.
It's estimated that more than 90% of all crop damage comes from weather-related situations, says Jeff Hamlin, The Climate Corporation's director of agronomic research. The weather-gap policy helps manage projected yield losses from the weather.
The company has access to and analyzes an incredibly large amount of weather data. "Using National Weather Service data we are able to track rainfall for any 2.5 x 2.5 mile area in the continental U.S., which helps us provide farm-level protection against bad weather," Hamlin says. "The rainfall grids we are using this year (2012) provide more than 25 times higher resolution than what we had for the 2011 crop year."
Hamlin says TWI's corn program provides a set of coverage components that protect against the major weather perils (see illustration) growers may face throughout the corn-growing season. They include:
• Planting rain, which protects against excessive precipitation that can delay timely planting and other fieldwork.
• Drought with soil moisture tracker, which protects against depleted soil moisture that can cause wilting, pollination issues and decreased yields.
• Daytime heat stress, which protects against hot days that can reduce crop growth and result in ineffective pollination.
• Nighttime heat stress, which protects against warm nights that may result in diminished kernel growth due to increased plant respiration.
• Excess rain with soil-moisture tracker, which protects against excessive local rainfall that can lead to standing water, which starves the crop of oxygen and promotes disease.
• Low heat units/freeze, which protects against a cool growing season or early freeze events that can prevent corn from reaching full maturity.

The soybean program features similar coverage, including an early fall freeze provision. "Growers can look at what is available in the coverage and say 'yes, that matters to me,'" Hamlin says.
Payments for bad weather events that are likely to cause losses aren't made in a lump sum. They're made throughout the growing season, depending on which weather component period is in place.
For example, the typical "planting rain" period for corn in a region may run from April 25 through May 25. If there is excessive rainfall and the grower has not received the number of good planting days specified in his policy, the grower "will be paid for presumed yield problems," Hamlin says. "Checks are sent within 10 days after the end of each component period."
There are no crop inspections and growers don't file claims. Payments are made automatically, based on official weather data reports from various independent sources, such as USDA, National Weather Service and other sources.
Hamlin says that because federal crop insurance is based on a grower's APH rather than their 2012 target yield, MPCI provides "almost catastrophic-level coverage for yields. Growers must suffer extremely significant yield losses before their federal crop insurance will ever kick in."
However, in looking at a typical TWI policy in the Corn Belt region's 30-year crop and weather history, "It would have resulted in a payout about 30% of the time," he says.
"During the 2011 growing season, we paid out for the 'early season rain' component of client policies in 52% of the counties where coverage was purchased, while drought and heat payments were made to 48% of all policyholders nationwide."
Hamlin says a grower interested in the program can receive a free risk report, which includes an analysis of the insurance gap they face with MPCI alone and information about the specific weather events that have caused documented crop loss in their county in the past. Initial premium rates are based on long-term weather forecasts for the coming year. Projected wet weather in northern states or continued drought in the southern plains will impact the price.
"In this example, the premium is currently $38/acre, but prices tend to increase as we get closer to the March 15 purchase deadline," Hamlin says. "Growers can lock in the early season price and then make final decisions about how many acres they want to cover with TWI once they have their federal crop insurance in place.
"This gives growers the ability to design a cost-effective risk management plan that accounts for their federal crop-insurance election. And for growers who purchase coverage, premiums are paid at the end of the coverage period, typically after harvest. Only growers that experience good weather, and presumably good yields, end up paying a premium at the end of the season," Hamlin says.
How It Works
Here are two examples of how TWI would work for a typical farmer like Josh Norris, Middleton, IN.
Corn coverage example: In a corn-production program similar to Norris' situation, a grower carries 85% MPCI and an APH of 180 bu. His crop-insurance base price is $6/bu., target yield is 190 bu., estimated input costs are $650/acre and the crop-insurance premium is about $30/acre.
About 80% of the target yield is covered by MPCI. About 20% goes uncovered even if a claim is filed. That amounts to lost revenue of about a $222/acre. A portion of that would be covered by TWI.
Soybean coverage example: In a soybean production program similar to Norris', a grower carries 85% MPCI and an APH of 50 bu. The crop-insurance base price is $12/bu., target yield is 60 bu., estimated input costs are $250/acre and the crop-insurance premium is $30/acre.
Close to 70% of the target yield is covered by MPCI. About 30% goes uncovered even if a claim is filed. Lost revenue is about $210/acre, some of which would be covered by TWI.
Costs of the weather insurance will vary from region to region, and even field to field, based on soil types, production and weather history. Norris says his rates were $20-25 for corn, $30-35 for soybeans.
"Overall, I received about $90/acre for about 600 acres I had in the program," he says. "We were very wet during planting, so I got paid on 'planting rain,' but not on heat. We had a wet harvest, but not quite enough for payment."
He says the wet spring likely brought down his corn yields from 180-190 bu. to 165-175 bu. That's barely enough to quality for MPCI.
"I'm going to have all of my crops signed up for the weather insurance (TWI) again for 2012," Norris says. "I'll definitely use it for the next few years to make sure how it works."
Hamlin says grows may cover any portion of their acres they wish.
Subscribe to receive top agriculture news
Be informed daily with these free e-newsletters
You May Also Like
---