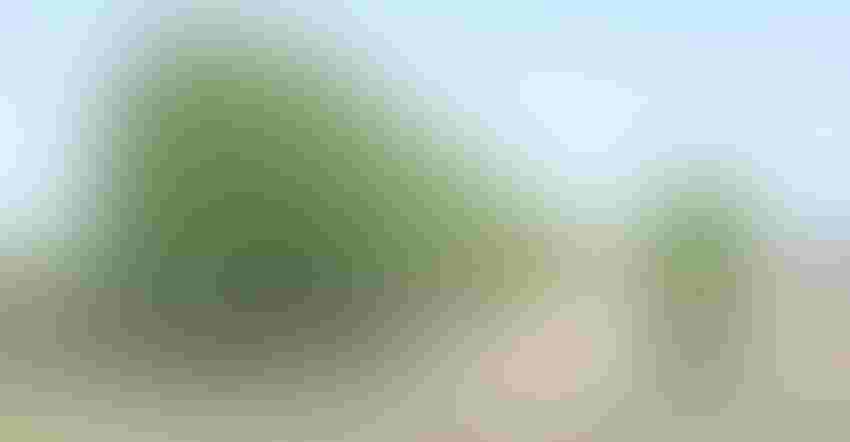 WINDBREAK WINS: A properly designed windbreak reduces the impact of wind and weather on livestock buildings, dissipates odors, shifts snowfall and enhances the beauty of a farm.
Since 2009, more than 66,000 trees have been planted on Iowa livestock farms through the Coalition to Support Iowa's Farmers' Green Farmstead Partner Program. To further highlight the value of planting trees on livestock farms, the CSIF recently hosted a first-of-its-kind Green Farmstead Partner Workshop at Frazier Nursery near Vinton.
Farmers who attended the meeting learned about the benefits of planting trees on livestock farms, engaged in a farmer panel on windbreaks around barns and feedlots, and toured a nursery owned by John and Alex Frazier.
Plant trees to keep neighbors happy
"We partnered with the Green Farmstead Partner program about four years ago, and it's been a very natural partnership, because we are promoting the same things," says Alex.
According to landscape and nursery professionals like the Fraziers, a properly designed windbreak not only reduces the impact of winds and inclement weather, but also can dissipate odors, shift snowfall and enhance farm aesthetics. These factors combined make trees an effective tool for improving neighbor relations.
"One of the main reasons we plant trees around livestock facilities is to keep our neighbors happy," Alex says. "Trees can help mitigate odor."
Good reasons to invest in trees
For Doug Albertsen, a workshop panelist and a Benton County cattleman, trees have been a fixture of his family farm for generations. "My parents put in a windbreak in the '60s, so I don't think we ever questioned the benefits of mature trees," says Albertsen. "We are currently in our fourth season of growth on a windbreak we planted around our cattle barn, and the hybrid willows are already about 30 feet tall."
Albertsen completed the project with the help of CSIF and professional expertise of Frazier Nursery, one of 25 partnering nurseries in the coalition's program.
"Planting trees is a visual demonstration of a farmer's commitment to their land and community," says Brian Waddingham, CSIF executive director. "It's an example of a best management practice we encourage to help Iowa farm families grow responsibly and successfully."
All livestock farmers are eligible
The Green Farmstead Partner program was created by farmers to help other farmers who are interested in establishing windbreaks. It is offered by CSIF with the help of Trees Forever and the Iowa Nursery and Landscape Association. All livestock farmers are eligible for the program.
CSIF is a nonprofit assisting livestock farmers who want help interpreting rules and regulations, guidance on good site locations for barns, counsel on enhancing neighbor relations and tips on how to protect the environment. There is no charge to the farmer for this CSIF help. For more information, call 800-932-2436 or visit supportfarmers.com.
CSIF was created by farmers to help farmers raise livestock responsibly and successfully. It's a joint partnership involving the Iowa Beef Industry Council, Iowa Cattlemen's Association, Iowa Corn Growers Association, Iowa Farm Bureau, Iowa Pork Producers Association, Iowa Poultry Association, Iowa Soybean Association, Iowa Turkey Federation and Midwest Dairy Association.
Source: CSIF
Subscribe to receive top agriculture news
Be informed daily with these free e-newsletters
You May Also Like
---