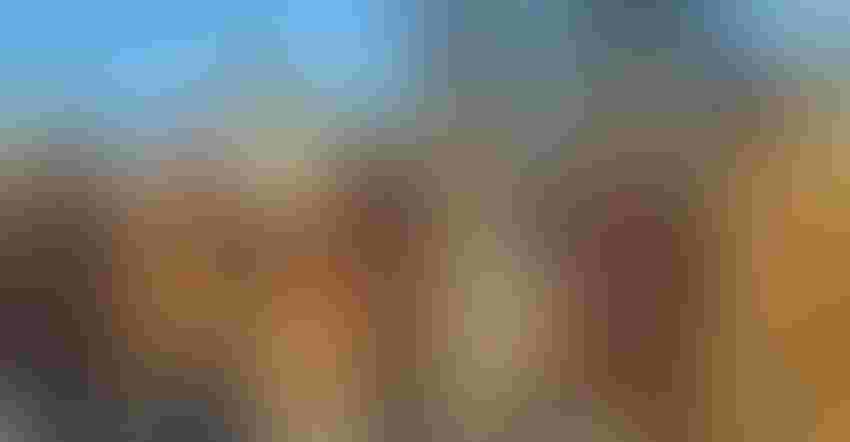 Farmers (from left): Chris, Taylor, Mark, John, Warren and Eric Sumption see third party reviewed records as a way to enhance their family farm financing.
Photo Courtesy Taylor Sumption
With increasing input costs, volatile crop prices and more burdensome bank requirements, Taylor Sumption envisioned new challenges in obtaining loans for operating, equipment and risk management. He found a way to meet them head on.
By investing more time with the books and getting a CPA's third-party review of his family farm's finances, he can now regularly provide bankers with the verified, detailed documents they need before approving his loans.
Sumption operates a farm family in Frederick, S.D. It includes his parents, John and Margaret; his four brothers, Chris, Eric, Mark and Warren; and Chris' son Nathan. They farm corn, soybeans, spring wheat, oats and alfalfa. They also run a commercial and registered Angus cowherd and finish their cattle as farmer-feeders.
Each member has his or her responsibilities. Taylor Sumption handles most of the banking, accounting, crop insurance and cash sales marketing. After seeing potential difficulty in maintaining financing and cash flow, a loan officer lent him some good advice in 2010: Get third-party reviews of financials.
"That's when I concluded this was a change that was going to happen in the future, and I might as well embrace it," Sumption says.
The Sumptions' operation is broken down into a corporation, general partnership and several limited liability companies. "Recordkeeping is a challenge but helps to split out our true operational costs," he says.
Before working with a CPA for a third-party review, Sumption fine-tuned his knowledge of QuickBooks to maintain financial records. "This made review of our financials fairly simple," he says. "I recommend that other producers do this with their accountants if at all possible. Make sure the accountant and his or her firm has broad understanding of production agriculture."
Each January Sumption updates data on input costs, commodity sales, equipment and other costs. He reviews data with his accountant, who double-checks numbers.
"Once you and your accountant have a system in place, it gets easier," Sumption says. "The time spent is well worth the benefits of having a third-party review. It gives your farm a professional looking set of financial documents. I get compliments from financial institutions on a regular basis. It also gives lenders some peace of mind that a trusted party has reviewed your work.
"Also, anytime we're looking at a major purchase and need financial papers, I simply grab a copy and hand it to the equipment dealer. It makes it easier to keep your options open. It shows you have your handle on things."
More than a handshake
Dean Heffta, senior director with Water Street Solutions, a commodity and financial consulting and marketing firm in Peoria, Ill., says banks are long past the time when a handshake from a loyal customer sealed the deal. They require up-to-date financial data. That could mean verification by a third party.  
"In the last few years, some banks have realized that taking some financial information at face value doesn't cut it, either due to a lack of discipline or bad numbers," Heffta says. "With today's weak commodity prices and higher input costs, they've learned it can be a shell game."
Many farmers see the need to use several lenders, but may balk due to the financials that are required. "One of the things keeping most farmers from switching banks is the thought of doing all the financial paperwork," Sumption says. "An annual third-party review of your financials eliminates that."
He believes as farms get larger, third-party reviews will be necessary. "The success of a farmer used to hinge on simply getting the physical work done. That is still an important part of farming, but it's the easy part now," he says. "In my opinion, managing risk and keeping a close eye on financial performance is key to staying successful."
Stalcup, a frequent contributor, writes from Amarillo, Texas.
About the Author(s)
Subscribe to receive top agriculture news
Be informed daily with these free e-newsletters
You May Also Like
---