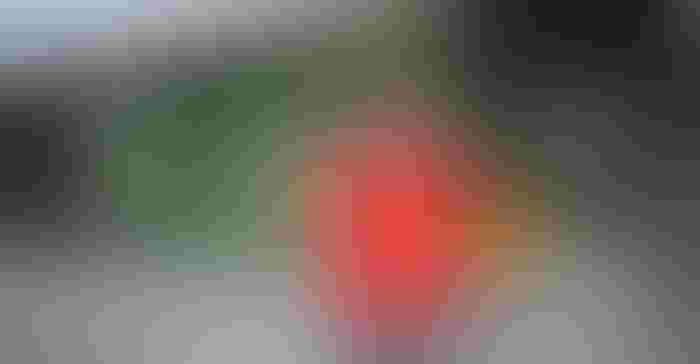 How'd you like to eliminate your propane grain drying bill while opting for a green option at a fraction of the cost?
Mike Milligan, who farms about 4,500 acres with his father, Dave, in Michigan's Cass City, is the first in the U.S. to install a Triple Green Products biomass heating system, and he's put it to the test this past harvest. 
"My propane bill is one of the biggest expenses on the farm — at today's prices, it's like $70,000-$75,000. With this system, I spent $7,500 in wood chips and transport," he says. "It's a significant savings."
Triple Green Products, based out of Morris, Manitoba, has been manufacturing these systems for about 36 years. They started out as coal burners and then evolved into biomass heating systems.
"It's proven technology, and we've been building the grain drying systems for about six years," says Bob Bucklin, U.S. products operations for TGP. "We've invested a lot into research and development. This is the first we've installed in the United States; the rest are in Canada."
Milligan's continuous-flow tower dryer was set up for propane, but this summer he retrofitted it to burn wood chips as a heating source to deliver very dry, hot air. The BioDryAir burner hooks to existing dryers with an air duct that directs the heat. The unit is fed the biomass (there are several options) via a hopper and auger system commonly used in agriculture.
The system is completely automated and can be controlled by cellphone. The system also communicates with the dryer to provide the right amount of heat at the right temperature. And, Bucklin says, if for some reason you want to return to propane or natural gas, all you need to do is turn off the BioDryAir and operate the dryer as you've done in the past.
"But why would you want to do that?" Milligan asks. "Essentially, you're taking a waste product and creating something valuable with it. Propane and natural gas are convenient, but the biggest downside is you are 100% tied to whatever they want to charge you because you really don't have any options — you have to dry corn and it's going to be costly, even in the offseason."
The BioDryAir offers many different sizes ranging from 3,000,000 BTU to 20,000,000 BTU for the largest commercial grain dryers. Multiple units can be installed together for producers requiring more than 20,000,000 BTU.
Milligan started looking at options 18 months earlier. "At the time, we had small propane tanks, so we were looking at installing a larger [30,000-gallon] tank to get transport pricing, which was going to cost about $130,000 total," he explains. "The other option was to have natural gas piped in from 3.5 miles down the road at a cost of $350,000."
Neither option appealed to Milligan, who noted the slow return on investment. He began Google searching and came across Triple Green Products.
Related: Is there a bio-digester in your future?
The first meeting was in August 2021, and he toured Ontario farms in December 2021 that were using wood pellets. He made his decision before the beginning of 2022, and shipping began at the end of July.
Drying 1,000 bushels of corn an hour at five points of moisture, the system was sized at 10 million BTU.
Milligan met with the Nathan Fritz of D/S Services, which set up his initial grain drying system. He agreed to install the new system, including setting the 50,000-pound burner. A concrete slab was poured, and an enclosure was built to cover the burner from the elements. Fritz also installed the fuel hopper, walking floor and ran the ductwork, which required a few modifications to deliver the heat.
The Milligans harvest between 200,000 and 250,000 bushels of corn on average. To achieve 15% moisture, Milligan burns about 13 tons of wood chips in 24 hours. For the season, he went through 10 22-ton semi loads that he trucked 70 miles roundtrip. Each load cost $660.
It total, the bill from TGP was about $400,000. "I'm still waiting for the install and electrical charges," Milligan says.
Supplying fuel
The walking floor hopper is where the process starts. Wood chips are augered into the machine that feeds it into the burn chamber. "I went with a walking floor because I wasn't 100% sure on what we were going to be burning," says Milligan, who has a friend with a large tree-trimming business that recently expanded into the mulch business and has the ability to size chips.
"These wood chips have worked out very well and are very affordable, and I don't really see any reason to change at this point," he adds.
The wood chips have been sized to fit through a 3-inch screen. "I'm pretty sure I could burn chips right out of the back of a chipper truck, but I went with chips ground one more time, just to eliminate one possible issue on startup," Milligan says. "Next year, I'll probably try bigger chips just to see if I can burn them because I can get those a little cheaper."
Wheat straw and cornstalks were options Milligan weighed. "We also looked at dry bean screenings, but there are problems in getting them dry enough," he says.
Manufactured wood pellets, which can run on a flex auger, like a pellet stove, are the simplest but not the cheapest.
The system is not new technology, Bucklin points out, but rather adapted to fit a growing need to minimize expenses while advancing with "green" options. "The grower doesn't have to be afraid that he's buying a white elephant," Bucklin adds. "These units have a minimum life span of 40 years and are North American made and manufactured."
One of the key designs of this system, Milligan says, is a big chain, similar to the bottom of a manure spreader, but it's a continuous moving chain the fire moves on slowly — about 2 inches per hour at full bore. It walks the ash forward so the fire stays back where the fuel is augered in at variable speeds to adjust the amount of heat.
There's a fuel fill sensor that alerts when there's too much fuel and not enough fuel. Air coming out of the burner changes based on ambient air temperature. "It can be anywhere from 230 to 290 degrees at the burner to get 180 degrees at the dryer," he says. "It takes some work to get it dialed in, but once you are, it's all automatic."
Milligan test-fired his unit in August and admits there were a few expected hiccups.
About eight weeks prior to the firing, wood chips were delivered to the hopper, and a tarp was rolled over the top. Heat and moisture accumulated, making about half of the chips wet.
"It basically was falling apart and turning to mulch," Milligan says. "We had to burn through all of that before we could start drying. We also had to change the spark arrestor design a couple times because of the difference in burning wood chips versus wood pellets — we went to a spark arrestor [catching any embers] further down the line. It is a bit of a learning curve, but it's really minor startup adjustments in getting the fire to burn right and dialing it in."
The walking floor hopper usually lasts about 12 hours when it's full of wood chips before it needs to be refilled.
Return on investment
The economics of the system depend mostly on the amount of grain being dried and the fuel source it's replacing. "It's really going to pay if you're using propane," Bucklin says. "Natural gas is a little harder comparison because natural gas is still pretty reasonable."
The quickest return on investment will be for those drying 100,000 bushels or more. The smallest system offered is 2.5 million BTUs.
"Mike's in a sweet spot, where it really makes economic sense, especially with cost-share and grant opportunities," Bucklin adds.
The federal government is making the option more appealing by offering to cover a percentage of the entire system and install through REAP (Rural Energy for America Program). Milligan filled out the extensive application himself, was told he scored well and will be funded.
"I haven't seen any dollars yet, though," says Milligan, who also notes he will receive a 25% REAP grant with a 26% tax credit. The grant funding has now changed to a flat 50% of the project in both the U.S. and Canada.
Bucklin says there are additional grants through the Natural Resources Conservation Service in a cost-sharing scenario, as well as funding through utility-based organizations in each state focused on reducing the fossil fuel imprint.
"In Wisconsin, and it's like this in many states, there's up to $100,000 in additional funding," Bucklin adds. "And you can also sell your carbon credits."
Milligan says if you count the grant, he's looking at about three years return on investment, and five to six years without the grant. "The price of wood chips is much more stable," he says. "I don't see propane going down. Two years ago, we were looking at 80-cent propane. This year, it was $1.79 per gallon."
For REAP funding, projects need to be quoted and the application submitted by March 31 for 2023 drying season. Payouts are between July and September, Bucklin says.
An Illinois grower is working with a grain dryer company to develop a proprietary dryer with a TGP heating system. "It's a large system that he wants to expand and convert from natural gas, which surprised me," Bucklin says. "But he's progressive, wants to get off natural gas and has virtually an unlimited source of wood."
Seed companies are also taking a hard look as they have access to corn cobs. "You run the corn cob through a chopper and cut them into about 3-inch pieces," Bucklin says, noting that corn cobs have a higher BTU rating than lignite coal.
Corn stover and poultry litter are also options. "So, about 25% of corn stover off your crop will dry your entire crop," says Bucklin, whose goal is to set up at least 50 systems in the U.S. in 2023. "We're ready to grow, but it's about quality not quantity."
For its first install in the U.S., TGP wanted to pick the right candidate to work with and through any startup issues. "Mike has given us a lot of flexibility to let us really get things ironed out with our first tower dryer install," says Bucklin, who has brought other U.S. producers to Milligan's farm. "He's a young farmer who's probably got the most technically advanced, most efficient grain drying system in the entire United States. Hands down. And the numbers are real."
Would Milligan do it again. He responded with a confident, "yes," but added some advice for others, "Get somebody else to write your grant — that was my month of February."
Subscribe to receive top agriculture news
Be informed daily with these free e-newsletters
You May Also Like
---