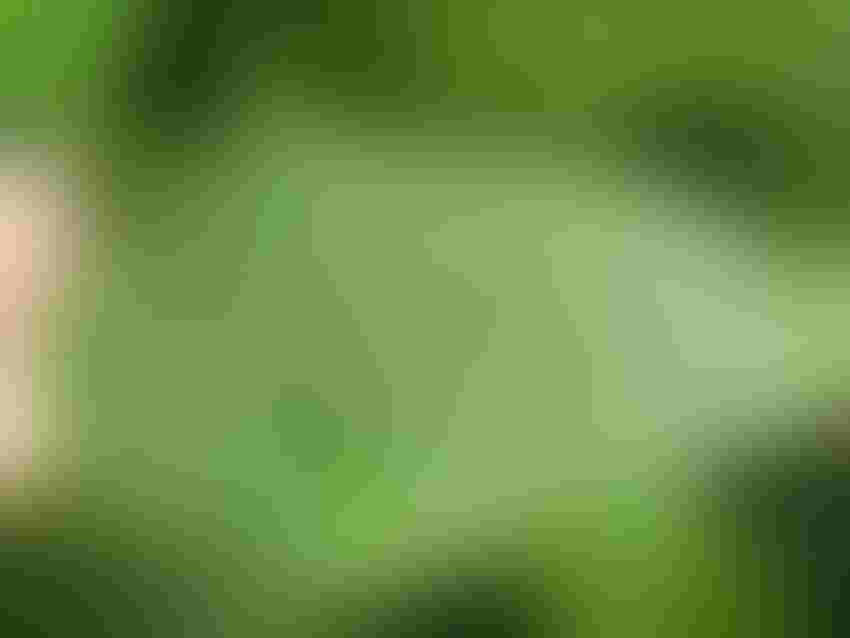 Frogeye leaf spot (FLS) activity has been increasing in southern soybean fields. And with reports of resistance to some fungicides and difficulty in distinguishing frogeye from other leaf spots and disease, it is harder to control.
As a result, management of frogeye and other diseases will require more detailed field scouting by farmers, say plant pathologists.
Steve Koenning, North Carolina State University Extension Plant Pathologist, says some farmers in Beaufort County, N.C. are seeing fungicide resistance show up in the frogeye leaf spot pathogen, which may account for the need for additional fungicide treatments. "Resistance of the frogeye leaf spot fungus (Cercospora sojina) to strobilurin fungicides (FRAC code 11; Headline, Quadris, Evito, and Aproach) has been reported from the Mississippi Delta and other areas in the past several years," he says.
"Most finds of resistant fungus strains have been confined to the Mississippi River valley as far north as Illinois.  Some growers are reporting that management of frogeye leaf spot with fungicides in North Carolina has been poor this year (2013).  This may be a result of applications made in an untimely manner, applications of a less than labeled rate and/or resistance of the fungus to the fungicides used."
Koenning says that if an application of a strobilurin type fungicide has been made, then a traizole fungicide (FRAC code 3) should be used if a second application is necessary.
Travis Faske, University of Arkansas Extension plant pathologist, adds that FLS activity has increased in Arkansas, but not all leaf spots are FLS.  "In some situations, herbicide injury looks similar to FLS," he says. "Glufosinate (Liberty) injury on Roundup Ready soybeans is a good example and has been reported in several fields across the state.
Initially, the spot is yellow and as it ages, the center becomes necrotic. "Spots uniformly distributed across a field are good indicators of a non-disease injury to soybean," Faske says.
For related, see Matt Miles shatters Arkansas soybean yield record
He says that in some situations, "saprophytic fungi (non-pathogenic) or weakly pathogenic fungic," infect spots injured by herbicides that look similar to FLS.
"Opportunistic fungi like Peyronellaea spp., Phyllostricta spp., or Ascochyta spp. infect injured tissue and produce tan to gray lesions surrounded by a dark brown to purplish border," he says. "However, small, dark spots called pycnidia can be found in the center of these spots.
"In contrast, FLS will not contain pycnidia in the center, but rather gray 'fuzzies' (conidia) may be seen with a hand lens on sporulating leaf spots."
Faske says leaf spots on soybean varieties with resistance to FLS could be a result of herbicide injured leaf tissue that is infected by opportunistic fungi.  "Thus, not all leaf spots are caused by a fungal pathogen or recommended to be treated with a fungicide," he says.  "Misidentification may result in a fungicide being applied too early, which may require a second application before soybeans reach physiological maturity."
Want the latest in ag news delivered daily to your inbox? Subscribe to Delta Farm Press Daily.
Terry Kirkpatrick, also an Arkansas plant pathologist, says several soilborne soybean diseases occur in Arkansas that may look somewhat similar to FLS. "It is important, however, to accurately distinguish which is which because yield loss potential, as well as disease management and prevention may be radically different."
Disease symptoms
Kirkpatrick looks at other disease symptoms associated with southern soybean stem canker, sudden death syndrome, aerial blight, Neocosmospora stem rot and Phytophthora root rot. Here are his descriptions:
Stem Canker - Although SC infects soybean plants early in the season, plants generally remain symptomless until about R-1. Leaf symptoms include interveinal chlorosis and necrosis of leaf tissue, with plant death following within two-three weeks after initial symptoms with many dead leaves remaining "frozen" to the plant. Stem cankers that run along one side of the stem can usually be seen on infected plants once the foliar symptoms are visible.  Field distribution of SC can vary from a few localized sites to field-wide, depending on the susceptibility of the cultivar, the length of time the pathogen has been present in the field and the environment during the first six-eight weeks after planting.
Sudden Death Syndrome - Leaf symptoms of SDS are similar to those of SC and include leaf interveinal chlorosis and necrosis. Although symptoms vary by cultivar, in general the interveinal spots are less uniform and more spotty on the leaf with SDS than with SC. Also with SDS, many cultivars tend to drop leaflets as the disease progresses, leaving a skeleton appearance. As with SC, SDS symptoms generally become visible about the time the plants achieve mid-reproductive stages of maturity.  A characteristic of SDS is the absence of a canker or lesion on the stem.  However, vascular tissue of the lower stem will show a brown discoloration while the pith remains white. Severe disease may be most prominent near the water outlet in furrow-irrigated fields where soil remains cooler and wetter.
For related, see Matt Miles shatters Arkansas soybean yield record
Phytophthora Root Rot - PHY is a cool-season, wet soil disease and is usually most severe in seedlings and young plants. However, in some cultivars, under certain conditions, adult plants may be affected. In this case, dark, sunken lesions on the lower stem may occur. In contrast to SC, stem lesions due to PHY start at or near the soil line and girdle the stem. Internal vascular tissue associated with the canker is chocolate brown.  In some cultivars leaf symptoms that are similar to SC symptoms may occur.
Aerial Blight - AB is a mid-season disease that can cause severe defoliation in susceptible cultivars. Infected leaves rapidly wilt and die remaining frozen on the plants. But stems remain alive and green. Reddish-brown lesions may develop on pods and stems at leaf scars. In contrast to SC, stem lesions are localized. Pod abortion is common. Under very humid conditions, web-like fungal mycelium may grow on the surface of leaves and stems and sclerotia of the fungus may form on infected tissue. Narrow rows or broadcast plantings are most conducive to severe AB and fields with a cropping history that includes rice with severe sheath blight are prone to severe AB.
Neocosmospora - It is usually found in fields where soybean monoculture has been practiced. Plant affected by this rot are usually first noticed when the plants reach R-5. Affected plants will begin to have chlorotic leaves that become necrotic and drop off.  The plants die prematurely. This may be noticed in scattered plants or large patches in the field that may resemble low spots in the field where waterlogged soil caused plant wilting.  Pods on the affected plants do not completely fill. At harvest, the affected plants, which are noticeably more weathered due to the premature death, will appear as grayish patches in an otherwise brown field. Reddish perithecia may be visible on crowns, roots, or nodules. There may also be white mycelium and/or perithecia within the pith.
Farmers are encouraged to contact their local county agent our Extension or consulting pathologist to help identify particular diseases in their fields.
Want the latest in ag news delivered daily to your inbox? Subscribe to Delta Farm Press Daily.
More from Delta Farm Press
Matt Miles shatters Arkansas soybean yield record
Subscribe to receive top agriculture news
Be informed daily with these free e-newsletters
You May Also Like
---