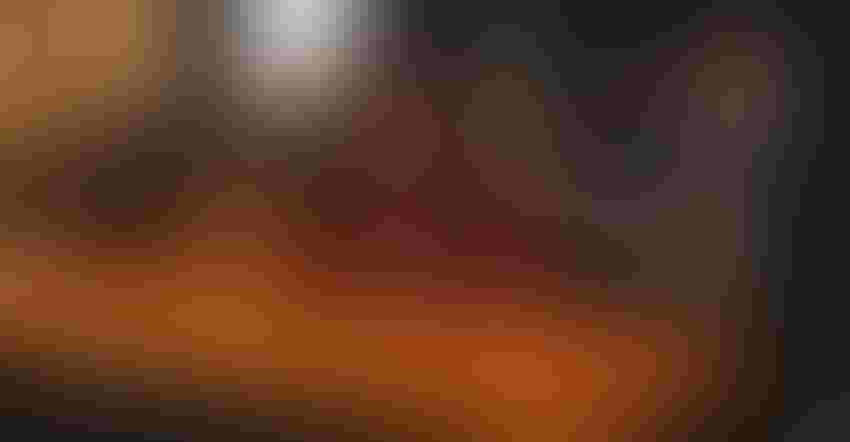 FUNDING INCREASE: Gov. Kim Reynolds and other leaders praised passage of the bill to provide dedicated, increased funding for cost share and other water quality efforts in Iowa.
On Jan. 23, the Iowa House of Representatives voted to approve Senate File 512, a bill committing $282 million to water quality initiatives over the next 12 years. Gov. Kim Reynolds says she will sign the bill sometime this week. What will this new legislation do to help improve Iowa's water quality? How will it affect Iowa agriculture? Stay tuned.
Gov. Reynolds praised the Iowa House and Senate following the House's bipartisan passage of Senate File 512 in a 59 to 41 vote. The governor noted this is an important next step in making Iowa's lakes, rivers and streams cleaner.
The Senate previously passed SF 512 during the 2017 legislative session. The passage of the same legislation by the House on Jan. 23 follows several years of legislative discussion, multiple bills on the issue and dozens of hours of debate.
Dedicated revenue source
"I'm proud that the first piece of legislation I will sign as governor will be a water quality bill," Reynolds said. "This will go a long way towards our goal of providing a long-term, dedicated and growing revenue source to help fund and scale the best practices through the already successful Iowa Nutrient Reduction Strategy. As I said in my Condition of the State address earlier this month, improving water quality is a shared goal of Iowans. Many stakeholders — both rural and urban — played a key role in supporting this legislation and reaching a consensus."
Iowa's Lt. Gov. Adam Gregg said, "Water quality is often an issue that drives a wedge between rural and urban Iowa. Today, I'm glad that both rural and urban legislators put aside their differences and moved this bill forward on behalf of Iowans."
According to some senators, the new legislation's shortcomings include not requiring enough monitoring of water for Iowans to know if water quality progress is being made, appropriating too little money and taking the money from the wrong sources.
Water quality discussion not over
Reynolds concluded, "But make no mistake. Passing this long-awaited legislation does not mean the water quality discussion is over. It should ignite a continuing conversation as we begin to implement and scale best practices that will continue to make an impact on water quality in Iowa."
The bill Reynolds is expected to sign into law this week would allocate an estimated $282 million to water quality efforts in Iowa over the next 12 years. The money would come from an existing tax on metered drinking water, which currently flows into the state's general fund. Some of the money would also come from gambling revenue, which is currently used to pay off bonds and would otherwise flow into the state's building and infrastructure fund.
Last week was a busy one in Iowa for water quality. On Jan. 22, Reynolds and Gregg devoted their weekly news conference to the water quality issue, highlighting the Midwest Agriculture Water Quality Partnership Program, a collaborative, watershed-based approach that's being successfully used across the state. The governor said an announcement will be made for when and where the signing of the new water quality legislation will take place.
Collaborative, watershed-based approach
Reynolds and Gregg, along with ag and conservation leaders, highlighted the collaborative, watershed-based approach being used successfully in Iowa to address water quality challenges. This approach has allowed the state to bring in significant outside funding from both the public and private sector, including a $10 million grant from the USDA Regional Conservation Partnership Program (RCPP) in 2016.
"We've built a wide range of partnerships comprised of diverse stakeholders who share a common goal of improving water quality and creating new economic opportunities," Reynolds said. "These partnerships are a great way to grow vital funding resources and support our coordinated efforts between the public and private sectors to scale up the use of proven practices on the land."
Funds targeted for 5 watersheds
The Midwest Agriculture Water Quality Partnership Program was selected in 2016 and was the largest project awarded that year. The program is delivered through USDA's Natural Resources Conservation Service and is co-led by the Iowa Department of Ag and Land Stewardship along with the Iowa Agriculture Water Alliance.
In total, it is a $48.5 million project with 47 partners. That includes $10 million in USDA funds and $38 million in a non-federal partner match. The funds are targeted toward five watersheds that have been identified by the Water Resources Coordinating Council as being priority watersheds for improvement.
Highlights from the first year include:
• Public and private partners in the RCPP have held more than 80 field days, 24 webinars and nearly 200 workshops.
• Information from these events reached nearly 12,000 farmers and landowners who are vital to scaling up conservation practices.
• Over $1.2 million in funds were allocated for cover crops, no-till, strip till, fertilizer management, bioreactors and saturated buffers on 1.35 million acres in 11 counties in Iowa.
• An innovative partnership with two private firms was developed with NRCS to add technical capacity for conservation planning efforts. Through this nontraditional approach, using private agronomic, conservation and engineering services providers, it is expected that 240 new or updated conservation plans will be created, covering an estimated 46,000 acres.
Watershed approach expansion
"This project is focused on supporting farmer profitability and sustainability. It's building public-private capacity for conservation, integrating precision ag with conservation and improving soil health. It's also increasing pollinator and wildlife habitat," Gregg says.
Also at the governor's press conference, Iowa Secretary of Agriculture Bill Northey and IAWA Executive Director Sean McMahon highlighted two watershed projects covering four counties that have made significant progress on water quality the last few years:
• Headwaters of the North Raccoon River Project. Working in Buena Vista and Pocahontas counties, this project saw a 400% increase in cover crop acres from 2016 to 2017, with 5,450 acres of cover crops in 2017. This represents 7.25% cover crop coverage of total row crop acres in the North Raccoon River watershed.
• Miller Creek Water Quality Improvement Project. Operating in Black Hawk and Tama counties, this project had nearly 6,500 acres of cover crops in 2017, which is nearly 20% of the row crop acres in the watershed.
"The watershed approach enables farmers and other stakeholders to target the best conservation practices where they will be most effective," McMahon says. "This helps us make the best use of taxpayer dollars while meeting local needs and improving water quality in accordance with the goals of the Iowa Nutrient Reduction Strategy." He adds, "The goal of the Nutrient Reduction Strategy is to reduce nitrogen and phosphorus losses from fields to our waters by 45%."
Subscribe to receive top agriculture news
Be informed daily with these free e-newsletters
You May Also Like
---