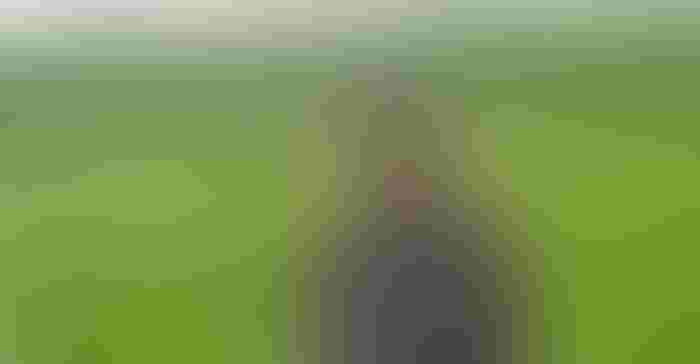 What if someone told you that you could boost your nitrogen efficiency by 25% and save up to 43 pounds of nitrogen per acre? Would you be all in?
With soaring input costs this growing season, including fertilizer, along with continuing concerns about high nitrates in groundwater, most farmers would at least be willing to investigate such claims and how they can get into the act.
Thanks to testing conducted recently on farms through the Nebraska On-Farm Research Network, results have shown that Sentinel Fertigation may offer the tools to accomplish that kind of nitrogen efficiency, compared to more conventional means of feeding the crop in-season.
Based on the Nebraska Innovation Campus in Lincoln, this company — founded by University of Nebraska agricultural engineering doctoral student Jackson Stansell — has garnered attention for the results it is bringing to farmers in the field.
Using canopy crop image data captured weekly with drones, Sentinel's N-Time tool develops a prescription to apply nitrogen fertilizer in-season at a rate that the crop needs. No more. No less. Because of the innovative nature of these new tools, Sentinel recently collected $25,000 as the inaugural Husker Venture Fund award recipient.
In June, Sentinel announced a successful $1.2 million seed fund round for the advancement of its fertigation platform, with investors from Invest Nebraska, Burlington Capital Ag-Venture, Nebraska Angels, Proven Ventures and several other investors across the country.
This seed money will be used to complete software development, execute initial imagery contracts and forge partnerships that can expand and enhance the N-Time software tools from Sentinel.
Farmer-tested
If you are looking for proof of how innovative this technology is, ask some farmers who have been using it. Rich Uhrenholdt is founder and owner of MidplainsAg, a precision agriculture, data collection and analysis, and comprehensive crop insurance company. He also farms about 800 acres of corn and 350 acres of soybeans near Elgin, Neb.
Along with his farming credentials, Uhrenholdt holds a bachelor's degree in soil science from the University of Nebraska, where he spent two summers in the early 1970s working with legendary soil scientists — including Robert Olson and Bob Sorensen — taking deep soil samples in fields around Atkinson and Utica and looking at nitrogen issues.
Uhrenholdt was in on the early development of nitrogen algorithms and had input with several prominent soil scientists in the state over the years. So, he knows a little about nitrogen and soils.
"I was on the Upper Elkhorn NRD board for 23 years and helped write the first nitrogen regulations for the NRD," Uhrenholdt says. "At that time, I felt that these rules were merely placeholders until methods hopefully were developed to actually tackle the nitrogen problem. The Sentinel tool is the first method that I have seen that I feel can seriously address nitrogen issues in Nebraska."
"Sentinels' program using aerial drone imagery of the crop canopy and sophisticated diagnostics to predict weekly crop nitrogen needs is the first of its kind and will rapidly become the standard as we go forward," says Nick Lammers, Precision Agronomy Solutions agronomist. "Then having the ability to plug that prescription into an already existing irrigation system to efficiently deliver prescribed nitrogen rates throughout the field makes the future even brighter for this technology."
Using imagery is the key. "Nitrogen has always been difficult to deal with," Uhrenholdt says. "Sentinel should help with that. I use yearly soil samples to watch trends in soil nutrients. I'm somewhat skeptical of using grid sampling for variable-rate prescriptions. There is too much variability, especially with phosphorus, and grids don't have enough resolution to account for that variability. That is one of the benefits of Sentinel because it literally samples every plant in the field."
Uhrenholdt also feels that farmers and researchers will gain a better understanding of how much yearly differences in weather affect nitrogen availability and needs.
"This season is much different weather-wise than 2021, and crops are responding differently," he says. "That is one of the biggest reasons that nitrogen is so hard to manage. A big part of nitrogen availability is determined by factors beyond the control of the farmer, but Sentinel will be able to measure that contribution."
Perfect fit
Lammers explains that the goal of their company at Precision Agronomy is to help growers become more profitable by measuring and managing inputs. So far, that has meant water.
"We hope by working with Sentinel Fertigation, we can achieve similar goals with nitrogen," Lammers says. "Two of the most important and costly inputs growers purchase each year are those relating to irrigation and fertilizer. We've been focused on helping growers apply water based on the needs of the crop on a weekly basis. That process has been hugely successful and has helped our growers save a substantial amount on irrigation cost and has increased yields."
Now, because of the tools Sentinel brings, that same philosophy can be applied to nitrogen treatments. "We feel that the solutions Sentinel is offering fit perfectly with the tools we use to make weekly irrigation recommendations," Lammers adds.
This kind of in-season application of both nutrients and water has a proven, successful track record. "We've had the technology to measure soil water and provide constant timely irrigation recommendations for several years now," Lammers says. "What we've been missing is a way to measure the crops' need for nitrogen as the season progresses."
Rest of the story
A summer internship in 2017 at the University of Nebraska, working on a research project that looked at crop nitrogen needs following a rye cover crop with in-season crop evaluation using hand-held sensors and cameras mounted on drones, planted the seed for Stansell, the founder of Sentinel Fertigation.
"The nitrogen management dilemma particularly interested me, and I decided to further develop my skills in ag engineering and be on the cutting edge of nitrogen management by getting a master's in ag engineering at UNL," he says. "During my master's research, I worked on developing and validating a sensor-based fertigation management framework through on-farm research. I also developed software to help facilitate the implementation of the framework, automating many of the associated processes."
The results were astounding. "In every trial where recommendations from the framework were followed for every fertigation application of the season, nitrogen fertilizer use efficiency was increased," he notes. Seeing the results, Stansell couldn't just leave it on the research shelf, so he decided to commercialize the concepts and systems by founding his new startup ag company.
What motivates Stansell as he continues to expand and evolve his new company? He told Nebraska Farmer that he wants to succeed at four main goals:
Empower producers and their trusted advisers with data to confidently make the right fertigation scheduling decisions.

Simplify in-season management of fertigation — application rate calculations, delegation of labor, improved logistics and automation.

Integrate mobile field machinery, fertigation and irrigation system data to facilitate comprehensive reporting, analysis and action.

Provide producers and trusted advisers with market leverage in a transparent and traceable supply chain focused on sustainability.
Learn more at sentinelfertigation.com.
Subscribe to receive top agriculture news
Be informed daily with these free e-newsletters
You May Also Like
---