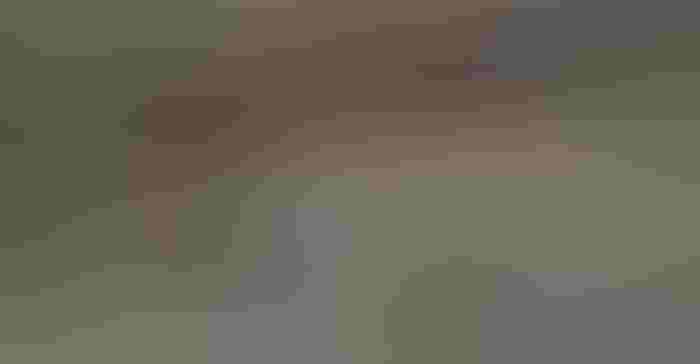 Loron and Lorna Bock milk 170 registered Holstein cows on the eastern shore of Lake Winnebago in northeastern Fond du Lac County, Wis. Two years ago, the Bocks were looking for a way to prevent soil from washing into a stream on their Calumetville farm and into Lake Winnebago. They also wanted to make it safer for Loron to do field work near the stream.
"Parts of the stream were so eroded, I was afraid if I got too close my tractor and/or equipment might fall in," Loron explains. Parts of the eroded area of the stream are just 500 feet from Lake Winnebago.
The Bocks had previously worked with the Fond du Lac County Land and Water Conservation Department on a manure storage project on their farm. They contacted the department to see if it could help in any way.
The stream is in the Pipe Creek sub-watershed, which is part of the Lake Winnebago East Watershed. Fond du Lac County LWCD and other agencies are eager to improve water quality in Lake Winnebago by working to limit the amount of phosphorus and sediment getting into the lake.
"Severe streambank erosion was occurring and washing right into Lake Winnebago, especially during heavy rains," explains Ryan Rice, technician for the Fond du Lac County LWCD. Rice worked with the Wisconsin Department of Agriculture, Trade and Consumer Protection, Natural Resources Conservation Service, and the Wisconsin Department of Natural Resources to come up with a solution, a design and cost-sharing to help fund the project.
Their solution was to provide:
cleanup of trees in and around the stream

209 feet of bank shaping for rock riprap

520 feet of bank shaping for seeding on three sites

55 linear feet of grassed waterway

seeding of disturbed areas with native grasses and wildflowers, including yellow coneflower, prairie blazing star and New England aster

stabilizing of stream banks to improve overall water quality by reducing soil erosion and capturing surface runoff
The project was completed last summer. "The project also improved habitat for wildlife and pollinators," Rice says.
The Bocks are pleased that the amount of soil washing into Lake Winnebago from the stream on their farm has been greatly reduced and that it is now safe to drive farm machinery near the stream. They also like how the area looks.
"We understand the benefits of doing this project, but without cost-sharing, we couldn't have afforded to do this," Lorna says. "We appreciate the help."
Control basin
Ambrose Lisowe and his family farm just a few miles east of the Bocks near the Fond du Lac-Calumet county line. The Lisowes milk 900 cows and farm 1,800 acres in Fond du Lac and Calumet counties in the Manitowoc River Watershed.
Lisowe had worked with the Fond du Lac LWCD on a manure storage project for his farm and contacted the office about 18 months ago to see if anything could be done to fix severe gully erosion in one of his farm fields.
"It was getting worse, especially with all of the rain we had in 2018 and 2019," Lisowe says.
Again, Rice worked with DATCP, NRCS and Wisconsin DNR to come up with a solution, a design and cost-sharing to help fund the project.
Their solution was to build a water and sediment control basin last summer that is 584 feet long, 20 feet wide and 4 feet tall at the center. A Hickenbottom perforated intake riser with a 6.75-inch orifice plate and 606 feet of 10-inch underground outlet was installed. Another 1,200 feet of 4-inch perforated tile was installed to help dry the site. The control basin reduces the peak discharge of rainfall from 35 cubic feet per second to 2.35 cubic feet per second.
"The control basin allows water to drain dry in nine hours, which gives the sediment time to settle to the bottom before it drains," Rice explains. "Farmers don't want to see soil leaving their fields because that is their profitability."
According to Rice, the control basin traps 23.14 tons of soil per year. "Gully erosion is reduced, saving another 3.2 tons of soil for a total of 26.34 tons of sediment per year saved," he notes. 
"It solves an erosion problem for us and makes the field look a lot better," Lisowe says. "We appreciate the cost-sharing."
Farmers interested in learning more about specific soil and water conservation projects for their farm and cost-sharing options should contact their county LWCD office.
To see photos of these projects, click through the slideshow.
Subscribe to receive top agriculture news
Be informed daily with these free e-newsletters
You May Also Like
---