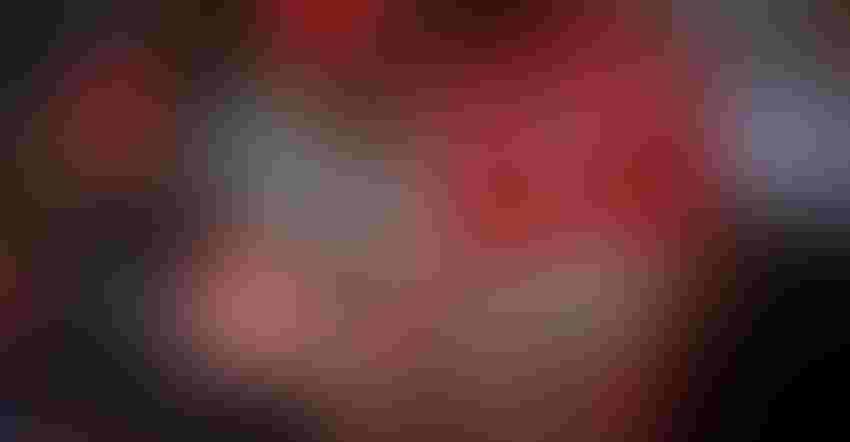 Spencer Platt/Getty Images
American farmers are loyal patriots if you believe the rhetoric coming out of the White House the past 12 months. And they just proved their loyalty again despite an ugly trade war that is doing irreversible damage to their bottom line.
In a new Farm Futures poll taken in late July, farmers were asked: If the presidential election was held today, would you vote for President Trump? Two-thirds (66.6%) said yes, up from 59.6% who answered affirmative to the same question one year ago. Just over 1,100 farmers responded to this year's survey.

This, despite an early August Twitter rant that belittled our largest foreign soybean customer resulting in a suspension of all U.S. farm sales to China. Maybe Chinese president Xi Jinping forgot to read 'The Art of the Deal.'
Daryl Cates, who says he votes for the person and not the party, is one of those Trump voters who told me he would likely vote for him again. "The trade balance had gotten so far out of whack, I was happy a president stood up and tried to do something about it," says Cates, an American Soybean Association director who farms near Columbia, Ill. "I still believe something needs to be done."
Some might suggest – rather cynically, I might add – that Trump is buying the farm vote with government tax dollars - $12 billion last year and another $16 billion this year via Market Facilitation Program payments.
What was it U.S. Sen. Everett Dirksen once said? "A billion here, a billion there, pretty soon, you're talking real money."
So now what?
Payments to compensate for trade losses help, but mask larger and more long-term implications of the trade war. This will be a long-term dispute, as evidenced by the incremental imposition of tariffs. And for President Trump, there's no going back.
"If he capitulates, his opponents will undermine his boast of being a dealmaker that gets more than he gives," says Gary Blumenthal, CEO and analyst at World Perspectives, a Washington, D.C.-based consulting firm focusing on agribusiness and agri food. "He has already said that his re-election claim will rest on characterizing the Democrats as the ones that will give China an easier deal."
Sales to China will likely never return to their glory days, even when the country has sorted its African Swine Fever problems, which might take five years. U.S. agricultural sales to China peaked in 2014, long before the trade war. China has been reducing its heavy dependence on a supplier it currently views as a strategic competitor.
Forcing China into a deal will leave a bitter taste in Beijing's mouth and it will not reward America's farmers for having been Mr. Trump's base of support, says Blumenthal. And, because Trump did not strategically align with other allies who would love to see China reigned in, he now has limited bargaining power. Our so-called allies would love to step in and sell more stuff to China.
What's your post-China strategy?
Don't hold your breath on China. The focus needs to be on future steps, such as finding new markets and crops to grow. Russia was once the number one market for U.S. poultry, but it sought to reduce that dependence and completely banned American poultry following sanctions related to the Crimea annexation. Although U.S. poultry exports are below their peak, the industry has had five straight years of growth in exports as they have worked to find new markets. So, it can be done.
Cates lived through President Carter's Russian wheat embargo and recalls, "even after the embargo was stopped, we never got that market back. I'm fearful that could happen again."
The lesson bears repeating: No one wins trade wars.
The opinions of the author are not necessarily those of Farm Futures or Farm Progress. 
Subscribe to receive top agriculture news
Be informed daily with these free e-newsletters
You May Also Like
---