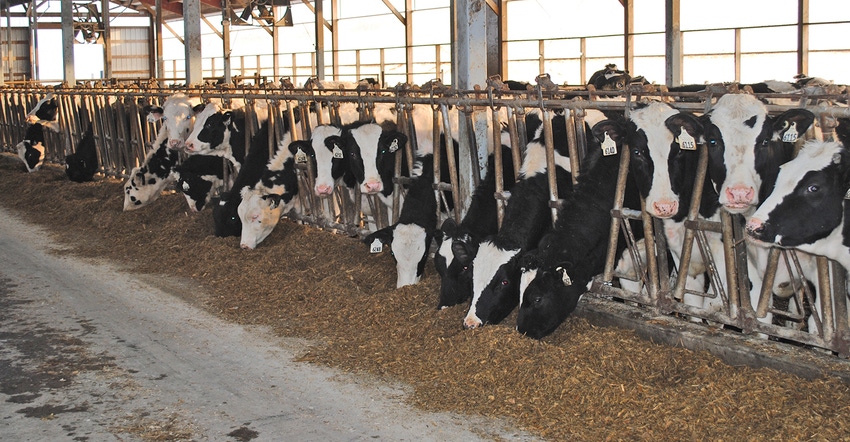 MORE MILK: Talk to your milk processor to get an idea of your ability to market milk if you decide to double your herd size.
In 2007, my wife and my son and I expanded our 500-acre dairy farm from 100 cows to 300 cows. We have paid off the cost of the expansion and have a $225,000 mortgage on some land that we bought in 2006. That is our only debt. We originally planned to build another freestall barn and expand to 600 cows by now, but we held off because of weak milk prices the past couple of years. Now I'm wondering if we should expand because I'm growing concerned that someday soon, milk processors may decide they don't need more milk and they may not buy it. I'm wondering if that's a concern that has crossed your minds or not? Are we better off continuing to milk 300 cows profitably with a market to take our milk, or should we gamble and double our herd size, hoping someone will buy our milk?
Hodorff: Where to market your milk should always be a concern when you are thinking of expanding. If you are satisfied with the management and profitability of your dairy, I would advise you to give expanding your dairy serious thought. You are profitable and seem to be happy with your financial position. Expanding your dairy will bring it close to being subject to concentrated animal feeding operation regulations. A continued focus on regulations is becoming a financial deterrent to expanding due to the large investment in nonproductive capital to meet CAFO regulations.
Miller: This is a great question. Start by visiting with your milk processor. Ask their thoughts about expanding and if they have an adequate market for your milk. In addition, meet with a qualified dairy business consultant and go through the planning process of outlining your personal and business goals, as well as the financial forecasting to double your herd. You will get an idea of your ability to market milk from your processor, and you can go through the decision-making process as to whether you want to expand by meeting with a dairy business consultant. Bottom line: Don't gamble, but get informed and do the homework to help you make a well-informed decision.
Wantoch: You can find risks in every form of activity, such as the lottery, but agriculture is definitely full of risks. Farmers certainly recognize this. The freedom and independence you enjoy, along with a love of nature and the land, keep you wanting more and allow you to deal with the inherent risks of agriculture, which are both economic and physical. Farming ranks among the most dangerous occupations, according to the U.S. Bureau of Labor Statistics. The economic risks are varied, but include fluctuating commodity prices, weather, and pest and soil management. You might say farmers are gamblers, in a way. There will be winners and losers, and others who just get lucky. I would encourage you to work on a farm expansion plan that reviews many of these factors to determine whether you will be able to continue operating at your current level, or if you should consider a farm business expansion. Be sure you're the winner and not the house!
Agrivision panel: Doug Hodorff, Fond du Lac County dairy farmer; Sam Miller, managing director, agricultural banking, BMO Harris Bank; and Katie Wantoch, Dunn County Extension ag agent specializing in economic development. If you have questions you would like the panel to answer, send them to: Wisconsin Agriculturist, P.O. Box 236, Brandon, WI 53919, or email [email protected].
Subscribe to receive top agriculture news
Be informed daily with these free e-newsletters
You May Also Like
---