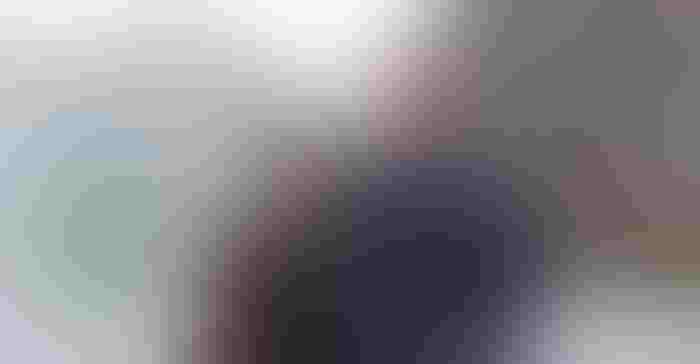 Dairy farmers Ray and Colleen Jackson have known for several years that they would need to make some big changes to continue milking cows on their family farm near De Graff, Ohio. With a milking herd of about 74, they aren't producing enough volume to ship out the truckloads that many processors now prefer; and the prices they were getting weren't offering much, if any, profit.
"Doing what we'd been doing was not sustainable," says Colleen.
Their production system was already as efficient as they could make it, Ray adds. "We spent our whole lives learning how to make milk efficiently, now we have to learn new tricks."
About three years ago, the couple even called a family meeting with their teenage and young adult children to discuss whether they should give up on milking cows.
"I just laid it all out after church one day," Ray recalls. The consensus was to find some way to keep the cows; but to do that, they realized they needed more control of their milk market.
They are hoping to get that control by bottling and selling their milk to customers eager for minimally processed dairy products. In February, they bottled their first jugs of unhomogenized, flash-pasteurized whole milk. "If this works, it will fix things financially," says Ray.
Building on experience
With their new processing enterprise, the Jacksons are building on their experience of starting their own farming operation. The couple began farming on rented ground near Urbana, Ohio, in 1991, but soon realized they didn't want to continue renting all their lives. They started searching for reasonably priced land and ended up buying their farm in Logan County in 1995. As they upgraded buildings and expanded their dairy herd, Ray continued with his off-farm job, selling semen to other dairies. That sales experience has been an advantage as he works to line up milk buyers, he adds.
The couple's four children have grown up helping on the farm. Their youngest son, Luke, is a high school freshman who fits in farm chores with classes and sports practice. Daughter Ella King now farms nearby with her husband, and she helps with social media marketing for the new creamery. Older son Samuel is a freshman at Calvin College in Grand Rapids, Mich., and daughter Hillary is a teacher in Uganda.
Specialty product
The Jacksons are using high-temperature, short-time pasteurization (167 degrees F for 15 seconds) and are bottling their unhomogenized milk in 64-ounce jugs. The processing business is called Indian Creek Creamery after the creek that runs through their cow pasture.
Ray has been making the rounds of area specialty food stores and restaurants with samples. "It's very encouraging," he says. For instance, one nearby bulk food store, the Country Variety Store in Belle Center, Ohio, took six jugs the first week — then, in four days, called to ask for 12 more. In the following weeks, the order grew to 30 jugs, then 40, then 54, says Ray.
In addition to sales through food stores and restaurants, they are selling milk through Market Wagon, an online farmers market that assembles food orders and delivers them to pickup points or directly to customers' homes in the Cincinnati and Dayton areas.
The milk's fresh taste is one of its selling points, Ray explains. Some customers like the idea of drinking raw milk, but Ohio does not allow sales of raw milk. Flash-pasteurized, unhomogenized whole milk is the closest customers can get to milk as it comes from the cow, says Ray. "I tell people it's 15 seconds from being raw."
Since it's not homogenized, the cream rises to the top, and the fat remains in larger molecules than in homogenized milk. Some customers have said they find it easier to digest, adds Colleen. The milk's milkfat percentage is around 4% to 4.2%, and the Jacksons plan to hold it around 4% year-round by adjusting the cows' rations. In comparison, most whole milk is sold at 3.25% milkfat.
To set up the processing facilities, the Jacksons worked with the Ohio Department of Agriculture to meet requirements for processing Grade A milk. ODA inspectors will continue to sample their milk and check their facilities monthly.
The processing facilities are set up across the road from the Jacksons' cattle facilities. The family had bought the adjacent property several years ago, when it was an orchard. The orchard buildings included a refrigerated storehouse for apples, which they were able to convert for milk storage.
Old equipment good as new
The pasteurization and bottling equipment originally came from an old milk plant in upstate New York. Then it was purchased and brought to Ohio by a nearby Amish farmer. When his plans to use the equipment didn't work out, the Jacksons had just started looking for processing equipment themselves — so he agreed to work with them as they arranged financing. It did take some effort to get the equipment set up for use again, but a local company that specializes in food processing equipment helped the Jacksons get it back in operation.
After all the planning and investment, the family had a nerve-wracking moment of truth the day they processed and bottled their first jug of milk. Fortunately, Ray says, the first sip gave them the fresh taste they were looking for. "We were banking on the fact it was going to taste like raw milk." Now, they're hoping consumers will like it as much as they do.
For more information on the creamery, including vendors that are selling the Jacksons' milk, check out the Indian Creek Creamery Facebook page at Indian Creek Creamery Facebook page.
Keck writes from Raymond, Ohio.
Subscribe to receive top agriculture news
Be informed daily with these free e-newsletters
You May Also Like
---