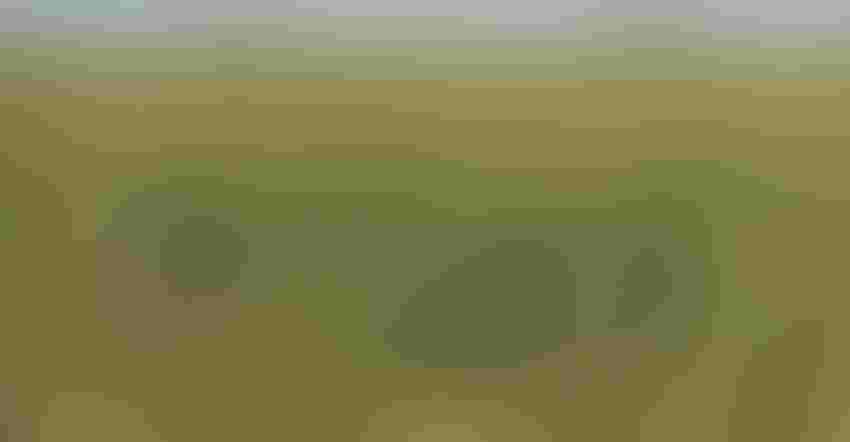 CHALLENGING YEAR: Claims specialist Andy Brallier notes that 2020, with the drought and derecho in Iowa on top of the COVID-19 pandemic, was one of the most challenging for growers in recent memory. And in part because they are working with growers after events that cause crop loss, crop adjusters are in a unique position to help identify warning signs of growers' mental distress.
Farm Progress
For the last several years, people in agriculture have dealt with their share of stressors, like volatile markets — and in the case of those in Iowa, natural disasters like flooding, drought and derecho. As a result, more attention has been given to mental health in agriculture, especially among those who work closely with farmers and ranchers, like Extension educators, agronomists and crop adjusters.
In 2019, crop insurer NAU Country began training its claims specialists on how to identify warning signs of mental distress in insured growers, where to find resources, and who to contact in the event of a crisis. While it isn't in the official job description of a crop adjuster, it can be an essential — and sometimes lifesaving — part of the role.
"We have an annual leadership summit every year where specialists, claims managers and VPs come together for a meeting, and we do breakout sessions. In 2019, we actually had a mental health consultant come in and train us on identifying certain cues from our growers — when we talk to them initially or when we're on the farm," explains claims specialist Andy Brallier. "It was brought up because of where the farm economy was, and on top of that, our role in the farming sector. When we are visiting growers, it's usually a bad situation for them after some kind of crop loss event."
And crop adjusters are in a unique position to help growers, Brallier adds.
"What's unique to our business is a lot of times we have relationships with the insured farmers, because we've often been out on their farm and have some familiarity with them," he says. "If there's a difference in attitude from what we would normally see in them, or in how they would converse, we can pick up on that, because we have that relationship."
Signs of distress
Brallier notes the training he and other claims specialists received helped build on some common-sense cues for warning signs of mental distress — including tone of voice, what people are saying, and reading body language when talking to them in-person.
"Farmers are usually pretty laid-back, and you can tell when something is bothering them, when they're a little bit stressed. They may be a little irritated or have a little more stress in their voice or actions," he says. "Crossed arms are a big thing that I look for. Also, if they aren't very engaged in the conversation and asking questions, they might not be understanding it, because they've got other things they're worried about.
"Besides the tone of their voice, one thing they might say is, 'Well, I was told this, and this is what you're telling me now'; or, 'This is how I thought this is supposed to work, and it's not what's happening,'" he adds.
Brallier notes 2020, with the drought and derecho in Iowa on top of the COVID-19 pandemic, was one of the most challenging for growers in recent memory.
"One of the first farmers I went out to after the derecho — his brother had another crop insurance company, and the communication was varied," Brallier says. "When we arrived, the farmer was visibly upset. You could tell right away that he already made up his mind as to what was going to happen. I think that because his brother's company was doing something that wasn't in line with what the rest of the industry was doing, he felt he was fighting a battle against us. It took some time to explain that we were doing what was in his best interest.
Resources available
This kind of crisis training also involves knowing who to refer growers to when more help is needed.
"When we're meeting with insureds after a natural disaster, our goal is to make sure we're listening. That's the big thing — let them talk, and get whatever they need off their chest. Once you get past that listening stage, one of the big things I've learned is making sure they know you understand them and their situation goes a long way, because then they realize you're on their side," Brallier says. "If that doesn't work, the next steps involve finding an expert who can provide helpful resources and tools."
Resources are available for those dealing with stress and mental health issues, including:
• Personal Assistance Services, which provides free, one-on-one counseling for Iowa farm families. Call 833-999-FARM (3276), or for general information, visit farmfamilywellness.com.
• National Suicide Prevention Hotline provides free and confidential support for people in distress, prevention and crisis resources. Call 800-273-8255 or text ANSWER to 683-9863.
• The National Crisis Text Line lets you text with a trained counselor for free. Text HOME to 741-741.
• The Substance Abuse and Mental Health Services Hotline provides crisis counseling and support for people experiencing emotional distress related to disasters. Call 800-985-5990.
• The Iowa Concern Hotline provides stress counseling, help with financial concerns and legal education. Call 800-447-1985 or email [email protected].
• The American Counseling Association of Iowa has licensed mental health counselors with immediate openings for clinical telehealth. Talk to someone at no cost at feelgoodiowa.com.
• Your Life Iowa is a resource for individuals facing problems with alcohol, drugs, mental health issues or suicidal thoughts. Call 855-581-8111, text 855-895-8398 or live chat at yourlifeiowa.org.
• Iowa Farm Bureau has a comprehensive list of mental health resources at bit.ly/ifbmentalhealth. 
• Farm Progress has a comprehensive list of mental health resources available at bit.ly/fpmentalhealth. 
Subscribe to receive top agriculture news
Be informed daily with these free e-newsletters
You May Also Like
---