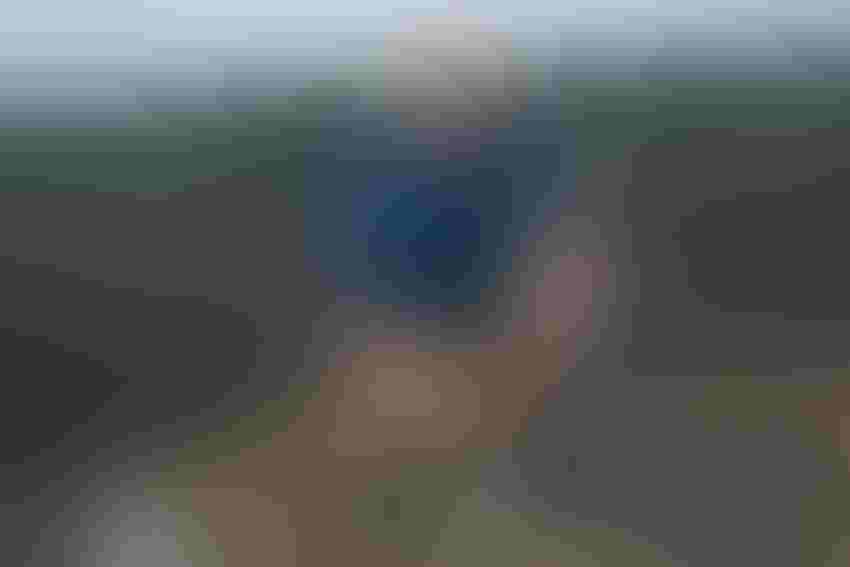 At the total ag water management research site at the Tidewater Research Station in Plymouth, Chad Poole shows a sensor that monitors the water table in the field, allowing researchers to determine whether to remove or add additional water into the system.
John Hart
Growing up on a row crop and tobacco farm near Bath in Beaufort County in eastern North Carolina, Chad Poole saw first-hand just how critical water management is to making crops.
In North Carolina's rich and fertile Blackland's, not far from the Atlantic Ocean, the problem is usually too much water. But the challenge of drought can still be an issue, and the water isn't always available when the crop needs it. It's a problem in need of a solution.
Poole always had a strong interest in mechanics and engineering and discovering how things work, so after graduating from Northside High School in 1999, he enrolled at North Carolina State University in Raleigh where he majored in biological and agricultural engineering. After earning his B.S. in Biological and Agricultural Engineering with a minor in Ag Business Management, he went on to get his Master's in 2006 and his Ph.D. in 2015, both in Biological and Ag Engineering.
"I went to North Carolina State to study ag engineering on the mechanical side. I had a concentration in ag mechanics but also had a dual concentration in soil and water. Being from a family farm and seeing the benefits of land leveling and maintaining the drainage ditches and drainage outlets, I just naturally developed a real interest in being able to improve drainage systems," Poole explained in an interview with Southeast Farm Press at the Vernon James Research and Extension Center in Plymouth, where he is based.
In January 2020, Poole came on board as an assistant professor and Extension specialist in water resiliency at North Carolina State. Prior to that, he worked as a Research Associate there in his chosen field. His work focuses on providing Extension support and research in agricultural irrigation, drainage, water management, and rural water supply issues at the local and watershed scale.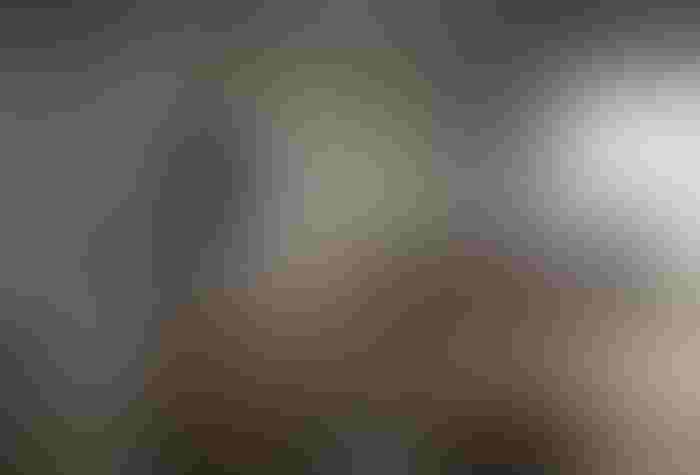 Chad Poole is shown at the total ag water management research site at the Tidewater Research Station in Plymouth, N.C. In this system, water can be either added or taken away to simulate either drought or excess water conditions. Also shown is the infrastructure to control soil water and monitor all water inputs and outputs from the system. Also photographed is research associate Robert Walters. (John Hart)
It's a challenging and interesting job. Poole is focusing on both drainage and irrigation systems with the goal of optimizing crop yields while protecting environmental quality, protecting rural water sources, along with preparation, response, and recovery from droughts and floods.
Water: too little, too much
The work is particularly important in a diverse agricultural state like North Carolina where management issues can range from too little water in the Sandhill's much of the time to too much in the Blacklands, where farmers have historically relied on ditches and tile to remove excess water.
"We have lots of areas throughout the state that are in between the two. We'll have areas that see wet stress at some point during the growing season while being exposed to drought stress in the same crop season. What I try to do with a practical approach in our program, is to determine where you get the most bang for your investment money. Should you be invested in drainage? Should you be invested in irrigation? Or should we be combining them together in a combined approach?" Poole explained.
"In a statewide effort, I'm trying to combine drainage water management with irrigation management as a systems approach because the cost of fuel, and the cost of inputs have gotten so high, it's really apparent and clear that we have to do a better job of managing both the drainage and the irrigation water in a systematic approach," Poole said.
Much of Poole's work focuses on automated water management systems. He's also conducting research on how corn hybrids and soybean varieties respond to water stress, with the goal of enhancing yields for farmers. He works in the area of irrigation and drainage for producers from the mountains to the coast.
In his work, Poole is taking a total ag water management systems approach. "In the past, we used drainage when it is too wet and irrigation when it's too dry, never taking the two and looking at it as a systems approach throughout the whole crop system, so that's one thing we want to integrate in our program," Poole said.
Controlled drainage
For example, Poole noted that North Carolina State research shows that by using drainage water management or controlled drainage systems during the growing season, anywhere from two inches to more than five inches of water per acre can be conserved just by managing the drainage structures alone on average.
"What that does is cut down on the demand for supplemental irrigation during drought periods which lowers overall input costs in irrigation. Being able to combine those two systems, using the latest technology in water sensors and soil moisture management, we can do a better job of managing the drainage and irrigation system as a systematic approach together," he explained.
"When you look at all the factors that determine final crop yield, a lot of them are driven by water. For example, fertility. Too much water can affect the availability of nitrogen and other essential plant nutrients during the growing season. Not enough water also can affect the plant's availability to uptake those nutrients and utilize them to produce yield," he noted.
As farmers well know, hybrid and variety selection is job one in achieving good yields. With this in mind, Poole and his colleagues are focusing a great deal of their research efforts on helping farmers find the right corn hybrid or soybean variety that can handle either excess water stress or drought stress and deliver yields.
"Our goal with our program is to take new hybrids and varieties and basically artificially impose both wet and dry stresses in replicated field studies in the first year those hybrids/varieties are available and then get that data out to the grower so they can make a decision. For example, I've got a well-drained soil, I'm drought prone, so I need to know what hybrids respond well under drought conditions, Poole explained.
Or another grower may farm near a river bottom or in tidal controlled areas where crops tend to have wet feet in the field. "In that case, they may need to take a close look at those hybrids/varieties that respond under wet conditions and plant them there," he said.
Water and nutrients
Poole and his colleagues are also looking at how those varieties use nutrients. For example, if they are under wet conditions, do they have a different tendency to use nitrogen during the growing season? "If so, can we document that and be able to assist growers in making fertility management decisions based on the climate conditions they are seeing in a given year."
This year, Poole is working with his colleagues Jason Ward and Ron Heiniger to fly drones to take image data of water stress in the hybrid plots and then take tissue samples to find a correlation between the aerial imagery and the water stress that is observed and what is found in the tissue samples.
"Hopefully, from that data, we can then generate recommendations based on climatic conditions in season on how to rectify possible issues with either drought or excess water," he said.
The group is conducting this research at two sites: At the Tidewater Research Station and a private farm near Bath. They are using a system that actually monitors the water table and soil moisture conditions in the root zone using sensors where they can determine whether to remove water or add additional water into the system, depending on the stress. This is achieved through extensive drainage and irrigation infrastructure.
The research in 2021 showed that by doing away with excessive water stress, corn yields were increased by 70 bushels per acre on average (over 15 independent hybrids) and the plants actually took up more of the fertilizer applied, rather than being lost through some other pathway.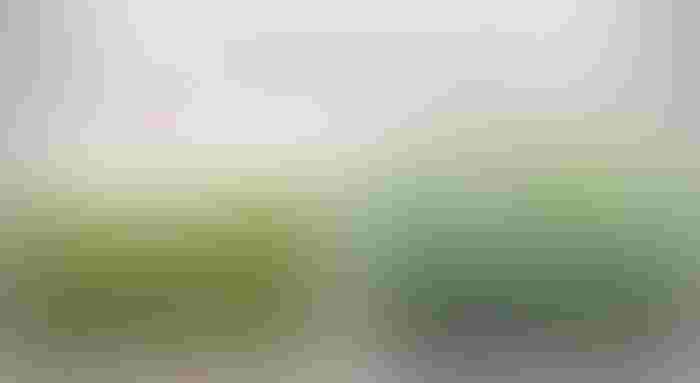 Research in 2021 showed that by doing away with excessive water stress, corn yields were increased by 70 bushels per acre on average. (Chad Poole)
In another project, Poole is working with his North Carolina State colleagues Mohamed Youssef and Hossam Moursi in a water capture and re-use study that utilizes a designed drainage system to capture runoff and drainage water in a storage basin on the farm. Later, when periods of drought occur during the growing season, take that stored water, and recycle it either through an irrigation system.
Poole and his colleagues are working on water quality issues, enabling farmers to ensure the water they are applying through their irrigation systems is top quality. Moreover, the ongoing challenge of saltwater intrusion in the coastal counties is a critical part of his work.
"We're using RTK (Real Time Kinematic) mapping systems to look at some of these areas that are affected by saltwater conditions and mapping the elevation on those sites. We're doing predictive ponding analysis due to coastal flooding events and that allows us to determine what areas of the field may be subject to an overland flooding event from a tropical system.
"Through this data we can potentially pin-point where we need to sample and get analysis of the soil if a tropical event happens to look for potential salt accumulation. This information can help up narrow down the affected area that we need to be working on to rectify saltwater conditions," he said.
In a nutshell, Poole emphasized that too much or too little water will cost farmers every year. That's why water management is so important.
"Having systems and infrastructure in place and the ability to use technology to manage that water resource ensures we can increase our revenues and lower risk at the farm level. One of the big things that we can do is to actually know how much water we have available in the soil profile during the growing season and manage that resource to the best of our ability to increase our revenues," he said.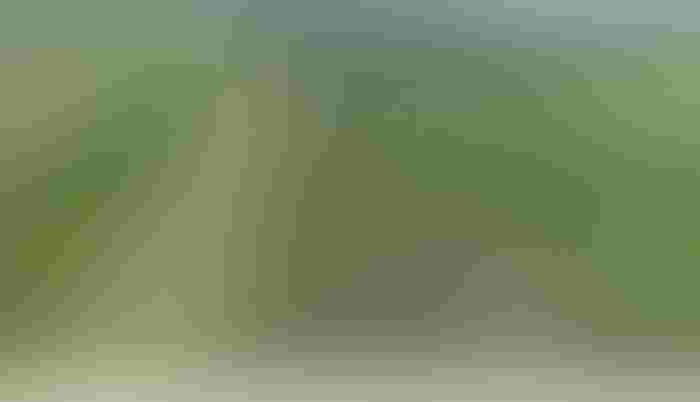 An aerial view of the total ag water management research site at the Tidewater Research Station in Plymouth, taken in 2021. (Rod Gurganus)
Subscribe to receive top agriculture news
Be informed daily with these free e-newsletters
You May Also Like
---