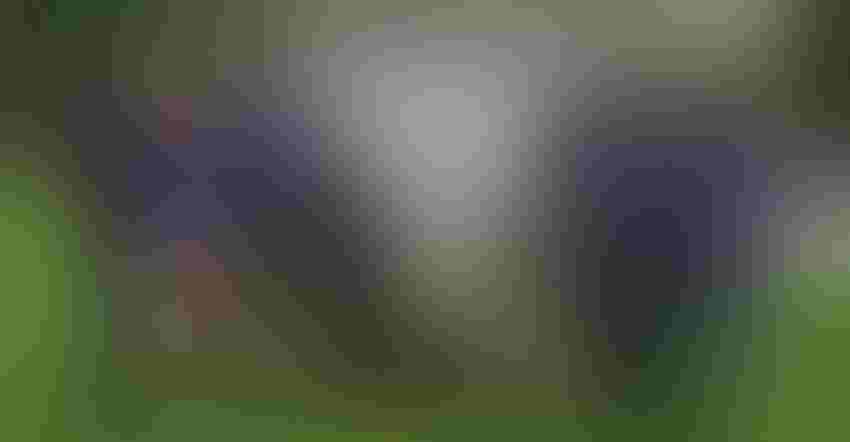 BIG FAMILY AT BIG E: The LeClair family will be at Big E in September to be recognized as the New Hampshire dairy farm of the year. From left are Troy LeClair; Tonya LeClair; Matt LeClair; Jason LeClair; Liam LeClair; Gary LeClair with granddaughter Piper; Jean LeClair, wife of Gary LeClair; and Tim and Cory LeClair.
Photo courtesy of Michal Lunak, UNH Cooperative Extension
Editor's Note: This is the last in a series of profiles on this year's New England Green Pastures Program winners. Each will be honored during a ceremony at next month's Big E.
The story of LeClair Acres Farm in Claremont, New Hampshire, goes back to 1926 when Gary LeClair's grandfather Harry purchased the farm with 120 acres of land. He had registered Guernseys at the time.
When Harry LeClair died, his son Henry, Gary LeClair's father, continued farming until 1976 when the farm was auctioned. The farm was idle for two years before Gary and Jean LeClair purchased the 120-acre farm in 1978.
The LeClairs came from farming backgrounds and had a vision for the farm. They had 22 cows and purchased an additional 36 cows soon after the farm purchase. After that, they never made a giant leap to expand the herd, but rather allowed a slow internal growth to increase the herd size over time.
Additional land purchases of 290 acres followed. Today, the farm includes 410 acres and 250 milking cows. The cornfields have a nutrient management plan — soil samples are taken and analyzed on an annual basis — which is used for manure and fertilizer application of 25-tons-per-acre production.
LeClair Acres Farm is the 2018 New Hampshire Dairy Farm of the Year. The owners of the farm will be honored during Big E as part of the New England Green Pastures Program, which honors dairy farms in each New England state. 
Farm numbers
This year, Gary LeClair planted 260 acres of corn and 45 acres of alfalfa. Each year, approximately 60 acres of corn are planted to winter rye cover.
The fresh cows are fed a total mixed ration (TMR) once a day, but the feed is pushed up several times a day. LeClair started this practice several years ago, and so far he likes it.
The first-lactation cows average 96 pounds of milk per day. Other cows are fed by TMR four times a day. The total herd averages 102 pounds of milk per day.
For the past eight months he has used the Pocket Cow Card (PCC) by Dairy One on his smartphone. He says that he has become much more efficient in managing his herd compared to his previous practices with the DHIA paper records.
Changes have been good
The LeClairs have remodeled their milking parlor twice. The first remodeling project was done in the mid-1980s when the four-stall parlor was replaced with a double-five herring bone parlor in one month's time. The recent upgrade in 2015 took just two days, when they went from a double-eight to a double-10 stainless parlor with hydraulic brisket bar. It also included a remodeling of the building.
They also started three-times-a-day milking, which has helped to decrease the somatic cell count from 173,000 to 105,000.
A true family business
Over the past 40 years, the LeClairs have employed local high school students as occasional help.
"After all these years, it is nice to see these kids coming back grown up with their families. Some of them have their own businesses and some of them chose agriculture or animals as life careers," Jean LeClair says.
The farm currently has a few part-time employees. All the full-time labor comes from family members who contribute to the daily management with responsibilities informally divided.
In addition, there are two full-time employees who share daily chores. Gary LeClair manages the cow herd and crops while Jean LeClair runs the business side of the farm daily, feeds the calves and milks the cows every morning, seven days a week.
Recently, Jean LeClair has ventured into the direct customer marketing side of farming and started operating a small vegetable stand that sells sweet corn and a variety of vegetables. Their son Jason manages the feed, nutrition, equipment and day-to-day employees. Jason LeClair's wife, Tonya, helps Jean to feed the calves.
Another son, Tim, and his wife, Cory, have off-farm jobs, although Cory bakes bread, cookie and muffins for the farm stand.
Source: UNH Cooperative Extension
Subscribe to receive top agriculture news
Be informed daily with these free e-newsletters
You May Also Like
---