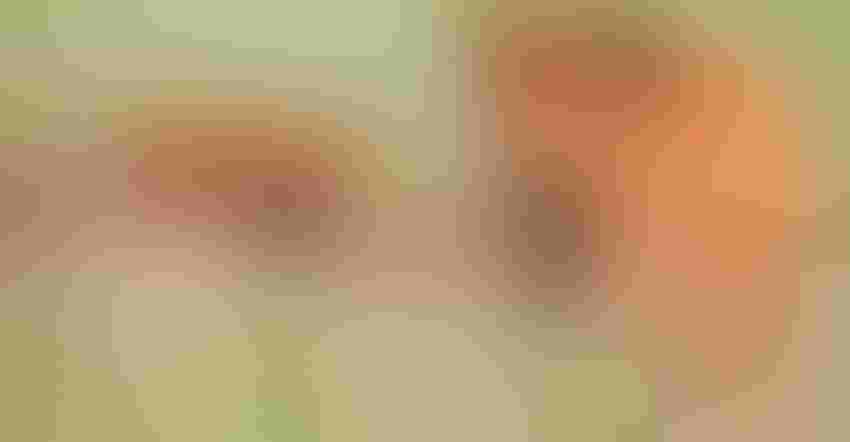 CASH CALVES: Beef producers are using technology to breed calves that not only satisfy consumers' demand for quality beef, but also boosts the bottom line.
Lynn_Bystrom/iStock/Thinkstock
By Duane Dailey
In his market outlook at the Missouri Cattleman's Convention, Scott Brown, University of Missouri Extension beef economist, laid out plenty of pointers for lower beef prices. However, he had not expected prices in late 2017 to stay as strong as they did.
It's the first time supply and demand turned on their heads: Beef supplies grew and prices stayed strong. It's a demand-driven market.
Beef producers quickly respond when prices shoot up. They're slower responding to signals of huge supplies of meat. That's not just beef, but also pork and chicken.
"It could have been catastrophic," Brown told producers. However, there's growing change in consumer demand. High-quality beef attracts more buyers.
Don't look at the Choice-Select spread, Brown said. The action is in the Choice-Prime spread. In a midyear surge, during barbecue season, the top spread reached over $60 per cwt. At the same time, the Choice-Select spread was nearer $20.
Shift in thinking needed
Producers must learn of those grid premiums at slaughter. Do quick math on that top premium on an eight-weight carcass. Those premiums go to the calf's final owner.
Increasingly, independent consultants, such as Mike Kasten of Cape Girardeau County, Mo., help farmers with beef cow herds retain ownership of calves.
Technology is available in genetics and reproduction that make Prime quality possible. Genetic companies have proven sires with genomics for maternal and terminal breeding. They can even provide breeding by fixed timed AI.
Fixed timed AI is first step in capturing Prime premiums. It brings uniform calf crops of known genetics.
As the U.S. economy recovers, consumers are seeking USDA Prime beef. Furthermore, foreign exports are quality-based. A world of producers grows commodity beef. U.S. producers win with corn-fed beef.
Show-Me advantage
Missouri beef farmers have a huge edge. For a couple of decades, they've used breeding protocols that boost herd genetics.
At one time, producers thought Prime beef was an accident. Now, with genomic-enhanced expected progeny differences (EPDs), high-quality beef becomes predictable. Not everyone knows that. Prime at packing plants continues to run under 6%. Missouri producers using genetic and reproduction protocols from MU Extension breeding programs reach 75% Prime on calves sent to feedlots. Steermates of Show-Me-Select Heifers make high-quality beef.
"That 75% Prime doesn't happen by chance," Brown said.
He said looking at beef consumption in Missouri could mislead producers. The Prime action is on both coasts, at resorts and in exports.
At the meeting, an attendee spoke up about a trip to Las Vegas. "A steak dinner cost $100, with no potato," she said.
Class eateries need quality
Classy restaurants are willing to pay for quality — and consistency. "They want repeat customers. They don't want a steak sent back to the kitchen," Brown said.
A new world opened as China began taking U.S. beef. The average U.S consumer eats 80 pounds of beef per year. In China, that's now 12 pounds. "They want more beef, quality beef," Brown said. "And they pay." Potential demand, no matter how uncertain, awaits.
"A focus on quality brings more attention to genetics," Brown said. "You must know what you're doing when you expand."
Geneticists remind producers that the fast way to improve a herd is to cull the bottom producers. Cull cows on the basis of new technology that tells the animal's dollar potential. You don't do that by looking.
Genomic tests rank a herd, top to bottom, on a dollar-value index. That takes a new way of thinking.
Select beef not gaining value
Brown reminded producers: "The demand for Prime continues to go up. Price for Select goes down."
As we increase cow numbers, that can drive market prices down, he added.
"It's quality that beef eaters want. As wages improve, they pay more," Brown said. "Watch the consumers."
Then use available, proven technology. Help awaits from MU Extension area livestock specialists.
Early adopters win the most.
Dailey is a retired MU Extension professor. He writes from his home in Columbia, Mo.
Subscribe to receive top agriculture news
Be informed daily with these free e-newsletters
You May Also Like
---