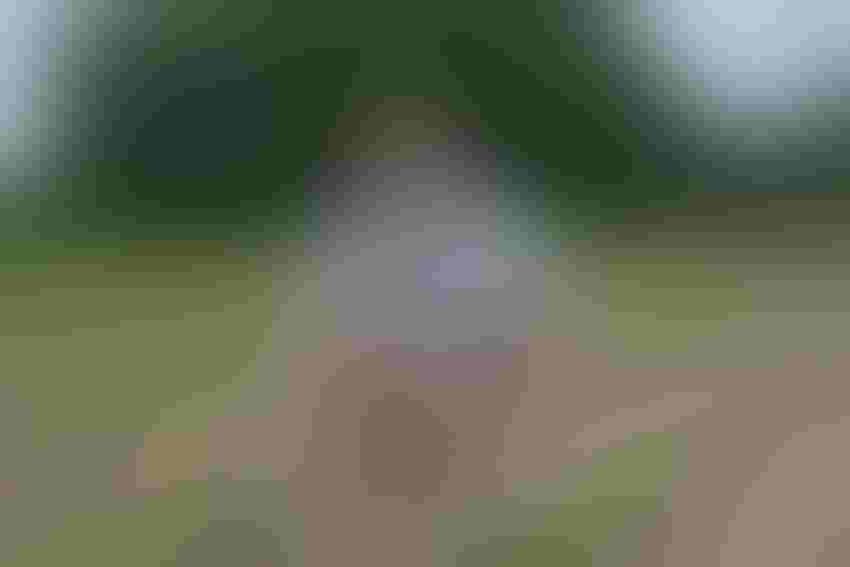 Ben Cowin of Williamston, N.C. is the 2022 Peanut Efficiency Award winner for the Upper Southeast.
John Hart
Champions in every field know that it takes consistency to be a winner. Champion golfers win more than one tournament. Champion football teams have more than one winning season. The same is true for champion peanut farmers.
Ben Sheppard Cowin of Williamston, N.C., is a champion peanut farmer in every sense of the word.
Cowin is the 2022 Farm Press Peanut Efficiency Award winner for the Upper Southeast.
Cowin farms with his younger brother Clayton Cowin in Martin County on land that has been tended by a member of the Cowin family for six generations. Ben began farming with his father, the late Ben Simon Cowin, in 1981. Clayton came on board four years after Ben in 1985, when his dad suffered a second heart attack and retired from the farm. Ben and Clayton share the same birthday, Aug. 17. Ben is 62 and Clayton is 60.
The Cowin brothers farm 1,250 acres of cotton, corn, soybeans and peanuts. Most of the land is devoted to cotton and peanuts. They got out of tobacco three years ago due to its unpredictable future and increased expenses. Ben considers himself a peanut farmer first and foremost. They grow seed peanuts for Severn Peanut Company.
"We've been farming peanuts forever. I can't remember when we didn't farm peanuts on this farm," Cowin said.
To realize that Cowin is a champion peanut farmer, you need only to pop into his farm office at his home on Cowin Road, in Bear Grass, which is near Williamston. Lining the walls of the office are trophies recognizing Cowin as the top peanut yield winner in Martin County. He has been the top yielding farmer in the county for 24 years straight, winning the county trophy every year since 1997. In 2004, he was the top statewide yield winner in North Carolina. He has consistently been a member of the 5,000-pound club, achieving average yields of more than 5,000 pounds per acre.
In 2021, Cowin achieved an impressive yield of 6,083 pounds per acre. He planted the high-oleic Virginia-type varieties Bailey II and Sullivan for seed peanuts. He planted 224 acres of Bailey II and 20 acres of Sullivan.
Farming for yield
"We do all we can to a crop of peanuts. I farm for what I can make not for what I can save in a crop. If I can spend $5 an acre and make $25, that's what I try to do," Cowin explained.
"Varieties are much better now. They offer so much more disease resistance than the old varieties. I think the main thing is the good rotation and being timely. We use a three-to-four-year rotation with cotton. I have been blessed to be consistent," he added.
Cowin noted Martin County used to have a terrible Cylindrocladium black rot problem. He blames poor rotations at the time when people would plant peanuts behind tobacco, which would just set disease pressure on fire. This taught him the importance of good rotations to achieve top yields.
"When I started farming with my daddy, if you made 3,000 pounds you had a good crop. Then came (the fungicide) Vapam and (the new peanut variety) NC-8, and yields went up 1,500 pounds per acre. Black rot went away and hasn't returned," Cowin said.
He's a big fan of Bailey and Bailey II, the high-oleic version of Bailey developed by Tom Isleib's breeding program at North Carolina State University. "Our peanut varieties today are the best they've ever been for yield potential and disease resistance," he said.
Timely farming
Cowin emphasizes a key to success that previous Peanut Efficiency Award winners over the years have emphasized: timeliness. He works to be timely in planting, spraying, and harvesting. Timeliness is particularly important in his fungicide program.
"If you have a disease problem, it's too late. I try to prevent disease. It costs a little bit up front, but it pays for itself. When it comes to digging time, if you have plenty of leaves on your peanuts and your vines are in good shape, that's a good crop, most of the time," he said.
His current fungicide program includes Echo, Elatus, Miravis and Provost. Again, Cowin said he emphasizes a preventive approach to disease. He said good products help, but timing is key. He notes white mold used to be a problem, but the new fungicides now work better in controlling white mold.
He said he is blessed with good peanut land, mostly Norfolk Loam that is well suited for peanuts. Of course, the loamy soil can bring challenges if there is too much rain because it does soak up a lot of water like a sponge. That's why they have used tile on their land for as long as he has farmed.
"Tile has helped our yields," he said.
Another important production practice that Cowin said helps build yields is the use of cover crops. He has planted cover crops behind his peanuts every fall just after harvest ever since he started farming. He desiccates the cover crop, either wheat or ryegrass, before planting cotton the next year on the land. He said this is an important part of his rotation schedule.
"Cover crops make hard land softer and soft land harder. It gives hummus matter in the sandy soil and keeps the hard land from packing. A cover crop stops all that erosion from wind and rain," he said.
He plants no-till cotton, but he uses conventional tillage on his peanuts where he plants the crop on raised beds. "I'm not brave enough to try no-till peanuts," he said.
Weed control
For weeds, he uses the herbicides Basagram, Pursuit, Sonolan, Dual, Strong Arm, Select and Storm. Fortunately, palmer Amaranth isn't a big problem. The Cowins are able to keep it under control, and if there are escapes, they will pull them out. He said timeliness of weed control is also important, emphasizing both PREs and posts.
"We start out with Sonolan then come back with Dual and Pursuit on top. Then for escape weeds, we come back with Storm or Basagram, depending on what we are trying to go after. We use Basagram for nutgrass and cocklebur. Generally, we use Storm and Blazer for morning glory," he explains.
Cowin also likes to be timely when it comes to planting. He uses the weather as a guide, but he likes to get his peanuts planted when the soil is warm enough, usually the end of April or first week of May. As soon as the peanuts are planted, he'll go straight into planting cotton. "You don't want to be too late, you don't want to be too early," he said.
Peanut harvest
Cowin knows that peanuts need to be dug when maximum yield and quality can be achieved. He admits that timing his digging for top yields can be a challenge, particularly with unpredictable weather at digging time. He uses the N.C. State peanut maturity profile board to help decide if a peanut field is ready to harvest.
Ben's wife, Tracey, is also a vital part of the farming operation. She credits her husband for being able to manage the daily challenges of farming. She said his years of experience and dedicated work ethic are the main reasons he is successful, in both the good years and bad ones.
"One reason he has so many trophies for those yields is that he's very particular. He's very careful. Everything has to be just right. He'll often be working late, trying to figure out something, when everybody else has gone home," Tracey said.
Severn agronomist Wayne Nixon, who nominated Cowin for the Peanut Efficiency Award, has worked closely with Cowin for two years now. He said Cowin is a humble farmer who won't brag about his accomplishments, but he said no farmer is more worthy of the recognition than Ben Cowin.
"He's a whatever-it-takes farmer. Whatever it takes to get the best crop, he's going to do it. He's committed to making the best peanut crop he can make," Nixon said.
Cowin does say that he likes to try new things and use new technology, but the bottom line is, he doesn't believe in changing something if it's working. He admits some of the new fungicide products are so vital for achieving top yields are expensive, but are needed for him to get the best yields possible.
"I'm not a person to cut corners much. I'm not going to cut corners and wonder if it's going to be right or not. I do all I can, and when I go to bed at night, I try to sleep well. I don't want to cut corners on a crop because you never know when the weather is going to change," he explained.
"We've been blessed. The Lord has looked out for us. I love what I do. To be good at it, you've got to love it."
Subscribe to receive top agriculture news
Be informed daily with these free e-newsletters
You May Also Like
---