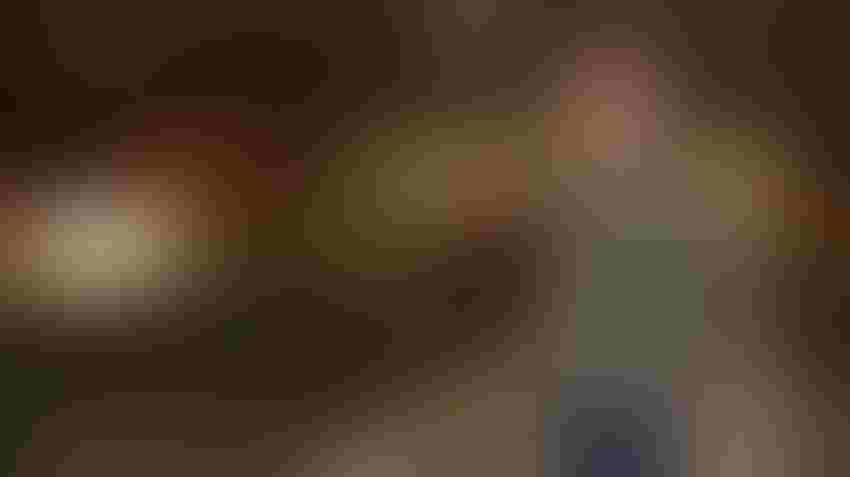 BALANCE: Ohio farmer Brian Watkins favors a work-life balance for his employees. "People like to be able to go home and not have to think about work until the next day," he says.
Mike Wilson
Farms often grow revenue one of two ways: They expand or they change business models. In either case you likely need to hire, train and retain talented people to make business growth a success.
As most farmers might agree, doing so is not as simple as it sounds. In Farm Futures' national survey in March, 37% of readers said they faced challenges when hiring workers for their farm. Some 54% said they lost an employee and were unable to find a replacement.
Farm operations face a number of headwinds, namely a limited labor pool with few farm-experienced applicants, as well as other competitive jobs nearby.
So what's the secret sauce to making your operation the employer of choice in your neighborhood? Here's what farmers told us when we asked them to share HR tips that worked for them:
Encourage learning
Employees need more than just a paycheck. How can you help them develop as a professional with purpose?
"We try to foster growth in our people as they progress through their work life," says Brian Watkins, co-founder of farm software firm  Cropzilla and co-owner of a grain and hog farm in Kenton, Ohio. "We try to help them add skills and responsibility and become more capable over time. This means they become more valuable to both our business and to themselves. And this process needs to be flexible to match the goals and interests of the individual."
Support work-life balance
A big hurdle for row crop farming is finding people willing to work long hours in spring and fall. But as the farm's leader, you need to understand what employees are willing to do for the sake of your farm's success.
The decision to work fields all night, for example, comes down to who is involved, says Jan Layman, who farms 5,000 no-till acres near Kenton.
"All our employees are not family members, so you can't push people too hard," says Layman, who usually calls everyone in when the sun goes down.
He pays time and a half to employees who work over 40 hours per week and gives them the option to take it in comp time. "Some of our employees engage in tractor pulling and like having some extra time off," Layman says. "We just ask that they don't take it in the busy times.
"We are also very flexible about them making time to see their kids activities like sports and school programs," he says.
Watkins agrees with that approach. "On the farm, it is sometimes difficult to maintain a healthy work-life balance, but we try to do so. Many of our team have young families, and it is so important for them to be engaged parents."
Throw in some extras
Pay and benefits must compete with nearby alternatives. Last year, Layman added a simple IRA with up to a 3% match for his employees.
Even so, farms often have extra benefits that no job at UPS can possibly compete with assets like recreational property, rental homes or big toys (equipment). Make sure you describe those optional benefits to any new job applicant.
"We allow employees to use our equipment, such as a backhoe or dump truck, when someone has a big project to manage," Layman says.
Define "skin in the game"
Bonuses may help motivate people to go the extra mile. And having some level of ownership in the farm's success can be important. But for many employees, just working for a paycheck at a business they like may be satisfaction enough. You need to figure out what they want and try to scratch that itch.
"When we do well financially, they do well," Watkins says. "Their 'skin' is they're proud of where they work and they like who they work with. They want the neighborhood to see them working here as a positive thing. If you get that right, then it takes care of a lot of things."
Don't rule out non-farmer
Farms have troubles finding experienced candidates for a job. But is that a deal breaker? Not for Rodney Rulon, who farms 7,000 no-till acres in Arcadia, Ind., with family members. He says one of the farm's brightest young partners has no farm background, although he does have a degree from Purdue and learned professional farm management practices through TEPAP — The Executive Program for Agricultural Producers.
"There's some advantages to not being from a farm," Rulon says. "So often you find that the most innovative and interesting people with the best ideas are first-generation farmers. I find people that have made more progress in 10 years doing it themselves than I have made in my whole career so far."
Kasey Bamberger, a partner at Bryant Ag Enterprise in Washington Court House, Ohio, works on a farm operation with 33 full-time employees and eight family owner-partners, along with semiretired grandparents.
"Not everyone thinks alike; our minds don't work the same way," she says. "Find out what people are good at, and they will make you more successful. Put them in an area where they can bloom."
Communicate effectively
Good communication drives any relationship — marriage, friendships and business. Just remember, everyone communicates differently, Bamberger says.
Some farm managers put their team on a group text; others just use two-way radios. Still, others use tools like Ag Leader during busy times to make sure everyone is on the same page.
Likewise, establish limits for when it's time to shut down. Bamberger says her family tries to avoid talking about farm work around the dinner table, but she and her father still text each other with work-related questions after work hours.
"Before cellphones, people didn't call your house at 9 o'clock at night unless it was an emergency," she says. "We have had to put processes in place for our employees in the off-season to try to be respectful of each other's family time because with cellphones you never feel like you turn work off. Don't be afraid to speak up and set boundaries, unless it's an emergency."
Share your farm's culture
Successful businesses have a culture — defined as a set of shared values, goals, attitudes and practices that characterize the organization. Job applicants are attracted to a business that knows where it's going and makes sure everyone on the team can proudly feel part of that success. Your farm's shared values can go a long way in attracting talented people who embrace values similar to your own.
"We always want to have a positive culture of encouragement and optimism," Watkins says. "If you have a reasonable approach to work, family and life, and it's clear that taking time off for family is important, we maintain that attitude with our employees. Of our seven full-time employees, six have kids in school. So, our culture is we embrace family, and it's one way we retain good people. If the culture is good, we will keep people satisfied."
Become a servant leader
Employees feel better about the business they work in if they see the leader act less like a boss and more like a mentor and coach. A servant leader is there to help others succeed, not just fix mistakes. It's a change in mindset that can do wonders for attracting, keeping and inspiring great talent on your farm.
Subscribe to receive top agriculture news
Be informed daily with these free e-newsletters
You May Also Like
---