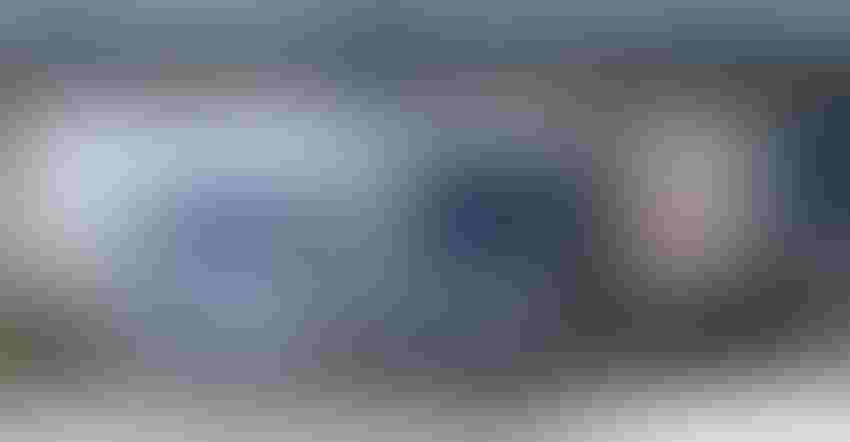 Empty export containers needed to ship U.S. agricultural goods abroad continue to be diverted to Asia so that consumer goods can be shipped back to the United States.
Todd Fitchette
Getting billions of dollars' worth of agricultural goods exported from Western ports has apparently been difficult since about the middle of last year, when pandemic restrictions shut down whole economies. As some of these world economies attempt to rebound, the issue has become one of a lack of shipping containers for U.S. agriculture.
Rep. Jim Costa, D-Calif., the second-ranking member on the House Agriculture Committee and longtime congressman from California's Central Valley, spoke exclusively with Western Farm Press on the matter, confirming some of what we've previously reported.
Costa says he is working with California congressional colleagues Jimmy Panetta from the Salinas Valley, John Garamendi from the Sacramento area and Salud Carbajal from the San Luis Obispo and Santa Barbara areas to gather information and hopefully help solve what a California tree nut marketer Jim Zion called "a mess."
Through some due diligence there appears to be a combination of factors involved in what Western Growers told us was a "perfect storm" of issues, a message Costa seemed to confirm in our phone call.
As U.S. consumers gain confidence in the economy, consumer goods from China are commanding space among a finite number of shipping containers, which were left idled as pandemic lockdowns spread globally. Demand for those containers by Asian exporters is high, and as economics would have it, some are willing to pay big money to get them back while some shipping companies oblige.
A published report by Seatrade Maritime News suggests some ocean carriers have opted against sending empty containers to agricultural zones in the U.S. Rather, they are moving them as fast as possible to Asia, effectively shutting American farmers out of the global marketplace.
Costa confirmed congressional discussions with the Federal Maritime Commission, adding that he has discussed the issue with U.S. Transportation Secretary Pete Buttigieg on the matter.
"It appears that for some shippers it's become more profitable to send the containers back to Asia empty," Costa said. "We're concerned about that."
The legality of these moves is being investigated by federal regulators, Costa confirmed.
Costa went on to say that it makes no common sense to ship empty containers across the Pacific Ocean. This lends credence to the notion that maritime carriers are being paid a premium to do so, which is shutting U.S. agricultural producers out of the world marketplace. California exports nearly half of its agricultural production to overseas markets. The state accounts for 100% of U.S. almonds produced and about 98% of American pistachios grown.
In one bit of anecdotal news, Costa reported that California's Blue Diamond Growers, the large almond cooperative that represents about half of the state's almond growers, has seen its monthly shipments of almonds to India slow tremendously. What used to take about a month to get a container from the U.S. to India now takes well over two months, Costa said. This adds costs at both ends, he said.
It's not just tree nuts that are affected. The state's medium grain and specialty rice crops have been impacted, according to ACC Rice in northern California. ACC Rice President and CEO Chris Crutchfield says the inability to participate in the marketplace puts them at a competitive disadvantage in long-term relationships with foreign customers.
Perishable crops like citrus will surely be affected as harvest continues in California. For stone fruit and fresh grape growers, those seasons will come online in the next few months.
"We produce a perishable commodity; those delays concern us," said Ian LeMay, president, California Fresh Fruit Association.
Western Growers Association is likewise concerned as its members produce fresh vegetables and citrus.
How all this plays out in a political world with a new U.S. administration remains to be seen. Will the prediction by JP Morgan come true that the U.S. and China trade relationship improves over time, thus bolstering export opportunities for U.S. farmers? Or will this "perfect storm" be one that must settle and allow supply chains to recover over time? How much longer can U.S. farmers be effectively banned from a global marketplace?
U.S. agriculture cannot afford to be, nor should it be allowed to be shut out of world trade opportunities. If the issue is simply one of too few shipping containers, perhaps the answer is as simple as employing companies to build more shipping containers so future issues like this can be avoided. One would think with all the predictions of a growing world population that improving world shipping efficiencies is paramount in our global marketplace.
Subscribe to receive top agriculture news
Be informed daily with these free e-newsletters
You May Also Like
---