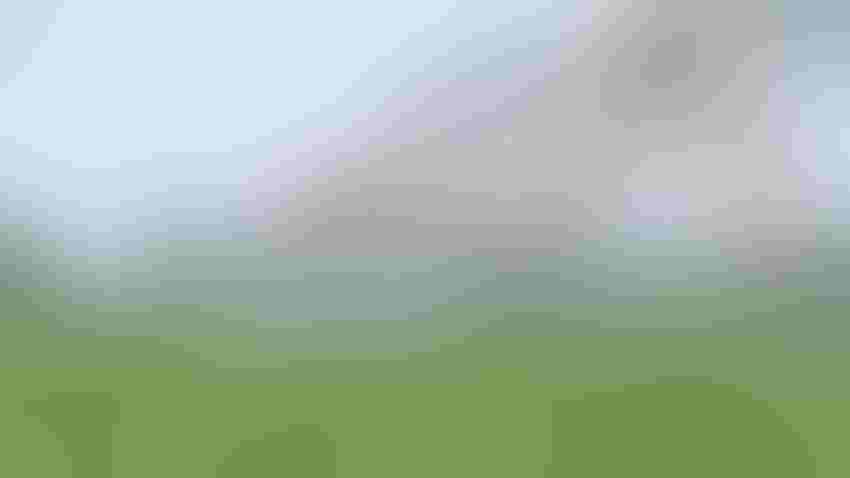 Does your pivot system meet crop demand? Research in the Blackland Prairie of Mississippi provides farmers with threshold and volume recommendations that also translate well to cropland in the Delta.
Delta Farm Press
Timely irrigation alleviates crop stress, and with pivot irrigation it is important that farmers do not fall behind. Knowing the soil moisture status in a field and how much water the crop needs is critical to staying ahead of the game. 
So, does your pivot system meet crop demand? Based on research conducted in the Blackland Prairie in Brookville, Miss., Dave Spencer, assistant professor at the Mississippi Water Resources Research Institute (MWRRI), Mississippi State University, offers three pivotal strategies as farmers prepare to crank up irrigation across the Midsouth. 
Spencer said 2022 was the first year to develop threshold and volume recommendations for pivot irrigation in the prairie. There, the soil is underlaid with lime rock, providing a much smaller soil profile for plant roots to extract water. This year, an additional study will be conducted in Stoneville, Miss. to see if these recommendations hold up in the Delta.  
"I think that a lot of this research translates well to pivot irrigation in the Delta. The big takeaway about irrigating earlier with a pivot is that you can only apply an inch at a time. It takes much longer for that pivot to walk across a field, compared to furrow irrigation where you can draw the water down to threshold and apply water very quickly." 
1. Don't guess. Use soil moisture sensors.
Soil moisture sensors provide the most accurate measurements to help farmers know when to irrigate. Spencer noted that only a certain amount of water in the soil is plant available, and sensors measure how hard the plant roots are working to pull that water from the soil. 
"Sensors take the guesswork out of knowing how close you are to the stress point for the crop," he said. 
Sensor location in the field affects how well they work. Spencer recommends placing sensors on top of a raised seed bed, toward the end of the pivot spin, in an area representative of yield. Additionally, he suggests placing the sensor under the outer spans of the pivot where the irrigation application is more uniform.  
"You want the sensors adjacent to a good crop stand, not next to a skip or late emerging plants. Also, keep them away from a traffic furrow because that could give an inaccurate depiction of the infiltration in the soil," he said. 
2. Know thresholds and adjust application volume.
By using data from properly placed soil moisture sensors, farmers can better determine thresholds and when to irrigate. From the research in the Blackland Prairie, there was a significant yield increase in corn grain when using a threshold of -40 centibars, as opposed to much drier thresholds of -80 and -120 centibars.  
Spencer noted that thresholds can vary depending on the irrigation system, crop and location. In the pivot-dominated Blackland Prairie, a threshold of -40 centibars is recommended, while in the Delta, the ideal threshold is -80 centibars for furrow irrigation. 
When it comes to application volume, applying an inch or more for each pivot irrigation pays off in the long run. Spencer said the yield increase offsets the cost of running the pivot, making a greater volume of water at a slower pivot spin more profitable than less volume at a faster spin.  
"Putting out 1.2 inches of water per irrigation increased yield by at least 12 bushels of corn per acre compared to 0.9 inches of water or less. The increase in yield more than pays for the extra cost of running that pivot. We need to put out as much as we can each time we irrigate."  
3. Adapt your management to pivot capacity.
Pivots should be able to put out 0.3 inches of water per day. If a pivot does not meet demand, it cannot replenish what the crop has used – causing crop stress and yield loss.  
You can determine pivot capacity by referring to charts provided by the pivot manufacturer on the inside of the control panel. Another option is to place rain gauges under the outer spans of the pivot to catch a good estimate of how much your pivot applies per day. 
Whether your pivot is designed to irrigate full circle or semi-circle, Spencer said real-life scenarios can be considered to adapt management to meet crop specific needs. 
For instance, a full circle pivot that cannot meet demand may water two adjacent fields with different crops. Spencer gave the example of watering corn and cotton simultaneously with a full circle design.  
"You could split the pivot to water both crops. Peak water demand for corn comes first, so you could apply a full rate on the corn and spin it quicker through the cotton side when it does not need as much water. Later in the season, when cotton is in peak water demand, flip that speed for it to go slower through the cotton and faster through the corn," he explained. 
Another option is to split your spin into different sectors on a semi-circle design. Adjust the speed to apply a full rate of water from the starting point, only apply a two thirds rate in the next sector, then speed it up to apply little or nothing in the last sector. As the pivot walks back across the field, mirror those speeds from full rate to reduced, and the ground will be drier as the pivot returns to the starting point.  
In summary, don't guess, don't fall behind, and curtail irrigation management to your pivot design. Those less-stressed plant roots will thank you for it come harvest time. 
Subscribe to receive top agriculture news
Be informed daily with these free e-newsletters
You May Also Like
---