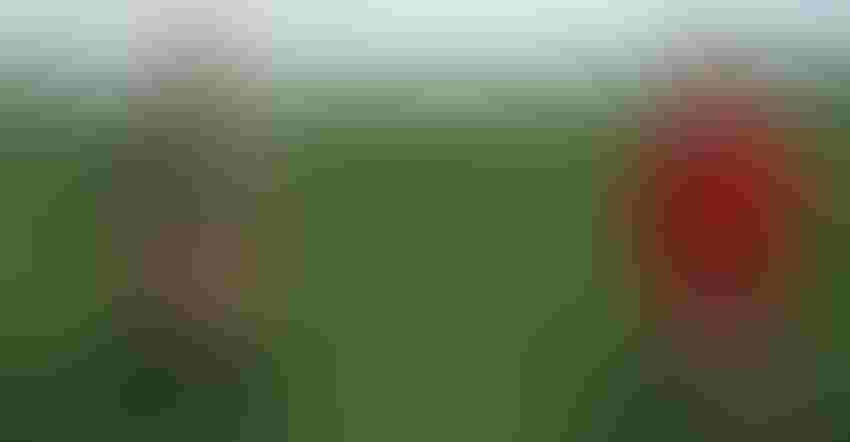 JUGGLE MANY BALLS: Jacob Chapman (left) and his brother Matthew, Springport, Ind., keep many balls in the air as they diversify into various ventures to generate income on their farm.
Darrell Boone
To paraphrase Oliver Wendell Holmes Sr., no generalization is worth much, including this one. Yet, it is impossible not to trip over common themes when asking young farmers about the future.
Here's a top 10 list of what some Indiana young farmers are thinking and doing during today's challenging times in agriculture:
1. Many have side ventures. There is a consensus among young farmers that trying to survive on corn and soybeans alone doesn't cut it. Side jobs — whether they provide significant revenue streams or just spending money — help keep the ship afloat. "You can't have blinders on. You have to broaden yourself by looking at different angles of what you can do," says Scott Burton, Rochester, who spreads chicken litter to supplement farm income.
Related: Young farmers navigate difficult times
2. Others have value-added enterprises. Whether this is non-GMO or organic products, specialty crops, or seed production, many farmers look for opportunities that bring a value-added premium.
3. Some find creative solutions. First place here goes to brothers Matthew and Jacob Chapman, Henry County, who've added non-ag enterprises to complement their farm operation. Planning a wedding? They've got you covered. Matthew's wife will provide flowers, Jacob can bring a bounce house for little kids during the reception, and Matthew can rent you a party bus for your bachelor party!
4. Many wives work off the farm. The most frequently heard comment while scheduling interviews with these farmers was: "If you want my wife in the pictures, she won't be home from school till after 4:30." Many young farm wives are providing an additional, much-needed revenue stream. In many cases, they carry health insurance for the family.
5. Most are optimistic but realistic. Their parents survived the '80s and they've learned from them, realizing the game is on the line. But they also see opportunities. "For young farmers coming in, it's a scary time, but it's the best time to get in," says Jake Smoker, Wanatah.
6. All are passionate about farming. Despite challenges and obstacles, fire in the belly for farming is as strong as ever with these Hoosiers. If you see a gleam in their eye, it might be because they see opportunities.         
7. All must be good managers. They're sharp operators who not only have a good handle on their own operation, but also a good grasp of "the big picture." That includes trade, the pandemic, politics, global competition and the environment. They realize these things affect them and agriculture. Terms such as "business model," "diversification," "risk management," "artificial intelligence" and "managing inventory" are used frequently.
8. All are determined to make it work. These young farmers work hard to keep all the balls in the air, often essentially working two or three jobs. Some of these jobs compete with planting and harvest, but they keep the farm operation and the farmers' dreams alive. "We're busy people," one says.
9. Family matters to everyone. Despite being extremely busy, family is still a rock-solid, unshakeable priority. Whether appreciating the blessings that are passed down from previous generations or the importance of continuing that chain, it seems to be part of their DNA. "Yes, we're busy, but when the kids have an activity, I shut off the combine and go," Burton says.
10. They're willing to help. Their time may be precious, but every single young farmer who was asked made time to help with this project. If telling their stories would in some way help advance the cause of agriculture, the answer was: "Sure, I'll be glad to."
Boone writes from Wabash, Ind.
Subscribe to receive top agriculture news
Be informed daily with these free e-newsletters
You May Also Like
---