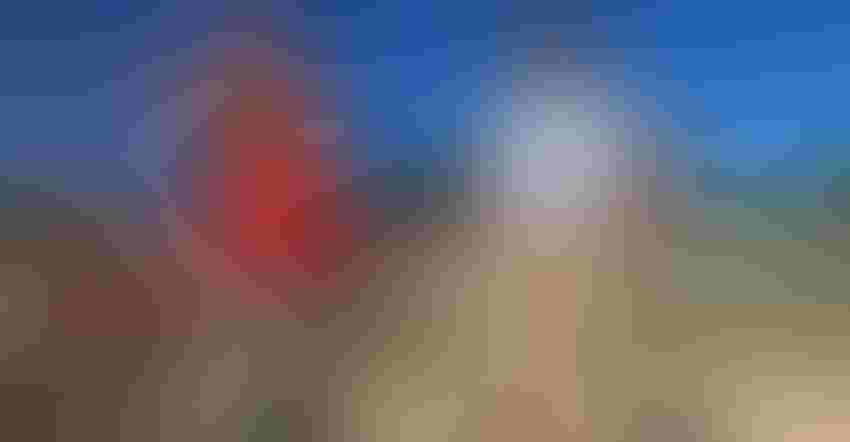 ADJUSTING TO CHANGES: Doug Kenyon and Joshua Faulkner, coordinator for farming and climate change for University of Vermont Extension, worked together to establish a woodchip pad on Kenyon's farm. These woodchip pads are useful in humid climates where producers may have to keep livestock off grazing land when it's too wet.
Photos by Susan Harlow
Doug Kenyon was skeptical about a woodchip loafing area for his beef cattle. Would it perform as promised, cutting down on wastewater runoff? Would the cattle even use it?
Four years later, Kenyon is a fan.
"I wondered if it would work, but I'm truly impressed," he says. "Our herd is comfortable, and they spend a lot of time on it."
Kenyon and his family raise about 100 head on their Waitsfield, Vt., farm. They sell the meat in their two stores, and to restaurants and retail outlets.
Woodchip pads can work well on operations like Kenyon's, says Joshua Faulkner, University of Vermont Extension program coordinator for farming and climate change. They're comfortable for livestock and drain off wastewater, using an easily accessed and affordable material.
They're especially useful in humid climates where producers may have to keep livestock off grazing land when it's too wet.
"With warmer winters expected, or extended mud seasons, the potential damage to pasture could be greater if soils don't remain frozen," Faulkner says. "Farmers more and more need a good place to hold cattle during those muddy periods. Woodchip pads are a good option for this because they are well-drained and comfortable."
Faulkner's research has shown a 50% reduction in runoff from woodchip pads, compared to traditional concrete pads. The Natural Resources Conservation Service and Vermont Agency of Agriculture have added them to their lists of approved conservation practices and will typically chip in about 75% of the cost to get one.
Faulkner first worked with woodchip pads in his native West Virginia. They've been used for a long time in New Zealand, Ireland and the U.K., where studies show that beef cattle on chip pads post a nearly 1-pound daily weight gain advantage over concrete.
Faulkner approached Kenyon with the idea four years ago, and there are now six pads in Vermont and New Hampshire.
Consider the costs
Kenyon's 80-foot-by-100-foot pad is sized for 80 youngstock. It's constructed of 12 to 18 inches of wood chips spread over another 12 to 18 inches of drainage gravel and a layer of landscape fabric.
A system of 4-inch PVC pipes at the bottom drains into an adjacent 135,000-gallon containment pond. In case the drainage system gets overwhelmed, several cleanout pipes were installed. Kenyon empties the pond once a year, pumping the wastewater into a tank and spraying it on nearby grazing land.
SOFT FOOTING: Joshua Faulkner checks out the new bed of soft woodchips on Kenyon's loafing area. Hardwood chips work just as well, but Faulkner says that any chip should be clean and large.
The total cost was $69,500. Wastewater treatment can be a hefty part of the price tag. Kenyon's pond, including a welded liner installed by a specialized contractor, was roughly 65% of the total price. The estimated cost for pads in the Northeast ranges from $163 per cow for a system with a vegetated treatment area to $920 per cow for a system with a lined holding pond, such as Kenyon's system.
About once a year he scrapes off and replaces the top few inches of chips. That's less maintenance than concrete pads, which have to be scraped more frequently. But he also must replace the chips. This year, Kenyon is using 350 to 400 yards of softwood chips. The cost is $1,000. He'll salvage some of the old chips by screening them and composting the rest.
The best type of chips — clean and large — are used in commercial heating systems at schools and for other large customers during winter, so the pads could be a market for the forest industry in the off-season while offering a little savings to the producer.
Cleaner and dryer
Typical woodchip pads allow about 110 square feet per brood cow, Faulkner says. The pads work well for beef cattle, and younger dairy and dry cows, he says, but lactating cows tend to produce too much liquid manure. Goats can benefit from woodchip pads because they end up with fewer foot problems, he says.
Kenyon's beef cattle like to hang out on the pad. Only a few days in winter when it's especially cold have they been wary of the frozen top layer. Drainage is slower then, too.
"Using large, screened woodchips should help with this and facilitate good drainage, even after bitter cold periods," Faulkner says.
Andrew Dewing of Dewy Meadows Farm in Bradford County, Pa., built a woodchip pad for his 50-head beef herd a year ago. He's had similar experiences feeding cattle when it's too wet, creating a "horrible mess."
TREATING RUNOFF: Kenyon built a containment pond for wastewater beside the woodchip pad. A vegetated area can also treat runoff from a pad.
"Now, it's constantly dry and I'm impressed with how clean the cows are," Dewing says. Spraying wastewater on pasture has helped improve the quality of the grass, too.
When the weather is very cold followed by rain, the pad is sloppy for a while, but the water soon drains through. Overall, "it's been a delight," he says.
Woodchip pads look like a good tool to address climate change on farms in the Northeast, where precipitation is increasing and the climate is warming, Faulkner says.
"I think it would be a good fit for small and medium farms in Vermont, especially graziers who could use it when they pull animals off grass when it gets too wet," he says.
Harlow writes from Vermont.
Subscribe to receive top agriculture news
Be informed daily with these free e-newsletters
You May Also Like
---