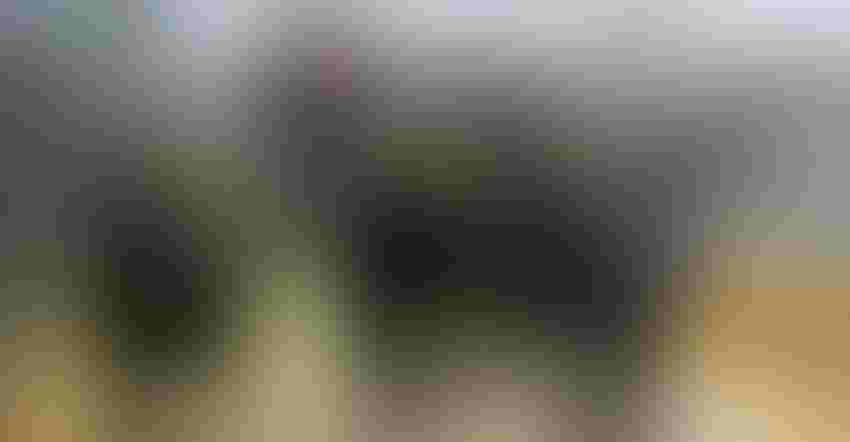 YOUNG BULLS ON THE MOVE: This Angus foursome was on its way to the sale ring.
Pennsylvania Ag Department
Pennsylvania's recent 44th Performance-tested Bull Sale set a sale record of $354,900 for 99 top-quality beef bulls. That works out to $3,585 a bull at the Pennsylvania Livestock Evaluation Center at Pennsylvania Furnace, Pa.
The sale topped last year's record-breaking sale total of $315,300. The 2016 sale still holds the per-bull average record of $3,709, according to Greg Hubbard, manager of the center.
Producers from Pennsylvania and neighboring states sold Angus, British White, Charolais, Hereford, LimFlex, Red Angus, SimAngus, Simmental and Shorthorn bulls. The sale show-topper was an Angus from Weaverland Valley Farms of New Holland, Pa. That bull sold for $8,200 to Swartfager Farms of Knox, Pa.
The second-highest selling bull also was an Angus consigned by Rutledgedale Farms of Tyler Hill, Pa. It was purchased by Robert Marquardt Jr. of Hughesville, Pa.
The center began the test with 178 bulls, consigned by producers from Connecticut, Maryland, Massachusetts, New Jersey, New York and Pennsylvania. The sale committee selected 99 best bulls for auction based on their performance in all test components.
Bull data breakdown
Some 56 Angus bulls averaged $3,829; 12 Herefords averaged $2,850; eight Red Angus averaged $3,850; 15 Simmentals averaged $3,340; four SimAngus averaged $4,125; one Charolais brought $2,200; one Shorthorn brought $2,700; one LimFlex brought $2,000; and one British White went for $2,000. 
The bulls completed a 112-day test that also generated data that enhanced bull marketability to potential buyers, notes Hubbard. Here's what was in that PT data package offered to buyers.
• breeder's name and address
• birth weight
• 205-day adjusted weaning weight
• 365-day adjusted weight
• 112-day average daily gain
• off-test weight
• frame score
• weight per day of age
• yearling scrotal circumference
• yearling pelvic area
• expected progeny differences for growth and maternal traits
• ultrasonic determination of fat thickness and loin-eye area
• ultrasonic estimation of quality grade (marbling)
This is what makes the performance testing center a hub for this region, says Hubbard. For more information, contact him at 814-238-2527 or email [email protected]. Or visit livestockevaluationcenter.com.
Source: Pennsylvania Department of Agriculture
Subscribe to receive top agriculture news
Be informed daily with these free e-newsletters
You May Also Like
---