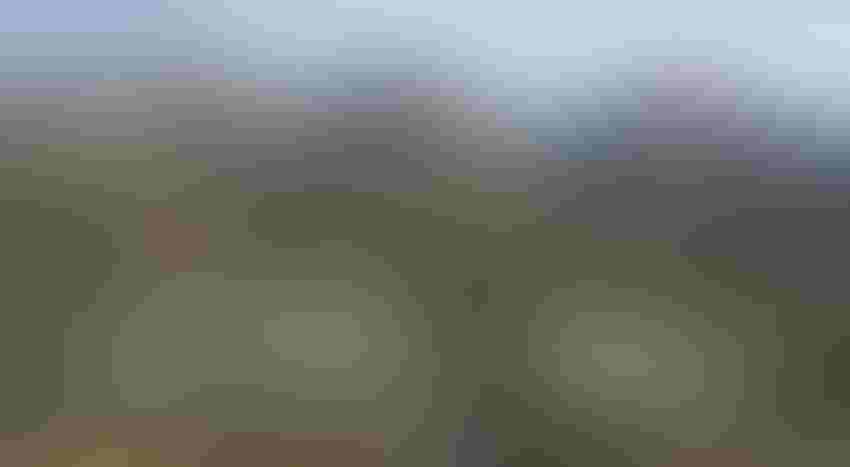 Their numbers have been diminishing. To fill the need, the state's first public veterinary medical program will begin classes in August.
U of A College of Veterinary Medicine
Call them what you will -- large animal veterinarians, livestock vets, or just plain "doc" -- these are the specially-trained folks who care for cattle, sheep, goats, pigs, horses, and the like.
These health care providers hold a doctoral degree in veterinary medicine, and often have specialized training in caring for larger species. A large animal vet may also complete additional clinical studies, as well as a residency, to ensure they have the appropriate skills for treating livestock.
"Large animal vets put in long, strenuous days, and a lot of miles on their pickup trucks, and we don't have enough of them to provide service in rural areas," says Arizona Farm Bureau President Stefanie Smallhouse, a southern Arizona rancher who relies on the medical specialists to keep her herd healthy.
The numbers of large critter caretakers has been diminishing since World War II ended. At that time, nearly half the members of the American Veterinary Medical Association were practitioners of food animals. Today, according to USDA's National Institute of Food and Agriculture, less than 10 percent of graduating vets join private practices with an emphasis on food animals.
A 2017 survey released by the U.S. Department of Agriculture noted that nearly 200 rural areas lacked sufficient access to a veterinarian, often called the first line of defense from diseases that could devastate an entire livestock industry.
To help fill the need, the first public veterinary medical program in the Grand Canyon state, the University of Arizona College of Veterinary Medicine, will admit its first class in August, either in-classroom or virtually depending on the status of the coronavirus pandemic.
Competition for admission was tough with over 500 applications (ranging in age from 19 to 51) to fill 110 seats. Applications are already being accepted for next year's class with over 1,000 applications received to date.
"This program, with its team-based learning over three years with nine continuous semesters, is like no other in the nation and these students will receive one of the most innovative learning experiences possible with students experiencing real-world learning in animal clinics. The goal is to prepare students to be Day-One ready practitioners," says Julie Funk, dean of the College of Veterinary Medicine.
Competency-based program
Funk's background will help the competency-based program designed to teach a wide range of clinical experiences involving all species in diverse settings. She joined the UA from Michigan State University College of Veterinary Medicine, where she was a professor of large animal science after teaching preventive veterinary medicine at Ohio State University and a stint in private practice.
The U of A curriculum, still planned to begin with the opening of the fall semester (Aug. 24), encompasses a hybrid approach with some on-line learning and some hands-on with animals when necessary.
"We're taking several approaches to help get veterinarians into rural areas," she said. "Academics are important, but we also want people to be exposed to horses and the food animal species early in their career. They might discover a passion with all students required to do a four-week clinical rotation in a rural practice. With Arizona categorized as a 'veterinary shortage area', there are grants available for vets to go practice in these areas."
Certifying animal doctors who will then return to their rural roots is a tricky endeavor. 
"Often times rural graduates look to more populated areas to increase their salaries to pay off the cost of their schooling," says State Veterinarian Peter Mundschenk from the Arizona Department of Agriculture. "The UA program decreased costs while recruiting from rural areas where individuals have strong community ties and might want to return home to practice.
"While we still lack large animal vets in many areas of the state, over the last several years we've seen an increase in younger veterinarians returning to their home base as they have family connections there," he says. "The Veterinary Medicine Loan Repayment Program to reduce educational debt helps encourage new graduates to look into underserved areas, get established there and stay there longer."
Echoing those thoughts is Emily Kane, Executive Director of the Arizona Veterinary Medical Association, who noted: "Although there is no requirement to do so, it is hoped that Arizona students will remain in their communities to practice after graduation.  In general, the reason rural areas are under-served comes down to economics with not enough business to sustain a veterinary practice in many rural localities."
Funk adds: "Small animal practices fill their days with revenue-generating activities but for large animal vets, it's hard to generate revenue when you're on the road between calls. Your value is your time. That's why we support the need for rural broadband access so large animal veterinarians can leverage telehealth more successfully and help turn the tide on some of the challenges of a rural area business model."
About the Author(s)
Subscribe to receive top agriculture news
Be informed daily with these free e-newsletters
You May Also Like
---