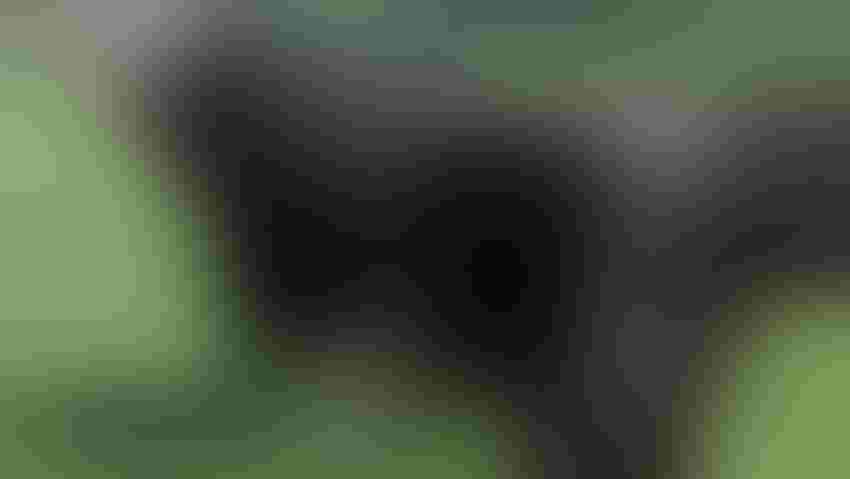 A crossbred bull with cows.
Cheryl Waldner
In cattle breeding, heterosis (hybrid vigor) has proven its value. Research has shown up to 25% more pounds of calf weaned per cow from crossbred cows. Crossbred calves have increased weaning weight and yearling weight when compared with the average of the parent breeds. Maternal heterosis in the crossbred cow increases her performance and that of her calves. She reaches puberty earlier, rebreeds quicker after calving, has greater survival rate in her calves, stays in the herd longer, producing more pounds of calf during her lifetime.
Dr. Matt Spangler, University of Nebraska, has done a lot of work with genetics and says there are also advantages when utilizing paternal heterosis. Crossbred bulls can inject heterosis not only into the next calf crop, but also when retaining replacement females.  "We use crossbred bulls to get what we are really after—crossbred females."
The argument against crossbreeding is that it doesn't enhance production traits. "We see very little heterosis benefit in traits like yield grade, quality grade, etc. But the commercial producer should focus on reproduction first, growth second, and carcass third," says Spangler. You first want to get cows bred, have a live calf, and have it survive to weaning time with good growth. The bottom line, for the cow-calf producer is to have as many calves as possible reach market age, in a healthy, well-grown manner.
"Another benefit of crossbreeding is breed complementarity. This does impact carcass traits; it gives us opportunity to blend breeds so we can achieve production goals in both carcass yield and quality," says Spangler.
Simplifying systems
One of the main benefits of crossbred bulls is to simplify crossbreeding systems. "Three-breed rotations, or even 2-breed rotations require more resources and labor; often people get started then become discouraged and quit," he says.
"If people stick with breed rotation systems the way they are designed to be used, there are tremendous benefits, but it's still labor intensive. Using crossbred bulls is the way to optimize effort and the advantages of heterosis," he says.
"As the number of breeds increases, we get more heterosis.  An easy way to do that is to have more than one breed represented in the sire."
When people first started talking about composite bulls, it was hard to find one. "Now many seedstock producers produce F1 bulls and a growing number produce any desired mix—such as 3/8 Continental and 5/8 British, or the reverse. Availability is not an issue anymore," he says.
"There are many composite bulls available, and they are registered, with the same level of information that purebreds have." Depending on your breeding objectives, you simply need to determine the appropriate mix, and a system that's sustainable—whether you want to keep heifers, or if the cross will be terminal. If there's a certain mix of breeds you like, combining the best traits of multiple breeds, you can keep that mix the same if your bulls are the same mix as your cows—rather than having to use a purebred bull that swings the mix too far one way or the other. 
"Many producers don't have a good setup to do a complicated rotational system.  It's easier to use a hybrid bull." There are also advantages in fertility and longevity.  They will breed more cows, for more years.
"The main thing we're interested in, however, is what they can pass on to the next generation.  Pay attention to EPDs and make sure bulls meet your objectives," he says.
"For a while some people were concerned about using composite bulls because maybe they want their calves black-hided.  Now have homozygous black, homozygous polled composite bulls; things like color and horns are not a concern," says Spangler.
The same tools
"We have some of the same tools in composite bull selection as in purebred selection.  We have EPDs and accuracies and index values," he explains. Cattleman can be confident in what they are getting. Thirty years ago, a composite bull was just a crossbred calf. We maybe had some pedigree information, but that was about it. This is not the case, anymore.
"Depending on what kind of advantage you want from heterosis, the ideal situation is to maximize it by using more breeds. If you have a two-breed composite cowherd you could use a bull that embodies two different breeds, for a 4-way cross. It can be easy to use 3 breeds.  For example, you might have the classic black baldy (Hereford-Angus cross) cow, and use a Sim-Angus, Limousin-Angus or Gelbvieh-Angus bull, and you'll have 3 breeds," Spangler explains. A bull of two completely different breeds than the cowherd might be harder to find. 
The breed mix is not as important as the bull's ability to produce the kind of calves you want, but if you can add more heterosis at the same time, this is a plus.
Anecdotally, one of the advantages of crossbred bulls over purebreds is that the hybrid bull has a tendency to stay structurally and reproductively sound longer, with fewer breakdowns, but this depends on the individual. "We know crossbred cows stay in the herd longer, and we feel crossbred bulls would, too. The reason the crossbred cow has such good longevity is generally driven by fertility; she usually breeds back quicker. I think bull longevity is heavily driven by the way the bulls are developed, however; we see some big differences in the seedstock industry related to this." 
You must start with good genetics to create good bulls. "We can't say that any crossbred is better than a purebred, because that's not true. If you breed junk to junk in a crossbreeding situation, what you get is another piece of junk that is slightly better than the average," he says. This is not the goal.
"A crossbreeding system should be planned. You can't just get a crossbred bull, mate him to crossbred cows and come out looking good. Choose the individuals with as much care as choosing purebreds," says Spangler. 
Anecdotally, crossbred bulls tend to have more desire to breed than purebred bulls. Some young crossbred bulls are so active and vigorous that even if they are not dominant, they breed a lot of cows—in spite of the older bulls being boss. This can make a difference in number of cows bred, and bred more quickly, if cattle are in big pastures in rugged terrain.  In these situations you might want to select the most vigorous bulls that will go out and do their best job to find and breed cows—and young hybrid bulls may be your best bet.  If you select them carefully, they usually are very dependable.
The exciting thing about using crossbred bulls on crossbred cows is that it gives you many new options. You can get in just one generation some desirable traits that would take many generations to come up with (or maybe never) within a pure breed.
Subscribe to receive top agriculture news
Be informed daily with these free e-newsletters
You May Also Like
---