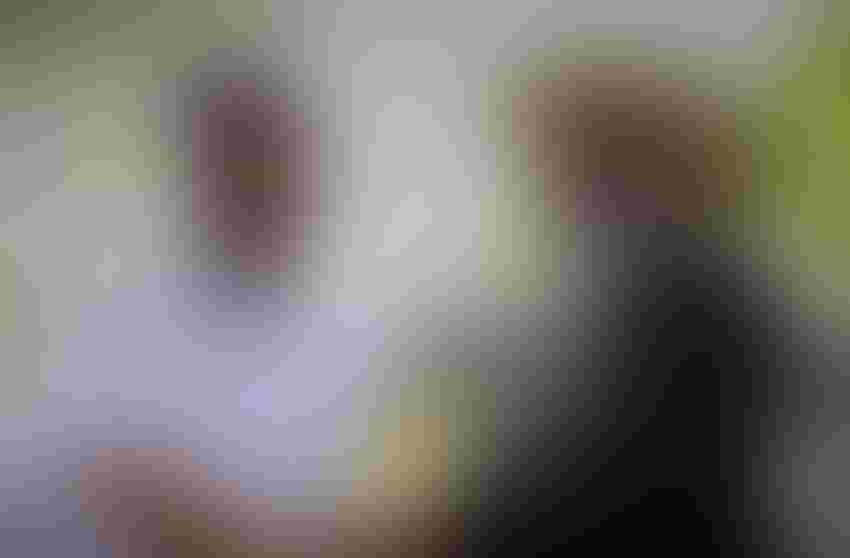 Kevin Yon, South Carolina rancher, receives the top honors in the 2019 Southeastern Hay Contest from Massey Ferguson's Alt Ash Oct. 15 at an opening day ceremony of the Sunbelt Ag Expo.
Ron Smith
South Carolina's Yon Family Farm won the 2019 Southeastern Hay Contest with a relative forage quality score of 241, some high-powered fuel in a tight competitive race.
The 15th annual contest had a record 380 entries submitted by producers from seven Southern states for seven contest categories:
Warm season perennial grass hay such as bermudagrass, bahiagrass (139 entries)

Perennial peanut hay (13 entries)

Perennial cool season grass such as tall fescue and orchardgrass (47 entries)

Mixed and annual grass hay (73 entries)

Grass baleage (89 entries)

Legume baleage (4 entries)
Yon Family Farm is owned by Kevin and Lydia Yon. They farm 4,258 acres in Ridge Spring, S.C., and have what is considered one of the best Angus seedstock herds in the United States. Each year, they sell about 375 bulls and 150 females in two on-farm sales. Their herd includes about 1,200 registered breeding age females, 590 commercial breeding age females and 90 steers and heifers that are fed out. They grow forages, their most important crops, and recently started a pecan orchard and growing soybeans as a rotational crop.
Contest winners were announced at the opening ceremonies of the Sunbelt Ag Expo in Moultrie, Ga., Oct.15.
Since 2004, the hay contest has been a partnership between Auburn University, Clemson University, University of Florida and University of Georgia. UF and UGA use the program to promote improved hay production and quality. Each contest submission is tested, and growers get feedback on the results, which they can use to finetune their operations for better, more-profitable hay by using good agronomic practices, such as split fertilization after each cut and proper cutting time, depending on forage type and goals.
In each of the categories, the top three RFQ entries received a cash prizes with first place receiving $150, second $100 and third $75. The contest is presented by Massey Ferguson and, as overall winner, the Yons can choose between new Massey Ferguson DM Series disc mower or RK Series rotary rake for the 2020 hay production season and $1,000 cash.
RFQ is an index used to represent different forages relative to their overall nutritive value, or total digestible nutrients, and predicted dry matter intake. The index was developed by UF and the University of Wisconsin and is consider a better fit for comparing forages, especially southern forages, for accounting for the digestible fiber as determinant of intake.
More information on how to enter future editions of the SEHC can be found at www.sehaycontest.com.
Subscribe to receive top agriculture news
Be informed daily with these free e-newsletters
You May Also Like
---