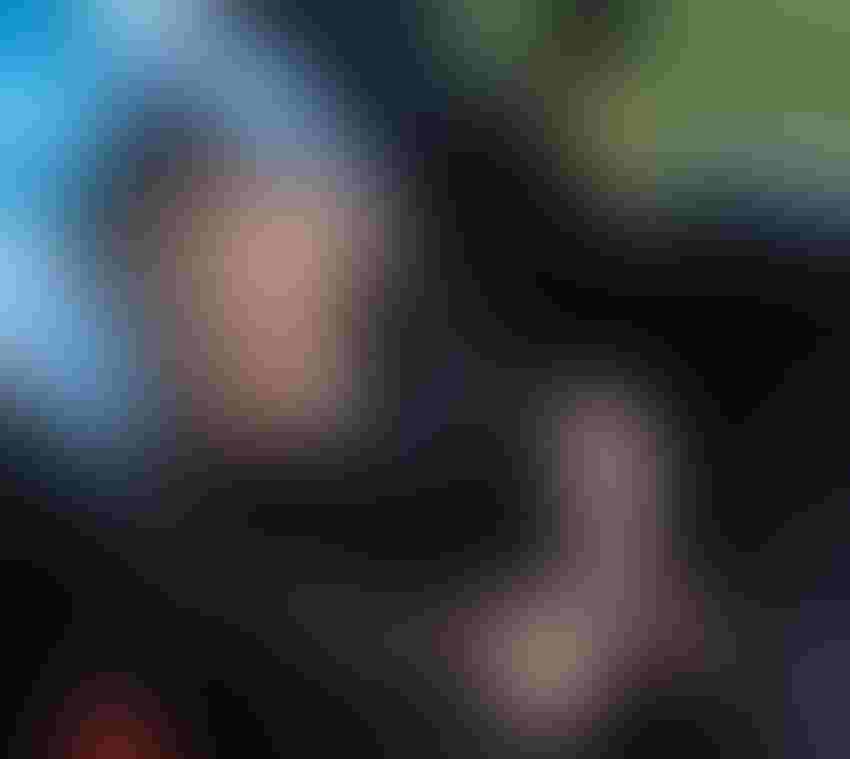 Joseph Brant takes his first tractor ride on the Bearden ranch in Maplesville, Ala. He is the firstborn son of Rachel and Brant Yeargan and Rebecca Bearden's nephew. He came into the world a few weeks early and delayed shipping day on the ranch, but that's OK.
There's usually not a breeze to be found on that morning. For us, shipping day takes place in July or August when the chance of being miserably hot reaches its zenith in Alabama.
Though at 4 a.m., when I awoke this year to start the process of watering stock awaiting their departure at the barn, the temperature was tolerable. It was just ridiculously dark. And the sleepy bovines didn't appreciate a headlamp in their living quarters, especially since they were coaxed the evening before into a smaller holding area than they are normally used to waking up in.
Honestly, they were probably just glad I left the blue heelers sleeping in the house.
This year, shipping day was delayed by a couple of weeks. Pens had been fortified and select calves had been moved and weaned. We were all set to go for a Thursday in early July and then someone decided to go into labor.
Note to self: If you need to convince your baby to come into this world, ride for an hour in an F-250 that defies all mechanical attempts to create a smoother ride and then another hour with the truck hooked up to an unsteady, bumper-hitch loading chute. I'm convinced that's why Joseph Brant (JB) — my sister's baby —came 18 days early. That and he was not about to miss out on Shipping Day 2018.
With pens still intact, Priefert panels in place, and JB sleeping soundly under the watch of his granny, we were all hands on deck during a balmy morning in late July.
My brother-in-law Brant and his friend Dustin were nothing short of golden. If you've worked cows with anyone besides blood kin, you know how valuable it is to have people who know how to pay attention, read cattle, stay quiet, move easily, climb quickly, and follow orders without asking questions. Otherwise you're asking for disaster.
Thankfully, no calves jumped through the fence this year. The individual who popped the whip flag at the skittish calf in the catch pen last year shall remain unnamed.
This year, every person, cow and calf worked smoothly, even the Hebs (notoriously known for pulling stunts). I was just impressed that Rachel managed to cut the mamas out at the back of the trap and into the pasture, a risky location for sorting since a calf can quickly slip by you. She later admitted that the cows were rushing at her so hard at the front of the trap she had to improvise. It worked.
Thankfully Rachel's wisdom also included cutting down working time by at least an hour since she's been calling the shots. Daddy notoriously waited until the morning of shipping to cut out his choice replacement heifers, changing his mind three times before everyone was dripping in sweat and caked in dust.
To make the day even more challenging, he would also require at least one gooseneck trailer to load out at Granddaddy's old barn. The unlucky truck driver had to be one heck of a hand to jack that unit down the hill, over the terraces and under the barn without rolling into the pond.
Rachel has since decided that trailering the calves to the new barn beforehand is a much better solution, cutting down the load-out locations to two sites. Happy truck drivers make for much better load-out help.
My sister's ability to make life better for others crosses all boundaries between man and beast. She speaks cow better than anyone I know and even chose to have JB without any medication just so that she could endure the full, natural, mama cow-calf experience. Though her little bull was mainly preoccupied with feeding and sleeping, little JB was definitely a part of the team this year. Next year, he'll be welcome to supervise while the rest of us sweat it out, as long as he doesn't change his mind about keeping heifers.
Subscribe to receive top agriculture news
Be informed daily with these free e-newsletters
You May Also Like
---