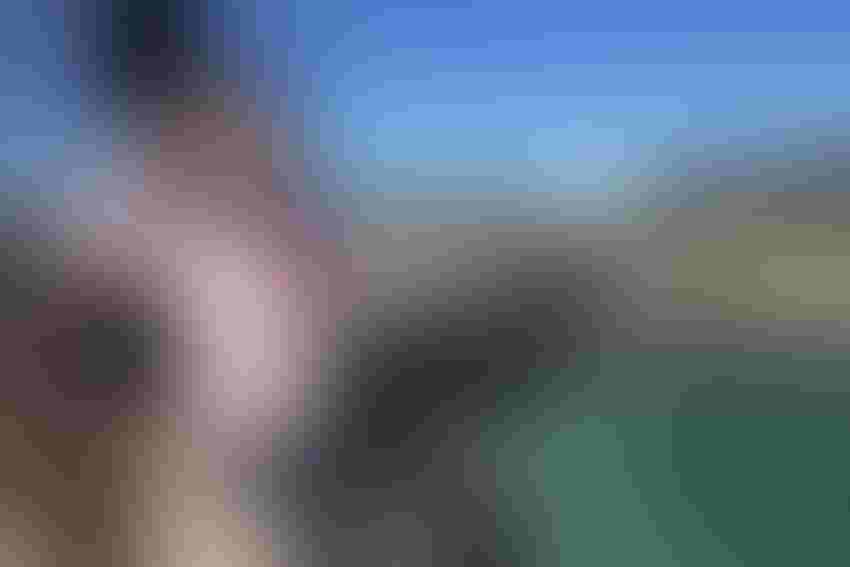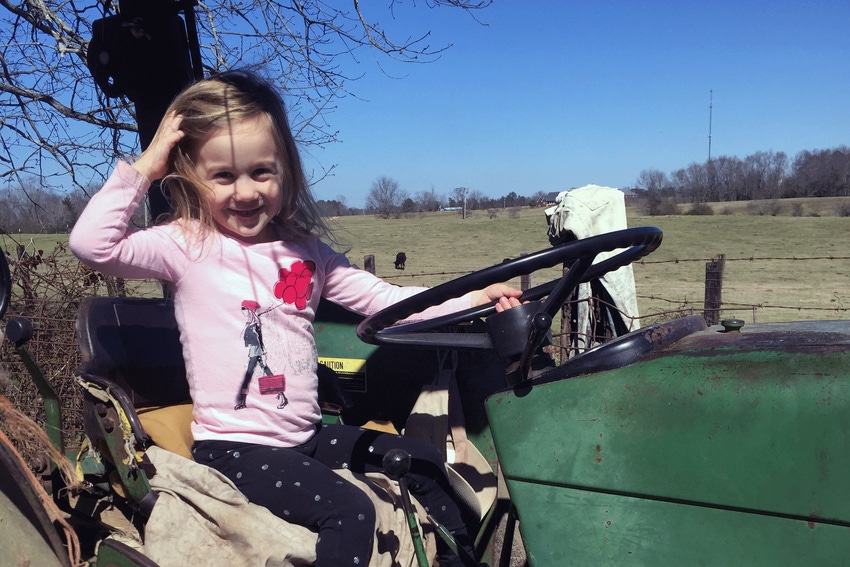 <p>Llona</p>
Three-year-old Llona's inaugural visit to our cattle ranch was full of options, but she knew how to prioritize her special day with daddy while mommy was working. "I want to pet the horses first," she said.
After stumbling out of the minivan to two blue heelers that wanted to lick her clean, she joyfully headed for the barn with her daddy close behind.
Thankfully, the horses had cooperated that afternoon. The threat of feeding the dry cows their dinner was too much to bear. I'm sure they reasoned that not much hard work could take place after 1 pm.
"He feels like a blanket," Llona noted as she stroked Cupcake's furry neck, her little fingers full of white hair overdue for a spring shedding.
Fearless, Llona accepted the offer to sit in the saddle. Eyes wide with wonder, she remarked about how high off the ground she was on the old grey gelding who was a good 14 hands above the earth.
Unfortunately, she quickly realized she was a far cry from pony rides at the petting zoo, and the next adventure of sitting atop a moving Cupcake was more than she could handle.
That didn't dampen her enthusiasm for experiencing all that she could in the busy barnyard. After firmly requesting to leave the saddle, she immediately spotted the old John Deere 2030 and cheerfully accepted the offer to sit in the driver's seat.
"I can't reach the pedals," Llona observed, pushing her hair out of her face. "But one day I will." Her clean pink tennis shoes dangled dangerously close to the dirt and grease covering the shift levers.
Her subsequent observations regarding the amount of wear and tear on the equipment was even more comical when she saw the John Deere 4030.
"Wow. That one is really rusty."
"Hit the poop"
After surveying the riding stock and equipment, finding mama cows and baby calves was Llona's next order of business.
Interestingly, the amount of manure produced by livestock and distributed across the landscape in small circles became targets in her world.
"Hit the poop," Llona said as we drove through the pastures. "You missed that one!"
Luckily, everyone was napping in the afternoon sun, enjoying their hay from the morning feeding. Or so I thought.
"That's my favorite bull Stoney," I said, pointing to a curly gray Charlais arising from his nap to check a cow in heat. Before questions, I turned the truck the other direction. "Looks like he's busy, so we are moving to another pasture."
"What's that one's name?" she asked pointing to a large crossbred peach-colored mama with freckles on her face.
"Peaches," I said.
"I will call her Peach for short," Llona remarked.
Llona had officially transitioned from being an observer to being personally involved in decision making. I was impressed.
In addition to her livestock naming skills, Llona became an immediate kindred spirit when she mentioned that all of that cow checking made her hungry.
A long snack break and one hay trap run later, Llona was being asked by her dad if she was ready to go home.
"Just one more walk around the barn," she pleaded.
 "Okay, just one," he said.
Llona had to say goodbye to all of the animals.
"When I'm 4, I will come back and ride Cupcake," she told me as her dad strapped her into the car seat.
"Good!" I said. "We'll need another fine ranch woman to help. Someone has to pet the horses."
Subscribe to receive top agriculture news
Be informed daily with these free e-newsletters
You May Also Like
---