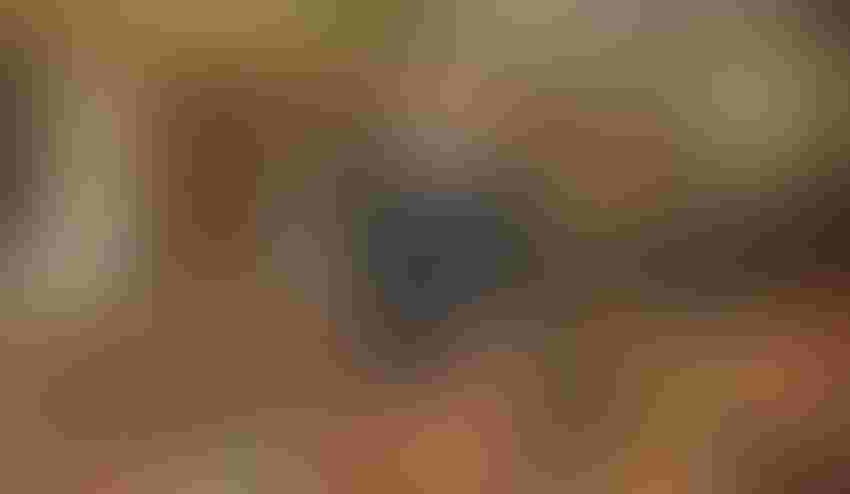 Bob Hickman, owner of Hickman Saddlery in Post Falls, Idaho, operates a display at the Red Bluff Bull and Gelding Sale. He normally does 20 trade shows a year, but this was his first one since last year's Red Bluff event.
Tim Hearden
Many businesses suffered in 2020, but Bob Hickman's saddlery shop in Post Falls, Idaho, more than held its own.
"This last year was the best year we've ever had," Hickman, owner of Hickman Saddlery, said at the Red Bluff Bull and Gelding Sale. "No. 1, Idaho is wide open, and we had all these Washington customers because we're right on the border.
"I went 104 straight days without closing," he said. "We expanded our hours, hired two more people and opened seven days a week."
Hickman isn't alone. Other businesses that cater to the livestock industry said their sales have been brisker than normal despite the COVID-19 pandemic – or, in a few cases, because of it.
Work still must be done
Trade show vendors interviewed at Northern California's 80th annual bull sale noted that ranchers' work still had to be done, while people stuck at home had more time to shop online and horse enthusiasts spent more time with their horses.
Hickman said some customers traveled from as far away as Seattle for his hand-crafted saddles and other equipment.
"People were wanting to get out and about," said Hickman, who also has a shop in Okotoks, Alberta, Canada. "Our saddle orders shot up. Normally we're about 10 back all the time, but now we're 30 saddles behind."
At Brad Mastre Saddlery in Burns, Ore., "we've been very busy," said Mastre, the owner. "I've had the busiest year in the last 20 years. I've talked to a lot of tack and saddle makers, and many of them are busier than they've ever been.
"A lot of people are home and they're shopping," he said. "It actually was a really good year for us last year."
'Busiest we've ever been'
The good fortune isn't limited to saddle makers. Sales representative Mary Simmons of Great Basin Seed in Ephraim, Utah, said customers have been snapping up the store's custom pasture grass seed mixes.
"I think last year was the busiest we've ever been," she said. "We were hoping things wouldn't go downhill but we were lucky."
At the Williams, Calif.-based Bar ALE Feed, sales of its value-added feed products for cattle, swine, horses, poultry and other livestock are "through the roof" as the popularity of small-scale production has increased, sales representative Mark Zappetini said. Nowadays, "people want to know where their food comes from, and in the Bay Area you can have five chickens or so," he said.
"On the equine side, people in the past year have been doing more with their horses," he said.
Chuck Quining of the Hughson, Calif.-based Loomix California, said demand for the company's liquid cattle supplement has been steady. "Our product relies on weather conditions, so the less rain we have the busier we'll be," said Quining, a sales representative. "The thing is cattle still need nutrients and vitamins."
Joe Fitzgerald's WW Western Wear in Prineville, Ore., sells livestock trailers and tack. "It's not been too bad," he said of business. "It's probably been one of our better years."
Lack of trade shows
If the vendors had one complaint, it was the lack of trade show opportunities because of coronavirus-related restrictions on public gatherings. The scaled-down Red Bluff sale was one of the West's only in-person agricultural events since the pandemic began.
"It's been hard as far as not going to shows," said Jerald Holloway, owner of Holloway Livestock in Vale, Ore, which sells mineral supplements. "Meeting ranchers is really important – one on one, with boots on the ground."
Hickman, the Idaho saddle maker, agreed.
"This is the first show I've done since this show last year," he said. "Normally I do 20 shows a year."
Subscribe to receive top agriculture news
Be informed daily with these free e-newsletters
You May Also Like
---