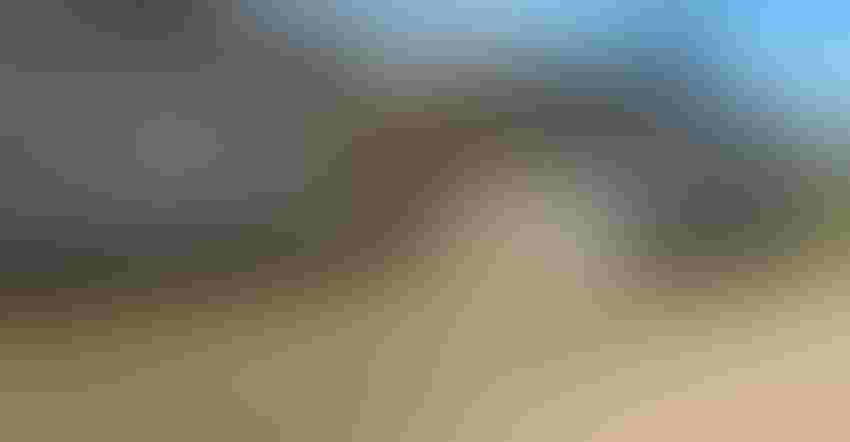 ON-FARM BUSINESS: In 2015, Larry and Laurie Fortuna erected a 50-by-96-foot building on their dairy farm to house their new business, North Country Shrimp LLC.
Thirty thousand at a time — that's how Larry and Laurie Fortuna buy livestock for their new farming enterprise. They had an idea about a way to add income to their dairy farm without having to find work in the city. They did some research, penciled in some numbers and decided it could work. They called their banker.
"I told him, and the phone went quiet for about a minute," Larry recalls, "and he said, 'What?!'" The loan request was for a shrimp-raising and -marketing business. The Fortunas' research, visits to existing Midwest shrimp farms and number-crunching convinced the lender. They got the loan, and in 2015 started constructing a building designed for raising hatchling shrimp.
"We had to build new and there was sticker shock, but we got the loan," Larry says. He explains that most Midwest shrimp farmers have been able to convert existing buildings, but he and Laurie wanted to keep milking cows as well, so a barn conversion wasn't the answer. They found a builder and erected a 50-by-96-foot structure, and then went online to find 20 round outdoor swimming pools for the shrimp habitat. "The same kind you can find at Walmart," Larry says.
The Fortunas bought their first supply of starter stock — 30,000 very tiny Pacific white saltwater shrimp — in March 2016, and began the process of moving them from tank to tank as they grew. North Country Shrimp LLC had its first sale on Labor Day last year. Now the Fortunas are using 15 to 16 of their pools as they slowly grow their enterprise.
In October, they bought 30,000 more tiny starter shrimp. When the shrimp reach a market size — between 20 and 30 to a pound — they're sold live on ice to drive-up customers "right through the front door," according to Larry. "Sales vary," he says, "and it depends on the batches. Every tank and every batch grows differently."

GROWING BUSINESS: Larry and Laurie Fortuna are using 15 to 16 swimming pools to slowly grow their shrimp enterprise.
He points out that it only takes 1.3 to 1.6 pounds of supplemental feed to get a pound of shrimp because they are raised in a biofloc system. Bioflocs are algae, bacteria, protozoa and other particulate matter that break down the shrimp waste for consumption with the biofloc, plus supplemental feed made specifically for the shrimp.
Warm water
The shrimp are raised in water kept at a constant 80 degrees F or warmer through a floor-heated geothermal system and in a specific range of alkalinity. They thrive and grow.
Outside the shrimp facility, the Fortunas farm conventionally on 500 to 600 owned and rented acres near Weyerhaeuser in Rusk County, Wis., raising alfalfa, high-moisture corn and corn for silage to feed their 250-cow grade Holstein herd. Also, last March they started selling newborn calves and began converting to beef crossbreeding because dairy-beef crossbred calves command higher prices.
"I didn't get rid of all the heifers," Larry says, "but I will buy replacements."
Low milk prices led the Fortunas to diversify. Laurie is the fourth generation on her family farm. She and her husband expanded the dairy into new buildings in 2001, but now Larry says "more cows is not going to be the answer. If creameries wanted more milk and would pay us a decent price, I could see it. They've got too much milk as it is right now. You can't pump out more milk and expect people to keep paying for it. You've got to diversify."
So they did. It was Laurie who suggested researching raising shrimp after they read about it in a magazine article. They visited an Indiana operation and started checking online. With their research complete and loan in hand, they hired a Minnesota shrimp farmer as a consultant to work from start to finish in planning and construction. Now they're thinking of doing the same for other beginners.
"We're trying to do what we can't on the dairy side," Larry notes. "We can't control Mother Nature. We can't control the inputs."
Shrimp farming is also something he sees them continuing in retirement, after dairying. The Fortunas' three grown daughters live and work off the farm. They have two full-time employees to help with milking and a neighbor who helps on occasion with the three-times-a-day shrimp feeding schedule. They milk twice a day, giving up on three-times-a-day milking because of the labor requirements and difficulty in finding help.
Labor to raise shrimp, Larry explains, can fit around the rest of the farm schedule. It involves feeding, weekly water testing, adding sodium bicarbonate to maintain alkalinity, moving shrimp from tank to tank and, of course, harvesting and leading tours as customers arrive at the door.
Word-of-mouth
The Fortunas do not sell to restaurants and do not process their shrimp because of permit and licensing requirements, "but it is something that we will still look into and would like to do in the future," says Larry. For now, though, all sales are live and fresh on ice. Most of their advertising is through their Facebook page at North Country Shrimp LLC and word-of-mouth.
"People come and buy our shrimp, and we give them a free tour and they go and tell others," Larry notes. Holidays are particularly active times for sales, he says.
He and Laurie are not at full production and are "still learning," he says, but adds that the business is at a breakeven point. "We had to learn that cycle and didn't have the customer base." He notes if they hadn't had to build the new building, they would be at a profit level.
"People come back and say they'll never buy frozen shrimp anymore. It's completely different. They're amazed at the texture and flavor," Larry says. 
Buchholz lives in Fond du Lac, Wis.
Subscribe to receive top agriculture news
Be informed daily with these free e-newsletters
You May Also Like
---