RR alfalfa's advantages far outweigh disadvantages 273947
RR alfalfa's advantages far outweigh disadvantages
The legal labyrinth took four years to maneuver, but RR alfalfa is back on the market.Herbicide-resistant varieties are not likely to be heavily planted this spring. Fall should be the time when heaviest plantings occur.The same radical group that halted sales four years ago has notified USDA it will sue the department for approving RR alfalfa without proper consultation with the Fish and Wildlife Service.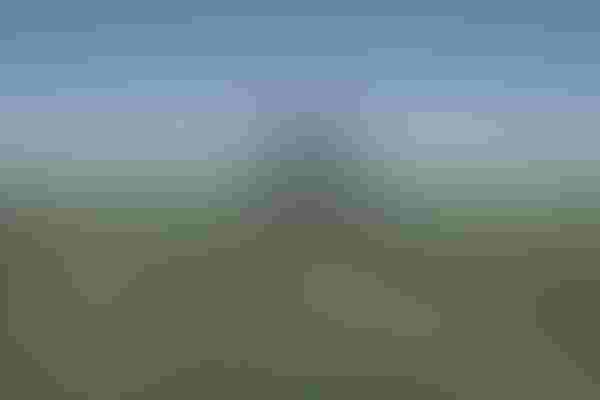 University of California, Davis Extension forage specialist Dan Putnam and UC farm advisors had to brush the dust off UC Division of Agricultural and Natural Resources publication No. 8153 before they could distribute research information about one of the newest technologies in agriculture.
"Roundup Ready Alfalfa: An Emerging Technology" is the title of 8153, published in 2004. That emergence was put on hold almost four years ago when a radical group convinced a San Francisco federal judge to stop the sale of Roundup Ready alfalfa. The so called watchdog group claimed the U.S. Department of Agriculture must conduct an environmental impact statement. USDA did that, and along the way the Supreme Court overruled the San Francisco judge who halted the sale of the biotech forage seed.
The legal labyrinth took four years to maneuver, but RR alfalfa is back on the market.
Putnam and Western hay market analyst Seth Hoyt do not expect herbicide-resistant varieties to be heavily planted this spring because spring is not the ideal time to plant alfalfa in California and Arizona. Fall is better because of the heavy weed pressure associated with spring planting.
However, UC forage specialists say if growers wanted to plant alfalfa in the spring, RR alfalfa would be a good choice, since spring weeds could be more easily be eliminated with glyphosate-resistant alfalfa rather than using non-Roundup herbicides in conventional alfalfa varieties.
Seed companies are advertising their RR varieties. However, the same radical group that halted sales four years ago has notified USDA it will sue the department for approving RR alfalfa without proper consultation with the Fish and Wildlife Service as required by the Endangered Species Act. One report indicated the Center for Food Safety was going to go back with its second nuisance lawsuit on the same issue to the same San Francisco federal judge who stopped RR alfalfa seed sales the first time. It is the same judge deemed to be in error by a 7-1  Supreme Court vote.
However, for now, growers can buy and plant RR alfalfa.
Putnam told an audience of farmers and dairymen at a hay and forage seminar at World Ag Expo that the nonrelated sale of RR alfalfa sends a message from government to the industry that it must exercise stewardship to head off weed resistance and prevent genetically modified alfalfa seed and forage contamination into non-GM markets and crops.
Putnam said this new technology provides growers with an unprecedented broad spectrum weed control package that is highly flexible, very environmentally safe and uses an inexpensive herbicide.
Recipe for glyphosate resistance
While those attributes are highly desirable, they also could be a recipe for glyphosate-resistant weeds. But that does not need to be so, according to Putnam.
"If you do not spray anything for weed control but glyphosate for 10 years, it is a recipe for weed resistance," agreed Putnam, cautioning growers that they must be aware from the beginning of that potential. There are a host of non-glyphosate herbicides that can be used to preclude Roundup resistance.
"We know how to prevent weed resistance. The question is will growers adopt management schemes to prevent it?" he said.
Some growers will have to rely on non-glyphosate herbicides, since Roundup does not control or has limited activity on several problematic weeds like burning nettle, henbit, malva and filaree, said Putnam.
On the other hand, glyphosate is very good in controlling weeds like Dodder, nutsedges, quackgrass and dandelion that existing herbicides do not control.
Putnam indicated there could be plenty of tank mixes being used to control weeds in RR alfalfa. And since Roundup is a contact herbicide, Putnam expects growers to still use pre-plant herbicides like Treflan to establish stands.
There are no silver bullets in agriculture, and this new technology may not be for every grower, especially those who are satisfied with their current weed management program.
About 300,000 acres of Roundup Ready alfalfa were planted nationwide before the sales ban went into effect. About 80,000 of those were in California. Retired UC Farm Advisor Mick Canavari surveyed 24 growers about their experiences with GE alfalfa.
They all rated the technology very high in many areas, especially in situations where the RR alfalfa was planted in heavily weed-infested fields or after a crop like processing tomatoes where weeds like annual morningglory can be a major issue.
Since Roundup is a non-restricted material, RR alfalfa was selected by growers to plant where there was the potential for groundwater or surface water contamination. Surveyed growers said there were no major disadvantages to RR alfalfa.
Less herbicide with GMO alfalfa
There was actually less herbicide use with the GMO alfalfa. "One grower used Roundup only twice in two and a half years."
19 out of the 23 surveyed graded it an A.
RR alfalfa planting seed is twice as expensive as conventional varieties with the technology fee.
However, Putnam said California growers are notorious for planting too much seed, seeding conventional alfalfa at rates of 35 to 40 pounds per acre when 25 pounds or less will give the same stand.
Using a seeding rate of 20 pounds per acre and the cost of herbicides other than glyphosate compared to glyphosate in rotation with other herbicides, he said RR alfalfa is more economical than conventional alfalfa over the life of a three- or four-year alfalfa stand.
"Some growers claim their stands last longer when not damaged by conventional herbicides. Jury is still out on that," Putnam commented.
While those trying to keep RR alfalfa off the market contend it will contaminate organic hay and seed production, Putnam said the issue of RR alfalfa in the export market is much more important to California where 7 percent to 8 percent of the hay is exported. Less than 1 percent of California's hay production is organic.
Much of the state's export hay comes from the Imperial Valley where growers, seed producers and Monsanto have agreed to a ban on RR alfalfa as part of a stewardship program. The gene flow issue is another reason for the RR alfalfa ban in Imperial because seed fields are in very close proximity. It would be difficult to impose the industry-established 2.5 mile isolation for RR seed fields.
"Imperial Valley is a unique situation. They export hay and seed from a relatively small, isolated valley where you have hay and seed right across the road from each other. You also have growers who produce forage and seed from the same stand," he said. Gene flow is greater there than any other place in California, added Putnam.
The state forage specialist said it was a "wise move" not to have GMO alfalfa there until "growers can understand how to deal with it in the Southern California desert."
Detractors contend that the introduction of RR alfalfa will eventually eliminate non-GMO alfalfa. Putnam disagrees. Gene flow, he said, can be managed with good stewardship.
Overall, advantages of RR alfalfa far outweigh the disadvantages on Putnam's list of pros and cons.
Subscribe to receive top agriculture news
Be informed daily with these free e-newsletters
You May Also Like
---