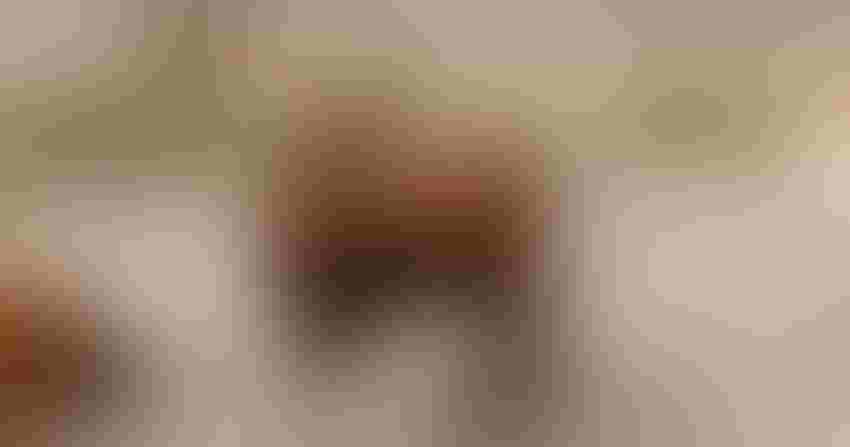 Cattle in a controlled grazing areas are comfortable and stress free.
Brian Ireland
Brookshire Farm, a regenerative farming operation in Abbeville, La., is raising market beef while improving its soil profile and reducing operating costs.
The farm is owned and operated by Ben, Anne, and Bob Blanchet. They work with nature in their cattle enterprise to improve the soil profile.
The operation has eliminated costs for fertilizer, seeds, plowing and planting, all of which are side benefits of doubling the carrying capacity of their land, improving herd health, and producing healthy beef for their customers.
Brookshire Farms, owned and operated by the Bob, Anne and Ben Blanchet, is located in Abbeville, La. (Brian Ireland)
Bob manages the farm, with the help of his parents Ben and Anne, raising grass-fed, grass-finished cattle on roughly 240 acres. Along with cattle, Brookshire Farm also sells pasture-raised chickens and pasture-raised pork sourced from partner Louisiana farms through its website.
"We use intensive grazing, move our cattle frequently, coupled with long rest periods for the pastures," Bob said. "This results in vigorous regrowth in our pastures, with a large variety of species of grasses and forbs.  It also encourages subterranean fungal, bacterial, earthworm, and beetle health. All this builds organic matter in the soil. 
"Organic matter absorbs water, storing that moisture for when rain is less plentiful and reduces runoff into streams. Moving the cattle frequently (coupled with the long rest periods) also helps break parasite cycles."
Improving the land
The Blanchets believe many 20th-century farming practices, such as continuous grazing, plowing and extensive use of chemical fertilizers, turned what had been rich prairie lands into improvised, poorly drained pastures. Since taking over management of the Brookshire Farm herd in 1998, Ben and Anne have been committed to improving their land for future generations.
"When our family came to this area in 1795, the land was largely prairie, with the remnants of the once-great Bison herds still present," Ben said. "Prairie grasses, including Big Blue Stem, Eastern Gamma Grass, Indian Grass, and Switch Grass were among the dominant grass species.  Grasses on the open prairie grew to six or seven feet, with root systems that went 20 or more feet into the ground. You could find 300 species of plants living in symbiosis. 
"These Prairie systems were destroyed by continuous grazing and plowing.  By the time I came along, the farm was largely in rice, with cattle being used to help control red rice. When the canal company was closed, we tried soybeans, but the soils were too heavy.  Now, most of the farming in the area is sugar cane."
Sugar cane uses herbicides to keep the weed competition down and relies on the significant application of fertilizers. The bare ground in a sugar cane field is susceptible to loss of topsoil, where rain and wind carry off topsoil, according to Ben. 
The application of chemicals to the soil suppresses the organisms that are part of naturally healthy soil, he said. This creates a cycle where farmers must replace lost nutrients with fertilizers and suppress weeds with herbicides.
Organic matter in the soil degrades. Through researching and networking with like-minded farmers over a 25-year period, Anne has guided Brookshire Farm to holistic, sustainable practices.
"Regenerative grazing relies on the using cattle to rejuvenate the soils," Anne said. "Lots of cattle on limited pasture for a short period of time; graze the tops of the plants trample the rest; only come back to the pasture once it has vigorous regrowth.  This creates organic matter in the soil."
Changing practices
Traditional farming methods and practices continue to be used throughout the area, while regenerative farming practices are changing how Brookshire Farm does things. 
"It has been years since we applied fertilizer or lime, or since we have plowed," Bob said. "We used to broadcast or drill cover crops, but even there, we are finding that with our regenerated seed bank in the soil, we are achieving the results we need without having to plant cover crops."
Transitioning to regenerative farming practices doesn't have to be hard, according to the Blanchets.
"Our herd has always been a low-input herd so it was natural to transition to grass-fed, which we began in 2003," Ben said. "We began selling our first beef to the public in 2005.  Growing grass is science; grazing grass is art."
Changing from traditional farming practices to regenerative farming practices can be accomplished one step at a time, he noted.
There are multiple resources for information regarding regenerative farming practices that can be found online, in print and social media, or even in person.
The Blanchets have worked with Ian Mitchel-Innes of Holistic Management Institute to improve their farming practices. Mitchel-Innes has been practicing holistic management in South Africa for over 20 years and works with farmers and ranchers to achieve a more balanced approach to mob, or high and ultra-high stock density.
"We have been practicing rotational grazing for almost 25 years," Anne said. "Over that time, our view of how to graze has evolved.
"About five years ago, Bob and Ben attended a seminar at Greg Judy's farm in Missouri where Ian Mitchel-Innes was presenting his views on holistic management. They came away convinced that tweaking our system with practices championed by Ian could have a significant impact on our operation. 
"In fewer than six months after beginning to work with Ian, we began to see results, including native species that we had never seen on the Farm before.  Now, we grow much more grass on the same land, with twice as many cows thriving on the same acreage." 
The Blanchets recommend additional resources including The Grassfed Exchange, the USDA Natural Resources Conservation Service the Louisiana Grazing Lands Conservation Initiative and your county Extension agent.
Subscribe to receive top agriculture news
Be informed daily with these free e-newsletters
You May Also Like
---