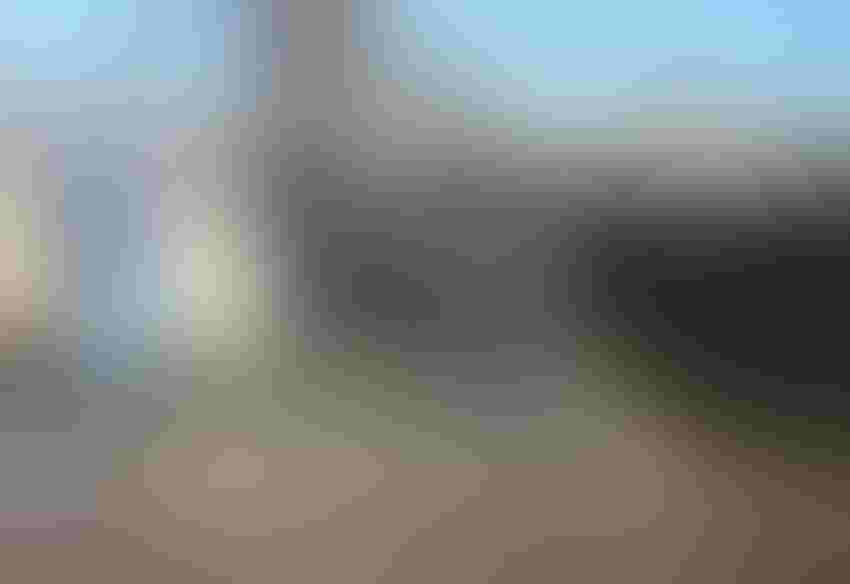 Greg Nicholas of Burney, Calif., prepares his Simmental/Angus bull for the auction ring at the Red Bluff Bull and Gelding Sale. This year's sale prices were slightly below last year's.
Balmy afternoons in the low 70s brought thousands of ranchers, vendors and curious onlookers to the fairgrounds in Red Bluff, Calif., for the city's annual bull and gelding sale Jan. 22-26, but the fair weather didn't translate to bigger prices for livestock.
Bidders in the marquee event at the five-day Red Bluff Bull and Gelding Sale spent a little less than $1.15 million on 302 bulls that sauntered through the Don Smith Pavilion – an average of $3,805.63 per bull.
That fell short of the nearly $1.2 million paid for 302 bulls last year, for an average of nearly $3.923 per bull. But the total topped the $1.1 million pledged for 288 bulls in 2017.
Rancher Greg Nicholas of Bar N Bar Angus in Burney, Calif., had four bulls entered in the sale. He's seen prices fluctuate for the more than 40 years he's attended the sale, including the last 15 years with his own bulls.
"It does depend on the year," Nicholas says of prices. "Fat cattle are down a little bit right now, but cattle are cattle. Traditionally it picks up in the spring."
TOP-SELLING BULL
The top-selling bull was an Angus sold by Bar KD Ranch in Culver, Ore., to Redding, Calif.-based Shufelberger Ranches for $28,000. Last year's highest-selling bull went for $10,000.
The 78th bull sale capped off a nearly week-long extravaganza that included the 11th annual online feeder and replacement heifer sale on Jan. 24 and auctions of stock dogs, geldings and mules on Jan. 25, as well as a big trade show, seminars and numerous other attractions.
All the activities have made the Red Bluff gathering one of the biggest and most popular livestock events in the West, attendees say.
"A lot of cattlemen come from all the Western states to sell in this sale," Nicholas says. He adds that relationships formed at the bull sale can lead to private sales.
"We feel that people bring a really good offering to the sale," says Mandi Post, a dog consigner from Wallowa, Ore. "For us it's kind of elite."
DOG SALE BUZZ
A buzz of anticipation was in the air in the hours leading up to the stock dog sale, which last year saw a pair of female border collies sell for a record $30,000 apiece. Crowds lined the fences surrounding a grassy area where this year's contestants showed their skills at moving cattle into a trailer a few hours before the sale.
Post, who sold one of last year's record-setting dogs, says the winning price came as a shock.
"You hope for $7- or $8,000, something more realistic," she says.
This year's top dog went for $17,000 to the Lightning 7 Cattle Co. in Preston, Idaho, which bought one of last year's record-setters. In all, 17 dogs fetched a total of $117,000 – an average of $6.882. The 2018 sale took in $145,500 for 16 dogs, for an average of $8,968 per dog.
Post says it's difficult for a rancher to know when a dog has paid for itself in terms of improved cattle performance.
"But if that dog saves you from hiring two people, it's already paid for itself," she says.
CATTLE AND HORSES
The bidding began with the online cattle sale sponsored by Western Video Market in Cottonwood, Calif. About 80 lots were sold, with weaned heifers topping out at $171 per hundredweight and weaned steers going for as much as $197 per hundredweight. This year's highest bids were just below last year's $171.50 and $199, respectively.
A sort of rock-concert atmosphere surrounds the quarter horse and paint gelding sale, which is held in the largest arena – the Pauline Davis Pavilion – and is the only one of the sales that requires a $15 ticket to attend.
The 63 horses auctioned on Jan. 25 brought a total of $785,850 – a little above the 2018 total of $771,700 for 65 horses. This year's top horse was sold for $55,000 by Caleb Jantz of Nyssa, Ore.
The bull sale was started by local ranchers just after the Depression as a way to boost their sales, and then other livestock was added as the event grew in popularity. Today the sale is as much a social event for families as it is a business trip for ranchers.
OTHER ACTIVITIES
Bull sale manager Adam Owens, himself a fifth-generation rancher and the great-grandson of founding member Roy Owens, has added new activities since taking the position in 2010. Among the features is a Western art show in which painters, sculptors and other entrants compete for $1,000 prizes in several categories.
Businesses set up outside or in tents and barns for the trade show, which draws about 150 entrants. Among them is the agriculture and heavy equipment program at Shasta College in Redding, whose students operate a booth.
"It generates a lot of interest for a long of incoming freshman students," says 19-year-old Haley Dancer, one of the booth's occupants. "We have such a variety of ag subjects."
For some, the Red Bluff gathering kicked off several weeks of agriculture-related events in the West, including the Klamath Bull and Horse Sale in Klamath Falls, Ore., on Jan. 31-Feb. 3; the Colusa Farm Show Feb. 5-7; the Sierra Cascade Logging Conference Feb. 7-9 in Anderson, Calif.; and the World Ag Expo Feb. 12-14 in Tulare, Calif.
Subscribe to receive top agriculture news
Be informed daily with these free e-newsletters
You May Also Like
---