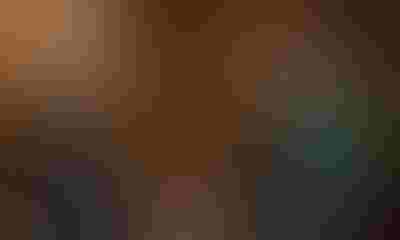 After the recent massive capitol rally of agriculture and hundreds of youths taking a day off from school to peacefully demonstrate, the message sank in to Pennsylvania legislators and Governor Tom Wolf: "Keep agriculture funded!"

DEAL-MAKERS? Pennsylvania 4-H members who met with Governor Wolf may have been key influencers in resolving the budget impasse.
And last week, Governor Wolf announced he wouldn't veto stop-gap 2015-16 funding legislation to keep Penn State Extension, research and other ag programs operating. That means the Penn State College of Ag Sciences budget numbers stand at $50.5 million, a 9.3% increase, fully funding Penn State Extension and ag research programs. And the Penn State University appropriation stands at $224.8 million, a 5% increase.
Also included was $1.5 million for Pennsylvania Department of Agriculture's ag research line item, $1.1 million for Ag Excellence programs, $5.35 million for the Animal Health Commission and $5.3 million for the veterinary lab system, plus $177,000 for livestock shows and county fairs. Pennsylvania fairs also will receive $4 million through the newly established Racehorse Development Fund. Another $250,000 was designated for ag exports.
"The influx of state money will save vital agriculture research and extension programs administered by Penn State University, which are so critical to farmers, the public and the state's economy," noted Pennsylvania Farm Bureau President Rick Ebert. "It saves more than 1,100 jobs at Penn State and ensures that Pennsylvania doesn't become the first state in the nation to achieve the dubious honor of losing its land grant university (status)."
Budget battle far from over
But Governor Wolf warned: "This budget doesn't work. The math doesn't work, and that's a real problem.
"We need to keep our commonwealth working. We need to make sure our schools are funded. We need to make sure our agricultural Extension services get the money they need. We need to make sure our local and county governments get the state support they need to keep doing what we want them to do."
Then he repeated: "This budget is not in balance. It has the kind of problems that have plagued past budgets."
He pointed out that the 2015-16 fiscal stop-gap legislation underfunds medical assistance payments and corrections. It doesn't restore funding for reimbursing schools for construction projects already undertaken. "It only adds to the $2-billion deficit looming in July."
Then he warned that counties will have necessary monies through this fiscal year and schools will stay open through the end of this year. "But unless Harrisburg changes its ways, they won't have adequate funds for next year."
"Next fiscal year – that already has a $2 billion deficit – will now begin with an extra $300 million deficit. Ratings agencies and the Independent Fiscal Office have all agreed that we face a massive structural deficit.
"Left unaddressed, the deficit will force cuts to schools and human services, devastating credit downgrades that will cost taxpayers millions, and increase property taxes for our senior citizens. We must face this reality this year and balance our budget with real, sustainable revenues."
So the budget battle now moves on to 2016-17.
For more on the capitol rally, see 4-Hers lobby for Penn State Extension.
Subscribe to receive top agriculture news
Be informed daily with these free e-newsletters
You May Also Like
---