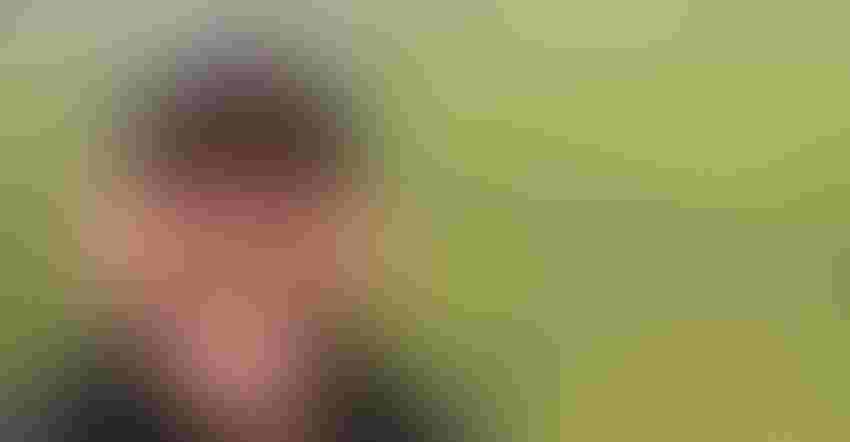 LEADING THROUGH CHALLENGE: David Newman, a pork producer from Missouri, was recently elected to a second term as National Pork Board president.
Courtesy David Newman
It may seem impossible to see opportunity during challenging times, but David Newman says it does exist.
Newman, a hog producer from the Ozarks area in southern Missouri, knows firsthand the effect that COVID-19 had on his industry — when the disease spread through workers at U.S. meat processing plants, forcing those plants to either temporarily shut down or to drastically slow down slaughtering and processing of pork products.
In addition to being a pork producer, Newman was reelected in November to a second term as the National Pork Board (NPB) president.
"This is why we tell people, 'Love what you do,'" he says. "I'm very passionate about agriculture and, of course, the pork business and the meat industry as well. And I love what I do. Has it been challenging? Absolutely. And it's been challenging for all of our producers."
Top 3 challenges
Acknowledging the challenges is a step in working through the situation, and Newman spells out what he sees as his top three:
1. Foreign animal diseases. "African swine fever is a big threat," Newman says. "When you think that half of the pigs in the world have been eliminated in the last two years, those are staggering numbers. So as we watch what's going on in Germany (ASF has been discovered there), and thank God we don't have it in the Western Hemisphere, we do not want to let our guard down."
2. Processing capability. Because of the plant stoppages and slowdowns, it is estimated that at one time about 2 million market hogs were backed up on farms with no place to go.
"We're not out of the woods on the global COVID-19 pandemic yet," Newman says. "So while our production systems are as efficient as they have ever been, we're getting more pigs born per sow. We've got technology and tools at our fingertips that have made pigs more productive today than they've ever been in any time in history.
"But we've got to make sure we have somewhere to go with them to process them and to further process. So I think that we need to continue to be aware of the situation and foster good communication with producers, processors and employees as well, thinking along the lines of making sure that our employees are doing what's right for the animals. … In our We Care initiative, we talk about people, pigs and planet all the time, and making sure that we stay aware of that is going to be important."
3. Settling into normalcy. Timing is the key to a lot of things in life, and Newman acknowledges the irony that during the NPB strategic planning process of 2018-19, the organization put a focus on being nimble and agile to respond better to marketplace activities.
"As Bill Even (NPB CEO) says, 'We need to be able to move at the speed of business.' We can't sit back and let these problems drive the industry. We can't be playing defense. We still have plenty of threats out here. … If there's anything that we can do that would injure us, it would be to be passive. We need to be playing offense."
Top 3 opportunities
Even during challenging times, opportunity arises, and here are Newman's top three:
1. Bright overall picture. "Demand is very good. So there's a good reason to be optimistic," Newman says. "We have 7 billion hungry people in this world, and we are positioned to help feed a significant number of those. We have the safest supply of pork in the world. So that's a pretty good position to be in."
2. Opportunity domestically. "Watching what's happening around the world, watching what's happening during COVID-19, watching what's happening with ASF, there's a lot of dynamics to this, but I think a lot of it brings home the intense focus that we need to have on the domestic supply and demand model, meaning that we have a lot of great customers right here in the U.S.," Newman says, pointing to a large and growing consumer base of more than 60 million Hispanic or Latino customers. "It's the fastest-growing multicultural audience in the United States with trillions of dollars of spending power, and a culture that incorporates pork in a huge manner."
3. Export market. "Opportunity in international, traditional and nontraditional markets is going to be huge," Newman says, "and I'm not just talking about China. There's a lot of opportunity there, but there's a lot of opportunity in Japan. There's going to be opportunity in nontraditional pork countries like [those in] Africa moving forward over the next two to three decades."
The NPB's international team continues to look at other markets such as South Korea, Vietnam and the Philippines, and Newman points to the potential of the United Kingdom with Brexit.
2020 wasn't the first challenging year for agriculture, and it won't be the last.
"We'll all learn a lot from what happened with COVID-19 this year, and those of us who survive it, I think we're going to be better for it," Newman says.
Subscribe to receive top agriculture news
Be informed daily with these free e-newsletters
You May Also Like
---