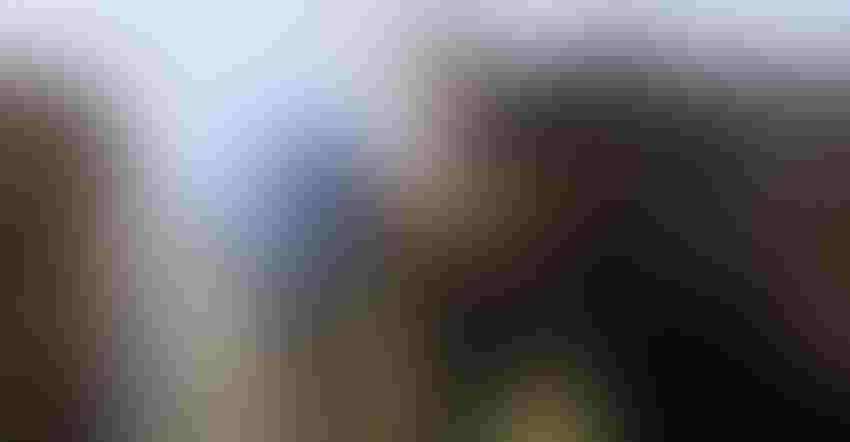 WALL STREET TO FARMING: John Ubaldo is the featured farmer in a new documentary film, "The Bullish Farmer." For Kelley Hughes, seeing Ubaldo's love of farming reminds her of her father, who made a career for himself as a salesman for Kraft Foods and has also been farming for more than 50 years.
By Kelley S. Hughes
With eyebrows raised, I asked the obvious question: Why in the world would a successful Wall Street banker give up his posh New York City lifestyle to become a farmer?
The answers can be found in a documentary film, "The Bullish Farmer," featuring John Ubaldo.
It is making its rounds via social media, colleges and universities. To date, it has been screened by students and faculty of Bloomsburg University, Columbia University, the University of Vermont and Skidmore College.
The film focuses on Ubaldo, a former Wall Street banker turned farmer. His message: Sustainable agriculture is the key to surviving as humans.
Approximately 75 students and faculty members watched the film as part of the Bloomsburg University Green Campus Initiative's spring film series.  
"The Bloomsburg University Green Campus Initiative has established the following five-part mission: educate students, faculty and staff of Bloomsburg University about environmental issues and solutions; build institutional commitment to environmental sustainability; collaborate with local communities to raise environmental awareness and promote sustainability initiatives; promote and facilitate environmental research; and encourage and support environmental activism," says Timothy J. Pelton, civic engagement coordinator for Bloomsburg University.
The film follows Ubaldo, who traded in his business suit for some dungarees and bought a farm comprising 185 acres in Cambridge, N.Y. He owns 104 Aberdeen Angus cattle, 126 Berkshire pigs and about 600 birds (ducks, turkeys, chickens, geese).
Ubaldo's goal is to produce the cleanest, most nutrient-dense foods you can buy.
"We are a 100% GMO free, chemical free, pesticide free and herbicide free," he says.
"How many people have the ability to change people's lives? For me, it just happened."
Having watched the documentary, I can relate to Ubaldo and his new farming challenges. He reminds me of someone I know very well. You see, I am a farmer's daughter. I grew up on my parents' 100-acre farm outside of Benton, Pa. I was both blessed and humbled to witness my father's work ethic, both on the farm and as a business man. 
My father, a first-generation farmer, loves all things farming. He attended and graduated from Delaware Valley College, now Delaware Valley University. He double-majored in chemistry and animal husbandry. He pasture-raised hogs, chickens, sheep and a few horses.
Now retired from Kraft Foods Inc. as a successful salesman, he is now in his 56th year of farming and raises 60 head of pasture-raised Angus beef cows.
His farm defines him, similar to Ubaldo's way of thinking. At the young age of 76, my father often reminds our family members that "farming has to be in your blood because you buy everything retail and sell everything wholesale."
His ways of farming, just like Ubaldo's, are constantly evolving; from what to feed his livestock to what crops to plant and how to keep track of soil health. These are the small details many Americans don't consider when eating a meal.
Ubaldo hopes he can make a healthy impact on others.
"My success stories are giving my son an amazing place to grow up and being able to truly help and heal people," Ubaldo says.
After watching the film, I reached out to Ubaldo for an update on his journey in farming. Here are four insights I got from the interview:
Sustainable agriculture
"Sustainable agriculture is the key to surviving as humans," he says. "I don't mean this in the typical dramatic way, but in the most practical way you can imagine. Mass agriculture is killing us and that is the reason why we are the sickest industrialized nation in the world.
"At this point, unfortunately, it is a matter of survival as humans," he says.
Farming 24/7
Ubaldo, like most farmers, works outside, rain or shine.
"My routine is simple. We are out for the most part, from sun up until sun down. Weather is not an issue because we are outside regardless of temperature, rain, snow, etc. You learn to embrace the weather, whatever it is," he says. "When it is super cold or really rainy, it is not so much fun. However, being outside on a beautiful spring day and not in an office can wipe that all away.
"On the weekends I am down at The Outpost spending 22 hours cooking and feeding people. I work pretty much 24/7 but it is a different life and by my own design.
"The Outpost was opened as my antidote to the supermarket. I wanted to show people you can buy food from a 1,800-square-feet store and not a 100,000-square-feet store specifically designed to make you buy junk food."
Old dogs can learn new tricks
While technology for large-scale agriculture is growing, Ubaldo's success is attributed to learning from research and "trial and error."
He gives much of the credit to his farming mentor, "Larson." Jim Larson, 72, grew up on a farm and has farmed his whole life while also employed as a local postman.
"He taught me that letting pigs be pigs is the best way to raise them," Ubaldo says. "The quality of their food is key and, of course, a stress-free environment.
"The biggest lesson I learned from Larson was when he told me, 'John, the day you don't get excited about a litter of pigs is the day you should leave the business.'"
A path forward
Ubaldo's message of sustainment agriculture is marketed via weekly emails, social media and showcasing his documentary.
Additionally, he has started a Kickstarter campaign to help "a couple of the local farms that were struggling get over the hump. They are great people and going to be part of our home delivery service we are starting next month. I wanted to (get the) community involved with a tangible result they can see."
"The Bullish Farmer" has been distributed worldwide. For more information, visit thebullishfarmer.com.
Hughes is a senior mass communications major studying at Bloomsburg University of Pennsylvania. The retired 22-year U.S. Marine veteran grew up on a farm near Benton, Pa.
Subscribe to receive top agriculture news
Be informed daily with these free e-newsletters
You May Also Like
---