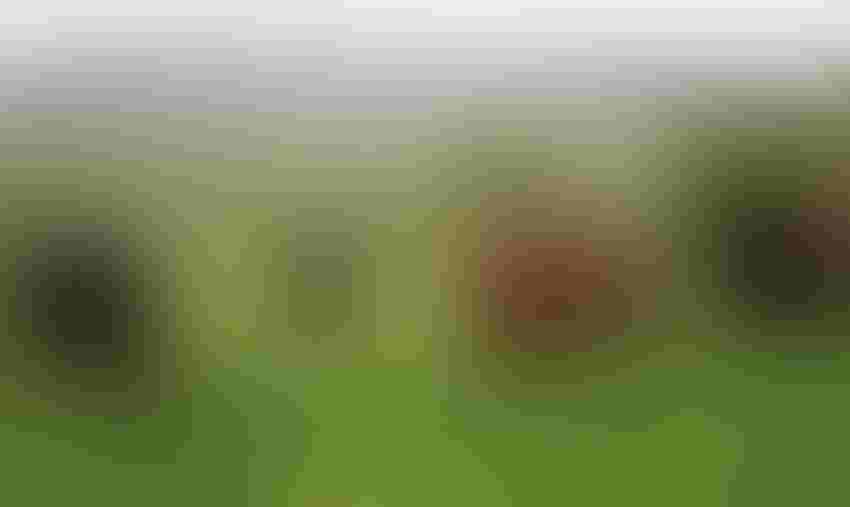 Cattle graze in swamp pasture in Idaho.
Heather Smith Thomas
Sandy Johnson at Kansas State University and several colleagues at the Iowa Beef Center a few years ago developed a free software program called "Management Minder"—a web-based tool that allows producers to establish a yearly production calendar for all aspects of production for cow/calf, replacement heifers, and growing calves.
The start of breeding season sets the course for timing of other key management activities for a cow herd. This program contains an extensive list of activities that can be added to your own customized calendar and you may add your own items as well.
Once created, the calendar can be downloaded to Outlook, Google or Yahoo and be available on any mobile device. For instance, this tool can remind you when it is time for vaccinations, purchasing supplies or starting the cows on a high Magnesium mineral or some other supplement.
Dinesh Poddaturi, a PhD Candidate in Economics at Iowa State University, was one of the people involved in creating this program.
"When I first moved to the U.S. I was a graduate student in management information systems, looking for additional job opportunities.I also wanted to become involved with developing free tools that anyone can use.I entered the Iowa Beef Center at Iowa State University and talked with the scientists.They gave me this opportunity to work with them to develop software tools for beef cow producers, to make their life easier, and to be able to transfer information from one location to another, and keep everyone in tune—in a timely manner," he says.
"I was developing a mobile app for that, and Sandy Johnson and Garland Dahlke at the Iowa Beef Center approached me with the idea of developing a web-based tool to create a yearly production calendar for cow-calf operations.This is how the project started, and the more I delved into it, the more I came to understand the institutions of beef cattle management, and we developed this product," says Poddaturi.
Task reminders
Producers know what they need to do during the year, based on when their calving and breeding seasons occur, but sometimes need a reminder regarding when to get ready for certain procedures or management tasks.
"One of the main purposes of this tool is to remind producers what to do and when to do it," he says.
For instance, if you want to perform certain activities before the breeding season, such as specific vaccinations, or getting cows and/or heifers ready for heat synchronization for AI breeding, or want to vaccinate the calves at a certain time after they are born, this would remind you.
There are many things to be doing at a certain point in the production cycle."This calendar can remind you early in the morning of something you need to be doing that day.Another nice thing is that you can share this calendar with everyone involved in the operation, such as your veterinarian, employees and partners so everyone knows what you will be doing, on what day," he says.
On a large operation with several employees or managers involved with different aspects, something like this can help keep everyone on the same page when they need to be working together on various projects and activities.
"Producers have been using it for a while now, and the more people use it, the more questions and feedback we get," he says. "We are able to utilize that feedback and update or improve the tool and/or add more information regarding helpful management."
T

ask details

When planning activities, you also need to know certain details. For instance, if you are vaccinating the animals, you need to know which vaccines are suitable for those specific animals, and the proper timing for those.

"We also provide links to resources.You can click on that link and find information about certain topics.We are adding new ones right now.It's not just about reminding producers about what to do at what time; it also gives them information and resources to look for what they want to know.There is new science available all the time, as research evolves, so this helps producers keep up with new updates and new technology in the cow-calf industry," says Poddaturi.

People in Iowa, Nebraska and other states are already using this tool, and recently several other countries have started using it.There are currently 9 other countries using the Management Minder."Several South American countries using it, and an operation in Ireland is now using this tool.This program is free, and anyone can use it without charge.It doesn't need any data from the producers because it is just for educational purposes.All the data entered by producers are safe and secure. This is one of the projects for my Masters program and we just keep adding updates."It will remain active on the website for people to use.

One purpose is to have an easy way to transfer knowledge from educational institutions to producers, keeping them up to date with new knowledge."It always takes a while to publish papers at an institution, and for the information to reach producers.By the time producers catch up, new technologies are already evolving.With free tools like the Management Minder, it is easy to reach producers; they can get updated information very quickly."

This is a great link between science and the producers."At the end of the day, the producers are what matter, because they are ones who are doing the work raising the animals, and can benefit from this kind of help.I am glad to get to be a part of this evolution of tools that can help producers, and thus benefit everyone."

To use the free tool, click here.
Subscribe to receive top agriculture news
Be informed daily with these free e-newsletters
You May Also Like
---